Beatles Lie Over Ocean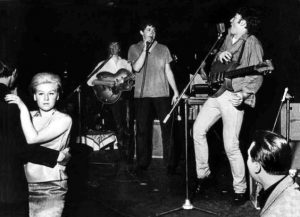 It was June 22, 1961 and The Beatles [John Lennon, Paul McCartney, George Harrison, and Pete Best] continued their stay in Hamburg, Germany. The trip had been more successful than their first and they would leave in July with no arrests or deportations [Beatles deported] .
Tony Sheridan was a British musician who also found work in Hamburg. It was there that he and the Beatles met, sometimes shared a bill, and sometimes played together.
Beatles Lie Over Ocean
Bert Kaempfert
Bert Kaempfert, an orchestra leader and Polydor agent, asked The Beatles to back Sheridan on some recordings.
The recording took place over three days, the first two at Friedrich-Ebert-Halle in Hamburg. It was not a regular recording studio, but because of the venue's acoustics, a place Polydor had occasionally used for recording. The final day's recording (June 24) was done in Studio Rahlstedt, a professional studio. On that day they recorded "Ain't She Sweet," "Nobody's Child," and "Take Out Some Insurance On Me, Baby."
Beatles Lie Over Ocean
Beat Boys record
The Beatles [the The Beat Boys for these sessions] and Sheridan recorded four songs over two consecutive days: "My Bonnie," "The Saints," "Why," and "Cry For A Shadow." "Shadow" was an instrumental; Sheridan did lead vocals on the others.
Sheridan sometimes played lead guitar, John Lennon rhythm, George Harrison the other lead, Paul McCartney bass, and Pete Best drums.
The first song they recorded was "My Bonnie." It started slowly, but soon went into an upbeat version. According to the Beatles Bible site, "The Beatles were given 300 marks for the sessions."  [Beatles Bible site]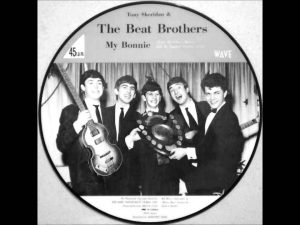 "My Bonnie" was released in October 1961 and reached #5 on the German charts.
Beatles Lie Over Ocean
20 Years Later
20 years later, on June 22, 1981, Mark David Chapman pleaded guilty to the murder of John Lennon on what he said were instructions from God.
Beatles Lie Over Ocean