Chuck Higgins Pachuko Hop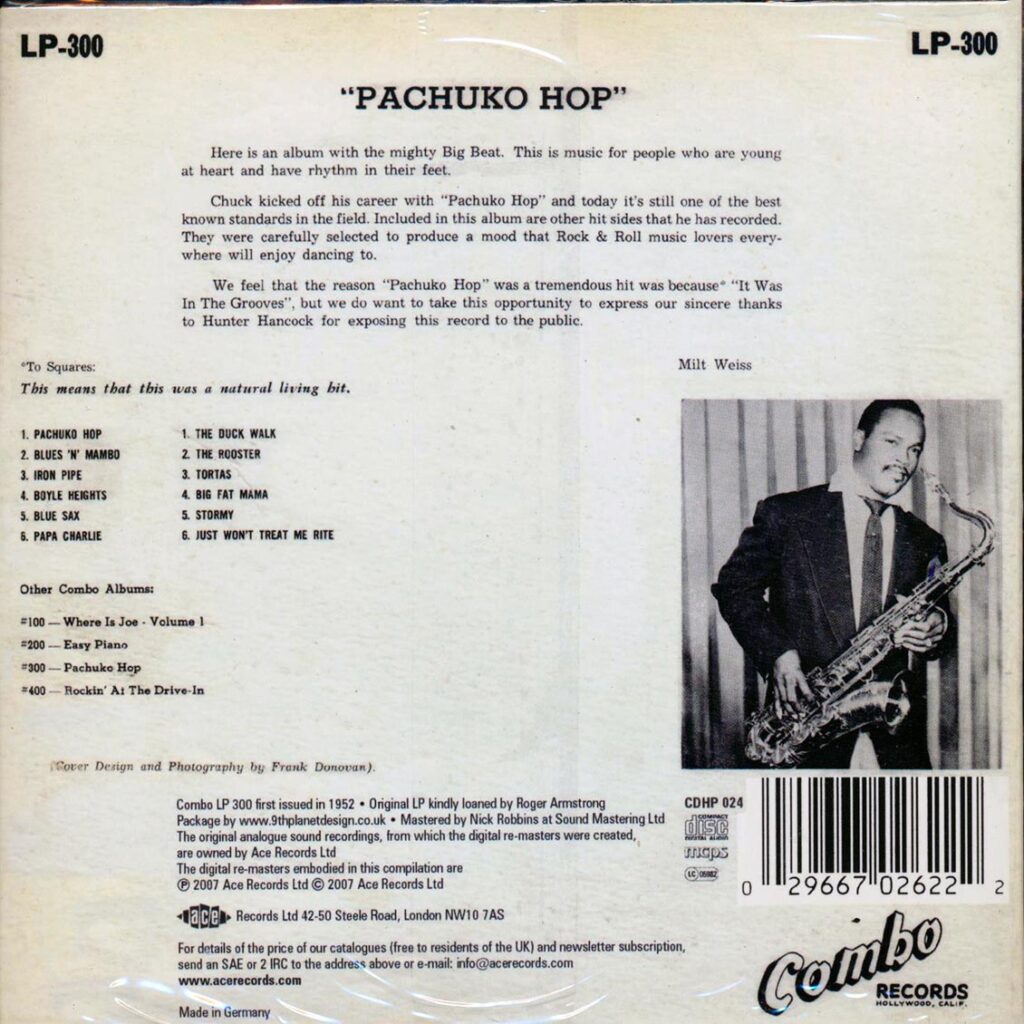 Moma said, "Don't go looking for trouble, or you'll find it."
And if you go looking for poltergeists you'll find them, too.
By June 2, 1956 Fats Domino, Sam Phillips, Ike Turner's "Rocket 88," Alan Freed, Elvis, Bill Haley, the Blackboard Jungle, Little Richard, and other early R & B people were well on to inventing this new thing: Rock 'n' Roll.
Chuck Higgins Pachuko Hop
Fear of Rock
And like any new youth music craze (see the "godless" 16th century forbidden waltz), many adults looked to find a menace. It was easy to cast 1950s' fears onto Rock. Conspiracy theorists could say Communists brought the music into America to weaken us. Other irrational and racist commentators claimed that the lazy promiscuous (both at the same time?!) Negro was the fault.
Or in California, Mexican-Americans.
And 1950 adults tried to stomp out the music and its suggestive dancing and lyrics.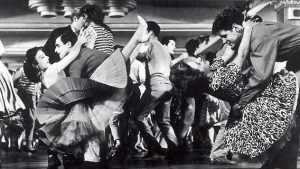 Zoot suit  
Pachuko (or pachuco) refers to a style of dressing that might be better known as the zoot suit.
Chuck Higgins
Chuck Higgins was born in Gary, Indiana on April 17, 1924. According to a Black Cat Rockabilly article, "His first choice of instrument was the trumpet, which he took up at he age of ten and at which he became considerably more proficient than he ever did at playing the tenor saxophone."
He and his family moved to California in 1940 where he eventually became the leader and saxophonist of  Chuck Higgins & His Mellotones.
In 1952 he wrote "Pachuko Hop." The song became a local hit.
Chuck Higgins Pachuko Hop
Santa Cruz dance show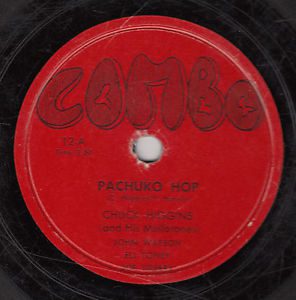 As was happening throughout the US, on June 2, 1956 there was a dance in the Santa Cruz Civic Auditorium featuring Chuck Higgins and his Orchestra. Police entered the auditorium just to check on the event, and what they found, according to Lieutenant Richard Overton, was a crowd "engaged in suggestive, stimulating and tantalizing motions induced by the provocative rhythms of an all-negro band."
Lt. Overton shut down the dance.
The next day, June 3, 1956, Santa Cruz city authorities announced a total ban on rock and roll at public gatherings, calling the music "Detrimental to both the health and morals of our youth and community."
Chuck Higgins Pachuko Hop
Woodstock

4822 days later, 500,000 young people gathered on a Bethel, NY hay field to enjoy three days of music. On the second day Country Joe led them in a cheer.