1969 Denver Pop Festival
June 27, 28, & 29
Mile High Stadium
1969 festival #16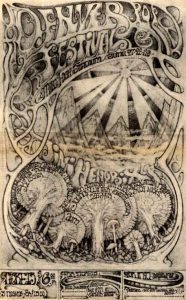 AUD of Big Mama Thorton, "Ball and Chain"
The line-up
June 27

Big Mama Thornton
The Flock
Three Dog Night
Frank Zappa and the Mothers of Invention
Iron Butterfly

June 28

Aorta
Zephyr
Poco
Johnny Winter
Tim Buckley

Creedence Clearwater Reviva

l

June 29

Aum
Zephyr
Rev. Cleophus Robinson
Joe Cocker
Three Dog Night

Jimi Hendrix Experienc

e
1969 Denver Pop Festival
Mile High Stadium
The Denver Pop Festival was the sixteenth rock festival of 1969. It was held at at Mile High Stadium [insert joke here].
Holding such an event inside a big stadium seemed like a perfect match. Bathrooms, food services, seating, controlled exit and entry are already present and do not have to be independently set up.
Unfortunately for the Denver festival, that amount of control was part of its problem.
1969 Denver Pop Festival
Hendrix/Star Spangled Banner
Another little known part of its history was that the Denver Pop Festival was the last performance by the Jimi Hendrix Experience, less than three years after its formation in the UK in September 1966. And Woodstock fans may be disappointed to hear that Hendrix played the Star Spangled Banner, that the Woodstock Music and Art Fair was not his first public performance of that cover.
1969 Denver Pop Festival
Bill Hanley & Chip Monck
Barry Fey promoted the concert. While his name may not be recognized by many as a Bill Graham is, Fey had a long illustrious history of rock concert promotion. In fact, he promoted the first Led Zeppelin concert in the US: December 26, 1968 at the Denver Auditorium Area.
The Denver festival, unlike Woodstock's legal challenges and trying to find a home accepted by the locals, had the support of the city government. Denver provided a campground, services there, as well as a shuttle service to and from the festival.
Like Woodstock's impeccable sound system, Bill Hanley was the sound man. Like Woodstock, Chip Monck was an MC.
1969 Denver Pop Festival
Not a Woodstock
So why wasn't the Denver Pop Festival another Woodstock? Looking at its line up it certainly had that potential.
Once again it is a combination of factors. The number of attendees plays a part. The Mile High Stadium accommodated approximately 50,000 people. Certainly an acceptably large amount, but no comparison to a 40-acre Max Yasgur field with 400,000.
Not filming or recording the event is another factor. The only recording I could find on YouTube was an audience one of Big Mama Thorton. She wrote "Ball and Chain" and as good as the famous Janis Joplin cover is, it's nice to hear Thorton herself.
1969 Denver Pop Festival
Law enforcement
Part of Woodstock's mission was to keep law enforcement away from the festival site. NYC cops were hired to moonlight, but only those who had a conciliatory attitude toward the Woodstock generation youth were hired. NY State Police were present on the periphery.
In Denver the local police were outside and around the stadium. Their presence, though not intentionally there to intimidate and harass, represented the authority that so many young people were rebelling against.
First Day
Inside the stadium was mostly OK. One minor incident was that a fan undressed, but was taken away by security. No such qualms would exist in Bethel, NY.
Outside some gatecrashers unsuccessfully tried to get past the security guards. Keep in mind, that the view of some fans and musicians was that music should be free. Tying a price to listen made the event corporate, the antithesis of to the counter culture's ideals.
Members of the Students for a Democratic Society (SDS) and the American Liberation Front were there to protest, not for the music.
At a point the first day, a bottle was thrown and hit the helmet of an officer.  The thrower was arrested without any additional incidents.
1969 Denver Pop Festival
Gatecrashers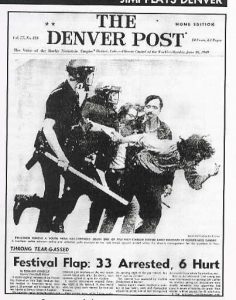 The second day again found gatecrashers unsuccessfully attempting entry. This time additional police were called in and they used time tear-gas to disperse the crowd. Some of the gas wafted into the stadium where Chip Monck advised the crowd to cover and protect their faces. Promoter Barry Fey subsequently handed out free tickets to avoid any further confrontations.
The free tickets were limited and the next day tear gas was again used to force gatecrashers away.
1969 Denver Pop Festival
Yes Butterfly, but last Experience
The Iron Butterfly did play in Denver, but though scheduled to play at Woodstock, they'd be left at the airport waiting for a ride after hearing a coded FU.
As mentioned above, this event was the last performance of the Jimi Hendrix Experience. The next time Hendrix would play in public would be that famous muddy morning in Bethel, NY at the Woodstock Music and Art Fair. Drummer Mitch Mitchell would remain part of Hendrix's larger ensemble there, but Noel Redding was no longer a member.
Click below to hear a small slice of Jimi Hendrix's intro at Denver.
According to John Kane's excellent book, The Last Seat in the House, The Story of Hanley Sound, Fey only made $50,000 in profit.  In two months, Woodstock Ventures would have considered such a "small" profit a complete success.
Related link >>> http://www.bobwyman.com/hendrix.html
Related link >>>  http://www.retrorebirth.com/music-festivals/denver-pop-festival-june-27-29-1969.php
1969 Denver Pop Festival
Next 1969 festival: Bath Festival of Blues