1969 Bath Festival Blues
June 28, 1969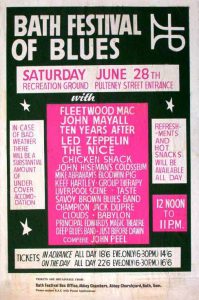 1969 Bath Festival Blues
1969 Festival #17
UK Makes Festival List
By 1969 the US had had several major rock festivals. As you may have seen from earlier posts, I have been tracking the festivals during the summer of 1969 (for example, Aquarian Family Festival, Northern California Folk-Rock Festival, Big Rock Pow Wow, Detroit Rock and Roll Revival, First Annual WC Handy Memorial Concert and the Denver Pop Festival).
Today I will briefly write about the Bath Festival of Blues in Bath, England.
UK Bath Festival Blues
Freddie Bannisters
Surprisingly, England had not yet had a rock festival. Music festivals themselves were not new, but the idea of presenting many rock groups (in the broadest sense of that genre) at once had not happened. Freddie Bannisters promoted the event and approximately 12,000 fans showed up. That number seems small by many other festival numbers, but unlike many other festivals, Bannisters did not lose money and was able to promote another much larger festival the following year.
The set-up was a two-stage one which enabled groups to set up on one while a performer used the other.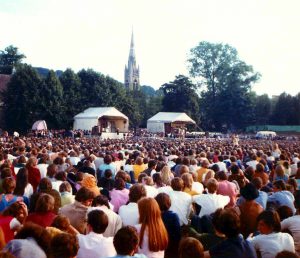 1969 Bath Festival Blues
Line-up
The advertised line-up was a nice blues mix including the elder statesmen, Champion Jack Dupree. Ten Years after and Keef Hartley would make the trip to Bethel, NY in August, Those asterisked may not have played:
Fleetwood Mac

John Mayall's Bluesbreakers

Led Zeppelin

The Nice

Chicken Shack

Jon Hiseman's Colosseum

Mick Abrahams' Blodwyn Pig

Group Therapy*

Liverpool Scene

Taste

Savoy Brown Blues Band

Champion Jack Dupree

Clouds*

Babylon*

Principal Edwards Magic Theatre

Deep Blues Band

Just Before Dawn
1969 Bath Festival Blues
My Brother John
John Bonham's brother Mick recalls the event in his book, "My Brother John":
"On previous occasions I had traveled to gigs on my scooter or on the bus, but this time it would be in style to what had been advertised as 'the Big One'. We drove down during the morning meeting up with Jimmy, Robert, and John Paul in the backstage bar. It was pretty unreal for me, rubbing shoulders with some of the great musicians I had only read about like: Fleetwood Mac, Ten Years After and the man who launched so many great names from his Bluesbreakers, Mr. John Mayall.
"The Recreation Ground and Pavilion was in a lovely setting in the centre of Bath and on a warm summer's afternoon I couldn't think of anywhere I would rather be, along with 12,000 other people. I had taken a camera with me, so well before Zeppelin was to go on I made my way out into the crowd and towards the front of the stage. Finding a nice patch of grass, I waited patiently  for the emergence of Led Zeppelin. When the band took to the stage, the audience surged past me, leaving me only enough time to take three photos before I was swallowed up by 'the ocean'. As the show finished and the crowd moved back, I was still on the floor, looking like one of those hedgehogs you see squashed on the road.
"After the show, it was a few beers in the bar and then back home, via the local fish and chip shop of course. Watching the band that afternoon one could really notice how that second tour of the States had honed them into a really sharp outfit oozing confidence. The press saw it too, declaring 'Zeppelin's fiery set in which they played their own individual form of progressive blues devastated most and proved on of the most enjoyable sets of the festival'."
Related link >>> Bath Festival site
1969 Bath Festival Blues
Next 1969 festival: Harlem Cultural Festival