1969 Harlem Cultural Festival
later known as the "Black Woodstock"
Mount Morris Park, NYC
1969 festival #13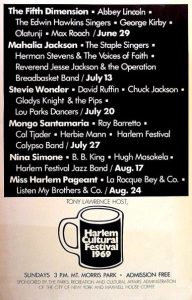 June 29 – August 24, 1969: consisted of six free Sunday afternoon concerts held between June 29 and August 24. The  total attendance was some 300,000 people.
Held in Harlem at Mount Morris (now Marcus Garvey) Park, it was a self-consciously urban affair, a concert series rather than a one-off, and already in its third year. The New York City Parks Department and Maxwell House co-sponsored the series.
The festival was hosted and promoted by Tony Lawrence, a New York night club singer. [NYT article]
Line-up
June 29:
Abbey Lincoln
Edwin Hawkins Singer
George Kerby
Olatunji
Max Roach
Sly & the Family Stone
https://www.youtube.com/watch?v=JJt-C6I6EDs
July 13:
Mahalia Jackson
Staple Singers
Herman Stevens & The Voices of Faith
Reverend Jesse Jackson & the Operation Breadbasket Band
July 20:
Stevie Wonder
David Ruffin
Chuck Jackson
Gladys Knight & the Pips
Lou Parks Dancers
July 27:
Mongo Santamaria
Ray Barretto
Cal Tjader
Herbie Mann
Harlem Festival Calypso Band
August 17:
Nina Simone
BB King
Hugh Masakela
Harlem Festival Jazz Band
https://www.youtube.com/watch?v=3F8Cqp7smwM
August 24:
La Rocque Bey & Co.
Listen My Brothers & Co
1969 Harlem Cultural Festival
Televised
Producer Hal Tulchin filmed the full concert series, though the majority of this film remains commercially unreleased. New York's affiliate television station WNEW Metromedia Channel 5 (now FOX) broadcast hour-long specials of the footage on Saturday evenings at 10:30 PM in June–August 1969.
Ignored
In October of '69, writer Raymond Robinson took to the pages of the New York Amsterdam News. He said that the world would lionize Woodstock, and forget about Harlem. "The only time the white press concerns itself with the black community is during a riot or major disturbance," he wrote of the shows, which had taken place during an eight-week period without a single report of violence.
1969 Harlem Cultural Festival