Yugoslavia Dissolves

The dissolution of Yugoslavia ran parallel with the dissolution of the Union of Soviet Socialist Republics and the accompanying freeing of eastern European countries that had come to be known as Soviet satellites.
I separate the two events because the dissolution of Yugoslavia, also a Soviet satellite, because Yugoslavia's story became a tragic one and one whose story continued well past USSR's December 26, 1991 official end.
Yugoslavia Dissolves
Kingdom of Yugoslavia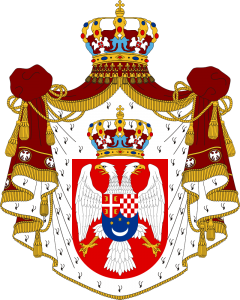 October 3, 1929: The Kingdom of Serbs, Croats and Slovenes changed its name to the Kingdom of Yugoslavia.
Yugoslavia Dissolves
Socialist Republic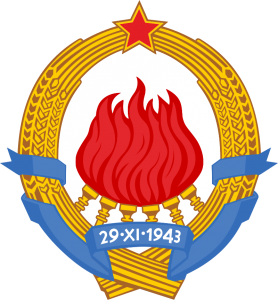 January 31, 1946: the Constitution of the Socialist Federal Republic of Yugoslavia was adopted, creating six internal republics: Bosnia and Herzegovina, Croatia, Macedonia, Montenegro, Serbia [with Kosovo and Vojvodina autonomous provinces within it], and Slovenia. Belgrade was the capital.
The constitution, modeled on that of the Soviet Union, would serve at the supreme law of Yugoslavia throughout the Cold War.
Josip Broz Tito is the Communist leader most associated with Yugoslavia and despite the common political views with the USSR, Tito and Josef Stalin were not on the best of terms. In fact, in post-World War II, Stalin warned,  'I will shake my little finger and there will be no more Tito." Stalin even attempted to assassinate Tito, but failed.
Tito's classic response to the assassination attempts was: Stop sending people to kill me. We've already captured five of them, one of them with a bomb and another with a rifle. […] If you don't stop sending killers, I'll send one to Moscow, and I won't have to send a second.
President for life
April 7, 1963, the nation changed its official name to Socialist Federal Republic of Yugoslavia and Tito was named President for life.
Tito died in 1980 and following his death, ethnic tensions within Yugoslavia grew.
Yugoslavia Dissolves
Collapse begins
Slovenia
December 23, 1990: in a referendum on Slovenia's independence from Yugoslavia, 88.5% vote in favor of independence.
Croatia and Slovenia
June 25, 1991: Croatia and Slovenia declared their independence from Yugoslavia.
Republic of Macedonia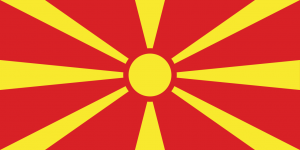 September 8, 1991: the Republic of Macedonia becomes independent. Because of a dispute with Greece over the name, In June 2018, Macedonia and Greece agreed that the country should rename itself Republic of North Macedonia. This renaming came into effect in February 2019.
Croatia
October 8, 1991: Croatia independent from Yugoslavia.
Yugoslavia Dissolves
UN oversight
November 2, 1991: The UN Security Council unanimously adopts a resolution opening the way to the establishment of peacekeeping operations in Yugoslavia.
Republika Srpska
January 9, 1992: the Assembly of the Serb People in Bosnia and Herzegovina proclaimed the creation of a new state within Yugoslavia, the Republika Srpska.
Collapse recognized
January 15, 1992: the Yugoslav federation effectively collapsed as the European Community recognized the republics of Croatia and Slovenia.
Bosnia and Herzegovina
March 1, 1992: Bosnia and Herzegovina independent from Yugoslavia.
Serbia and Montenegro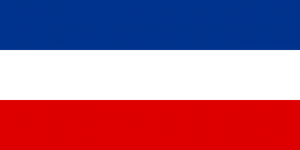 April 28, 1992: the two remaining constituent republics of the former Socialist Federal Republic of Yugoslavia – Serbia and Montenegro – form a new state, named the Federal Republic of Yugoslavia=–after 2003, Serbia and Montenegro), bringing to an end the official union of Serbs, Croats, Slovenes, Montenegrins, Bosnian Muslims, and Macedonians that existed from 1918 (with the exception of the period during World War II).
Yugoslavia Dissolves
War
Operation Deny Flight
February 28, 1994: US F-16s shot down 4 Serbian J-21s over Bosnia and Herzegovina for violation of the Operation Deny Flight and its no-fly zone.
August 4, 1994: Serb-dominated Yugoslavia withdrew its support for Bosnian Serbs, sealing the 300-mile border between Yugoslavia and Serb-held Bosnia.
Pogrom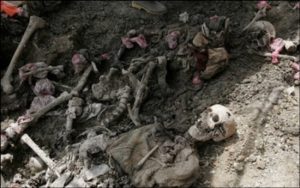 July 11 – 22, 1995: Bosnian Serbs marched into Srebrenica while UN Dutch peacekeepers leave. More than 8,300 Bosniak men and boys are killed in the Srebrenica massacre.
Dayton Accords
November 21, 1995: leaders of Croatia, Bosnia and Serbia agreed to the Dayton Accords ending nearly four years of terror and ethnic bloodletting that had left a quarter of a million people dead in the worst war in Europe since World War II. The Accords were formally signed in Paris, France on December 14.
December 14, 1995: the Dayton Agreement signed in Paris; established a general framework for ending the Bosnian War between Bosnia and Herzegovina.
December 20, 1995: NATO begins peacekeeping operation in Bosnia.
March 24, 1998: NATO launched air strikes against the Federal Republic of Yugoslavia, which refused to sign a peace treaty. This marked the first time NATO attacked a sovereign country.
Yugoslavia Dissolves
War Crimes
May 27, 1999: in The Hague, Netherlands, a war crimes tribunal indicted Slobodan Milosevic and four others for atrocities in Kosovo. It was the first time that a sitting head of state had been charged with such a crime.
June 3, 1999: Yugoslav President Slobodan Milosevic accepted a peace plan for Kosovo designed to end mass expulsions of ethnic Albanians and 11 weeks of NATO airstrikes.
June 9, 1999: the North Atlantic Treaty Organization (NATO) and the Federal Republic of Yugoslavia, signed the Kumanovo Treaty, ending the Kosovo War. The agreement also opened the way for the establishment of international security forces to maintain order in Kosovo and a UN protectorate over the region. The parliament of Kosovo subsequently declared independence in 2008.
June 10, 1999: Yugoslav troops begin leaving Kosovo, prompting NATO to suspend its punishing 78-day air war.
June 12, 1999: NATO peacekeeping forces entered the province of Kosovo in Yugoslavia.
June 20, 1999: as the last of 40,000 Yugoslav troops left Kosovo, NATO declared a formal end to its bombing campaign against Yugoslavia.
February 23, 2001: a U.N. war crimes tribunal convicted three Bosnian Serbs on charges of rape and torture in the first case of wartime sexual enslavement to go before an international court.
Dragoljub Kunarac, 40, a former commander of the Bosnian Serb army, was sentenced to 28 years imprisonment. Dragoljub will face additional charges in 2019
Radomir Kovac, 39, a former paramilitary commander, was sentenced to 20 years. Zoran Vukovic, 39, also a former paramilitary commander, was given 12 years for rape and torture.
Slobodan Milosevic
June 28, 2001: former Yugoslav leader Slobodan Milosevic was handed over by Serbia to the U.N. war crimes tribunal.
February 12, 2002: the trial of Milosevic–the 'butcher of the Balkans–began at The Hague. Milošević defended himself.
March 12, 2006: Milošević died before the trial could be concluded; he was therefore never found guilty of the charges brought against him.
Yugoslavia Dissolves
More independence
Montenegro
May 20, 2006: Montenegro independent from Serbia.
Republic of Kosovo
February 17, 2008: Republic of Kosovo independent from Serbia (partially recognized; not a member of the United Nations).
Yugoslavia Dissolves
Crimes against humanity
Radovan Karadzic
March 24, 2016: Radovan Karadzic, the former Bosnian Serb leader, was convicted of genocide, war crimes and crimes against humanity by a United Nations tribunal on Thursday for leading a campaign of terror against civilians in the deadliest conflict in Europe since World War II.
Karadzic, 70, was sentenced to 40 years in prison for his role in lethal ethnic cleansing operations, the siege of Sarajevo and the slaughter of 8,000 Muslim men and boys in Srebrenica in 1995, in proceedings that were likened to the Nuremberg trials of former Nazi leaders.
Gen. Ratko Mladic
November 21, 2017: General Ratko Mladic, the former Bosnian Serb commander, was convicted of genocide, crimes against humanity and war crimes. He was sentenced to life in prison.
The tribunal found that Mladic, 75, was the chief military organizer from 1992 to 1995 of the campaign to drive Muslims, Croats and other non-Serbs off their lands to cleave a new homogeneous statelet for Bosnian Serbs.
The deadliest year of the campaign was 1992, when 45,000 people died, often in their homes, on the streets or in a string of concentration camps. Others perished in the siege of Sarajevo, the Bosnian capital, where snipers and shelling terrorized residents for more than three years, and in the mass executions of 8,000 Muslim men and boys after Mladic's forces overran the United Nations-protected enclave of Srebrenica.
Radovan Karadzic life
United Nations court increased the sentence of Radovan Karadzic, the former Bosnian Serb leader, from 40 years to life in prison for his role in the Bosnian war of the 1990s, reaffirming his 2016 conviction on charges of genocide, war crimes and crimes against humanity.
Both the prosecution and the defense had appealed the 2016 result of Karadzic's trial before the United Nations Criminal Tribunal for the Former Yugoslavia, in The Hague. Karadzic, who largely acted as his own lawyer in court, had asked to be acquitted of all charges.
The prosecution sought an increase in his sentence — a largely symbolic move, because Karadzic, 70 at the time of the verdict, was unlikely to live long enough to serve out his lengthy sentence. But symbolic or not, the court's decision to raise the penalty drew cheers and applause from Bosnians watching in the gallery.
Yugoslavia Dissolves