Unknown Legend Peter Walker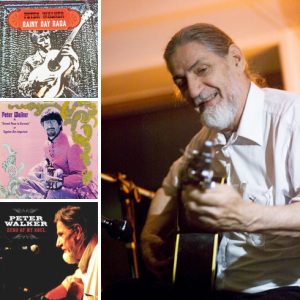 Walker's "Improv in A-minor" live in the Bronson Caves Griffith Park, LA
When my son recommended that I listen to Karen Dalton, I didn't realize how much I'd like her and (again) be disappointed with myself that I hadn't known of her already.
As often happens, the "discovery" of one thing leads to another and Dalton led to Peter Walker, someone who was also part of the folk revival of the early 1960s.
With Peter Walker the wonderful thing is, beside his own peripatetic story, is how many other well-known 60s musicians he crossed paths with.
This little blog post isn't meant to be a biography, but merely an overview. I have included several links in this piece if you're interested in more.
Unknown Legend Peter Walker
Boston > San Francisco
Walker was born in Boston in 1938 into a musical family. His father played folk guitar, his mother was a classical pianist. He didn't play guitar in public until 1959, when he traveled to San Francisco.
Unknown Legend Peter Walker
Intersections
Here is an example of one of those musical intersections. In San Francisco, he taught some guitar to Jim Gurley who later became guitarist with Big Brother and the Holding Company.
And it was there that Walker first heard Ravi Shankar play and became fascinated with raga.
Walker later he studied with Ravi Shankar (alongside George Harrison and Donovan–more intersections) and with sarad virtuoso Ali Akbar Khah.
Unknown Legend Peter Walker
Flamenco
A musician with his ears open to all sounds, Walker "discovered" flamenco. He traveled to Spain to learn. He found that the Indian raga and the flamenco had similarities.
In a Jennifer Kelly interview for the Dusted Features site, Walker said,  In both raga and flamenco, the music creates an effect. If you play a predetermined series of notes, it will have a predetermined effect. So it was the process of creating that effect that fascinated me," he says. "You get a drone, you get a wall of sound going, and then you play melodies into it, which are entertaining or rhythmically changing.
Islam's influence in both places also connects the styles.  Muslim conquerors in Delhi sent musician captives back to their outposts in Granada.
Unknown Legend Peter Walker
Timothy Leary
Another intersection was Timothy Leary.  In 1965, Timothy Leary felt that Walker's music would dovetail nicely with the LSD experience and Walker became the music director at a the estate Leary rented in Millbrook, NY.
The site was 2,500 acres and included a 64-room Bavarian baroque mansion and gatehouse that wealthy William "Billy" Mellon Hitchcock (benefiting from a trust fund that in 1963 was giving him $15,000 a week) had bought for $500,000
Unknown Legend Peter Walker
Rainy Day Raga
Vanguard released Walker's first album, Rainy Day Raga, in 1966.
Matthew Greenwald's AllMusic review states, "Exploring a tonal range that would be best described as the perfect L.S.D. soundtrack, this album is a gentle, evocative affair, and often recalls some of the passages that Stephen Stills would use for "Suite: Judy Blue Eyes," among others. Aided by Dylan session veteran Bruce Langhorn on percussion (and by others as well), this is a fine document of a space in time when ragas were just becoming popular in Western music. In a certain way, Walker was a visionary, and this album shows it."
Second Poem to Karmela or Gypsies Are Important album came out in 1968.
Unknown Legend Peter Walker
Bureau of Narcotics
As is too often the case, activists come under the undercover scrutiny of. In the aftermath of the Robert Kennedy assassination, Walker had volunteered to be the caretaker of the White House photo collection that that Jacques Lowe had done for the Kennedy family. At the same time, Walker was involved in the "Americans for Biafra Relief" committee formed by Ted Kennedy.
At one point, an overly ambitious agent looking to score some points planted drugs in the loft. Luckily, Walker found them (and flushed them) before anyone else did and Walker's friendly connections vouched for his integrity when the planted accused Walker of the drug stash anyway.
Peter Walker graciously offered the following amendment to the above:
This article was incorrect in one area. It was not the FBI that planted the drugs (an ounce of Heroin). It was a high ranking agent of the "Bureau of "Narcotics" which was the DEA of that era. I was rescued by high ranking agents of the Justice Department who were friends with the Kennedy's, and who apologized to me on behalf of the Federal Government. True good guys! Only interaction with the FBI was: Unknown to me they had photographed me at an un-American Activities Committee protest in San Francisco in 1958. and, unknown to me, had labeled me a communist. Untrue. Then, after the assassination of JFK, two FBI agents went to The Director of Nursing of the State of Ohio and tried to get my wife's licence as a RN revoked, (for being married to me). They were unsuccessful. There was and still are different political and law enforcement agendas with different agencies. I went on in life to receive three medals from three Presidents.
Unknown Legend Peter Walker
William Kunstler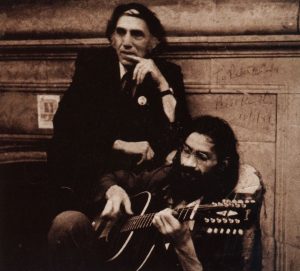 In 1970, Walker was living (insert briefly again) in Detroit where he lived at the Garwood Mansion. He met radical lawyer William Kunstler who was in town to speak about in injustices of the American justice system, particularly as it related to the then-recently imprisoned John Sinclair who had been given a 10-year sentence for giving an undercover agent 2 joints.  (At the Woodstock Music and Art Fair, Abbie Hoffman had famously bolted on stage during the Who's set in an attempt to rouse the crowd to Sinclair's cause.)
In 2013, Delmore Recording Society released Has Anybody Seen Our Freedoms?, a album Walker had recorded in 1969, but "lost" for decades. Kunstler and Walker appear together on the album cover in a picture taken at Garwood Mansion.
Unknown Legend Peter Walker
Family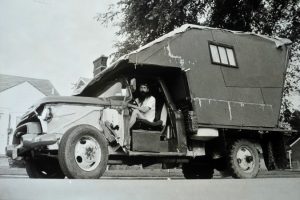 Getting out of the counter-cultural limelight, Walker moved to Woodstock, NY. He married and began to raise a family. He left the traveling performance scene behind, only playing locally, particularly Ron Merians's the Joyous Lake.
A "few" others played at the Joyous Lake as well…
Walker did not leave the learning scene, particularly the flamenco.
Jennifer Kelly again quoted Walker: So much of music is an expression of feeling. You tell a story with the music but you really, unless it's an empty character study, it's more about your feelings. Some guy in Mexico told me, 'You make me feel the way you do when you play.' Well, that's part of the magic of it. That's what makes it so worthy of pursuit, to be able to do that.
And traveling didn't end. He designed campers for pick up trucks and with one drove through out the country and often into Mexico.
Using those same mechanical skills, at another point, he lived in Aspen, Colorado in charge of a taxi fleet.
When his children were school age, he moved to NYC. He also went to school and earned a paralegal certificate.
He went to Spain to continue to improve his guitar skills.
Unknown Legend Peter Walker
2008
Fortunately for Walker, he was still alive forty years after his second album and Tompkins Square Records released his third album, Echo of My Soul. So many other "unknown" master guitarists like John Fahey and Robbie Basho had died.
Pat Sullivan's AllMusic review said that the album "… represents a break with the eastern influences of Walker's '60's output and heralds his latest obsession with flamenco. With the same dedication he brought to earlier collaborations with Ravi Shankar, the New Yorker has immersed himself in the Spanish guitar idiom and has come to be accepted by its vanguard musicians. This new-found mastery resonates throughout ECHOES OF MY SOUL, a beautifully played opus perfect for any fan of flamenco or avant acoustic music."
Unknown Legend Peter Walker
Karen Dalton/2015
As I mentioned at the top of this entry, it was Karen Dalton's story that led me to Peter Walker. They had met in Greenwich Village. Dalton's story is a sad one.  One that ended with her dying of AIDS, but being cared for by Peter Walker at his Woodstock, NY home in  1993.
Dalton gave Walker intellectual property rights, among which was Dalton's books of lyrics, which was also stuffed with illustrations. It took a long time before her writings found voices, but in 2015 Tompkins Square Records released Remembering Mountains. On it several songwriters put Dalton's haunting words to music.
Walker wrote the liner notes.
Unknown Legend Peter Walker
Catastrophe
On October 22, 2018 fire destroyed Walker's home, the Ark. Despite trying to rescue his dog (and nearly dying in the attempt), the dog died. The fire destroyed all his belongings including guitars and memorabilia.
Investigators determined an overturned candle caused the fire.
A GoFundMe page has been set up to assist Walker.
Unknown Legend Peter Walker
#5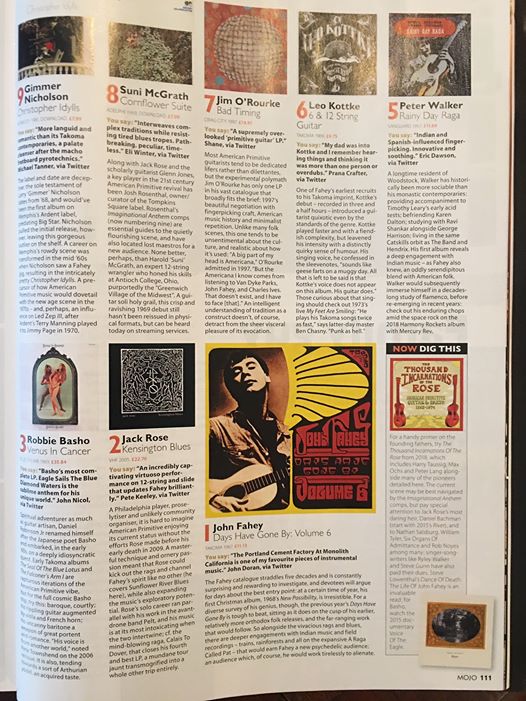 In 2020 MOJO magazine named Walker #4 of the "Top Primitive Guitarists of all time" Some felt he should have been #1, but he responded, "Everybody has their own perspective on reality, I would have put my self third after John Fahey, and Sandy Bull based on sequential timeline. At the time in 1964 when I first became a professional player these were the only other US solo guitarists that I knew or had heard of."
Unknown Legend Peter Walker
McCreedy Family
One of the wonderful things about my posts is when someone associated with them contacts me. In 2023 Glenn McCreedy emailed the following memory regarding Walker and McCreedy crossing paths in Millbrook, NY.
My mother Jean McCreedy, my brother Cliff and I arrived at Millbrook in June 1966 as my mom was participating in the summer psychedelic seminar organized and conducted by Tim Leary and his team which manifested in the Psychedelic Celebrations performances at the Village Theater in NYC. I operated a slide projector in those productions. My family and I lived in the Big House from 1966 to 1968, continuously. My mom was Tim Leary's secretary and helped him organize and prepare manuscripts for his published books of the period.
Observing and listening to Peter Walker perform in the Music Room had a major impact on me. I had a Martin D-18 that I practiced on and later took fingerstyle lessons, also studying the work of John Fahey, Stefan Grossman, Robbie Basho, Sandy Bull, and others. What prompted me to comment on your post is that I am finding my playing now to be a fluid melange of flamenco-style strums and picking of individual notes and chords in Dropped D tuning and open tunings. I credit Peter Walker for the genesis of my playing and personal style. I have a treasured LP copy of RAINY DAY RAGA.
My brother, two friends, and I returned to the Millbrook estate for visits in 2019 and 2021. We have kept up our relationship with the Hitchcock family and are grateful to them for the opportunity to return to the place of the extraordinary experiences we were so fortunate to have as young kids. 
Thank you Glenn.