1969 Harlem Cultural Festival
later known as the "Black Woodstock"
Mount Morris Park, NYC
1969 festival #18
June 29 – August 24, 1969: consisted of six free Sunday afternoon concerts held between June 29 and Aurgust 24. The  total attendance was some 300,000 people.
Held in Harlem at Mount Morris Park (now Marcus Garvey Park), it was a self-consciously urban affair, a concert series rather than a one-off, and already in its third year. The New York City Parks Department and Maxwell House co-sponsored the series.
The festival was hosted and promoted by the effervescent Tony Lawrence, a New York night club singer. [NYT article]
Line-up
June 29:
Abbey Lincoln
Edwin Hawkins Singer
George Kerby
Olatunji
Max Roach
Sly & the Family Stone
July 13:
Mahalia Jackson
Staple Singers
Herman Stevens & The Voices of Faith
Reverend Jesse Jackson & the Operation Breadbasket Band
July 20:
Stevie Wonder
David Ruffin
Chuck Jackson
Gladys Knight & the Pips
Lou Parks Dancers
July 27:
Mongo Santamaria
Ray Barretto
Cal Tjader
Herbie Mann
Harlem Festival Calypso Band
August 17:
Nina Simone
BB King
Hugh Masakela
Harlem Festival Jazz Band
August 24:
La Rocque Bey & Co.
Listen My Brothers & Co
1969 Harlem Cultural Festival
Televised
New York's affiliate television station WNEW Metromedia Channel 5 (now FOX) broadcast hour-long specials of the footage on Saturday evenings at 10:30 PM in June–August 1969.
Ignored
In October of '69, writer Raymond Robinson took to the pages of the New York Amsterdam News. He said that the world would lionize Woodstock, and forget about Harlem. "The only time the white press concerns itself with the black community is during a riot or major disturbance," he wrote of the shows, which had taken place during an eight-week period without a single report of violence.
"Summer of Soul" 
Producer Hal Tulchin filmed the full concert series,  but studios turned down his offers to sell the footage. The reels sat in Tulchin's basement for a half century until his death in 2017, when producers David Dinerstein and Robert Fyvolent obtained the never-before-seen footage. They brought it to The Roots drummer Ahmir "Questlove" Thompson, who made his directorial debut with  "Summer of Soul (…Or When the Revolution Could Not Be Televised) in 2021. The movie premiered on January 28, 2021 at the virtual Sundance Film Festival.
From a USA Today article, Questlove said at a post-screening  Q & A: "I instantly kind of scoffed. I was like, 'Wait a minute. I know everything that happened in music history. There's no way you're going to tell me this gathering happened and no one knew about it.' But sure enough, that was the case. Once they showed me raw footage, I just sat there with my jaw dropped, like, 'How has this been forgotten?'"
Questlove won the Grand Jury prize and the Audience prize in the nonfiction category of the festival.
1969 Harlem Cultural Festival
My Viewing
On July 1, 2021, I was able to see the film. By July, various news media had  covered the film's forthcoming general release.
Even with those previews, I wasn't sure what to expect. A concert film can simply be that: a selection of performance.  The movie Woodstock won an Oscar for Best Documentary because not only did it show many outstanding performances, it told the story of the event as well.
Summer of Love does the same thing and in some ways in an even broader way. Woodstock the movie is not particularly political. That a half million young people, most of whom were likely against the Vietnam War, for the use of cannabis, against the status quo, and other counter-cultural views and behaviors, gave the movie a political subtext.
Summer of Love is overtly political and often includes footage of the civil rights movement and the plight of Harlem's residents. Because the festival overlapped the USA's successful landing on the moon, even that event is referred to. The views of Harlem's residents stand in stark contrast to the general awe and praise by white America.
Woodstock alum can be understandably enthralled with the event and the movie. I've met dozens of people who say they were there and how great an experience they had but from their observations weren't actually there and even move who say they wish they'd gone. There is a lot of emotional investment in the event and to deny its historic significance would diminish their own self-worth.
Summer of Love does not demean Woodstock, but does demonstrate the power of live performances in general and the power of live Black (as well as Latino) performances in particular. I kept thinking while watching Summer of Love, "The reaction of Woodstock's attendees would have been astounding to this performer had Woodstock Ventures invited them to the festival."
After the viewing, my parting attempt at a pithy headline was, "I'll put up Mahalia and Mavis to any Woodstock performance." And there were many others as well, including Stevie Wonder, The Staples Singers, BB King, Nina Simone, well, just go back up to the list above.
By the way, those Black performers were touring that summer and some of their gigs did sometimes include other festivals.
Go watch the film.
Postscript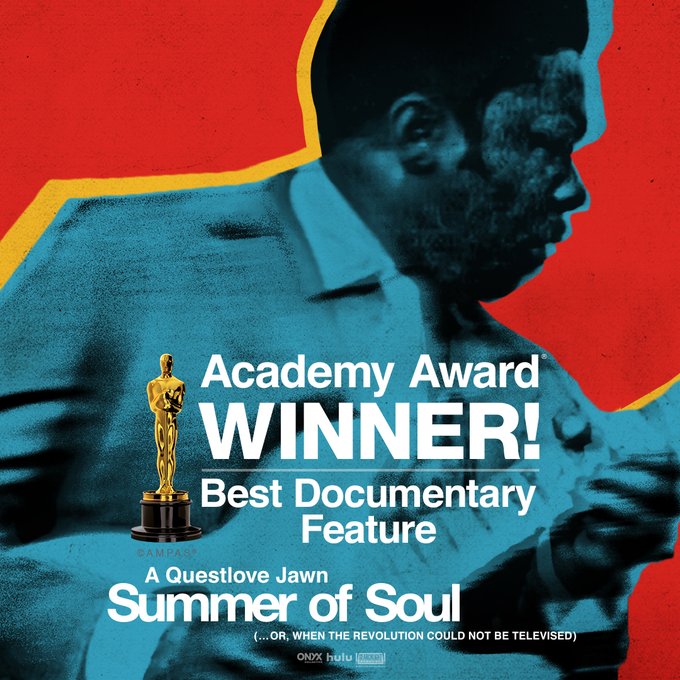 On March 27, 2022, Thompson's Summer of Soul (…Or, When the Revolution Could Not Be Televised) won the Oscar for Best Original Documentary at the 94th Academy Awards. His directorial debut won over Attica, Flee, and Writing With Fire. He shares the award with producers Joseph Patel, Robert Fyvolent, David Dinerstein.
"This is such a stunning moment for me right now, but it's not about me," Questlove said. "It's about marginalized people in Harlem that needed to heal from pain. Just know that in 2022, this is not just a 1969 story about marginalized people in Harlem." He took a pause, saying he was overwhelmed by the moment.
1969 Harlem Cultural Festival
Next 1969 festival: Newport Jazz Festival