Bluesman Paul Vaughn Butterfield
December 17, 1942 – May 4, 1987
Remembering Paul Butterfield
Paul Butterfield was born in Chicago on December 17, 1942. He initially started playing the flute, but the magnetism of Chicago's blues pulled him in and the harmonica became his instrument.
Butterfield began performing with fellow blues enthusiasts Nick Gravenites and Elvin Bishop and with the addition of a few others, including Michael Bloomfield, formed the Butterfield Blues Band.
Bluesman Paul Vaughn Butterfield
Newport 1965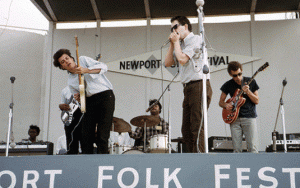 It was at that famous Newport Folk Festival of 1965, that Butterfield first met fame. Well-received by many there (electric blues was not what some came to hear), particularly by a young guy named Bob Dylan, Dylan invited some of the band to back him on part of his performance. Electric Dylan! Definitely not what some came to hear.
Like Paul Revere, Paul Butterfield helped deliver the big news: Dylan ain't gonna work on Maggie's farm no more:
Bluesman Paul Vaughn Butterfield
Vinyl Butterfield
Butterfield released seven albums with Elektra Records and later four albums for manager Albert Grossman's Bearsville Records.
He also performed at the Woodstock Music and Art Fair on Monday morning after Crosby, Stills, Nash and Young and before Sha Na Na. Quite a placement! Here's a great video from that performance:
Solo
The Blues band ended and he went solo. In 1976 he was part of the amazing line-up for The Band's Last Waltz.
Bluesman Paul Vaughn Butterfield
Sessions
Over the next few years, Butterfield mostly confined himself to session work. He began to play more gigs in Los Angeles during the early '80s, and eventually relocated there permanently; he also toured on a limited basis during the mid-'80s, and in 1986 released his final album, The Legendary Paul Butterfield Rides Again.
Paul Butterfield died on May 4, 1987.
R & R H of F
In 2015 he was (finally) inducted into the Rock and Roll Hall of Fame (with band members Mike Bloomfield, Elvin Bishop, Mark Naftalin, Jerome Arnold, Billy Davenport and Sam Lay) (New York Times obituary)
Bluesman Paul Vaughn Butterfield