January 23 Music et al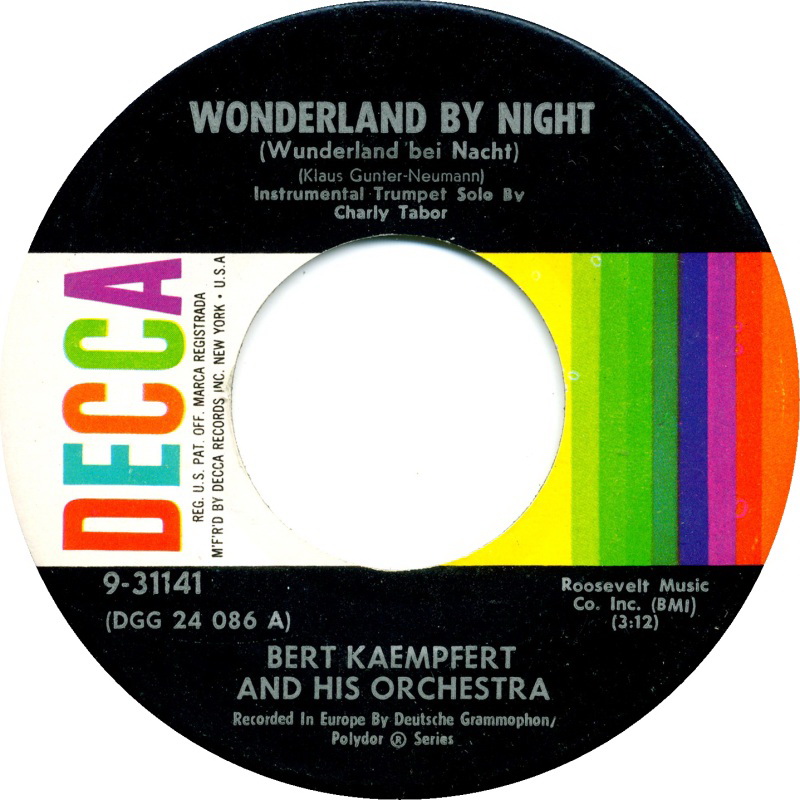 Bert Kaempfert
January 23 – February 12, 1961: Bert Kaempfert's Wonderland by Night is Billboard #1 album. Bruce Eder of AllMusic dot com writes: 
Wonderland by Night was Bert Kaempfert's first big international success — propelled by the presence of the number one charting title track, a moody, wistful instrumental authored by Klaus Gunter-Neumann that recalled the late big band era, it also reached the top spot on the American charts and became a favorite of middle-brow listeners just getting into the new innovations of hi-fi and stereo. Today it all seems tame, mostly because it was safe retro-pop-instrumental music executed with a great deal of elegance, which overcomes the sappiness of material such as "Tammy." The title track is the most recognizable piece here, but all of the album will sound familiar, pieces like "The Aim of My Desires" and "This Song Is Your Alone" having become the stuff of "respectable" pop-instrumental music — the American big band sound recycled by its German admirers — until the mid-'60s. It all sounds like stuff that you've heard, probably because, if you were born before 1956, you likely did, in those moments when your parents settled down after dinner (assuming that you lived in someplace like the Cleaver household on Leave It to Beaver). But seriously, this is nicely executed, safe, uncompelling but appealing pop music wallpaper from that period when the 1950s were ending but the 1960s hadn't really begun.
January 23 Music et al
Janis Joplin Chet Holms 
January 23, 1963: along with her friend Chet Helms, Janis Joplin, a 20-year-old college dropout from Port Arthur, TX began hitchhiking to San Francisco in order to become a singer.
Chet would become one of the major concert promoters in San Francisco with his "Family Dog" series of concerts. (see Janis Joplin for more)
January 23 Music et al
Petula Clark
January 23 – February 5, 1965: "Downtown" by Petula Clark #1 on the Billboard Hot 100. A young Jimmy Page had played as a session guitarist on the track, giving him his first US No.1 hit.
January 23 Music et al
Crawdaddy magazine
January 23 – February 7, 1966: first issue of Crawdaddy! magazine: You are looking at the first issue of a magazine of rock and roll criticism. Crawdaddy! will feature neither pin-ups nor news-briefs; the specialty of this magazine is intelligent writing about pop music…." see Paul Williams Crawdaddy for more)
January 23 Music et al
Ken Kesey
January 23, 1966: Ken Kesey fakes his suicide and fled to Mexico to avoid imprisonment.  He had arranged to leave his car near the ocean and left a note: ""Ocean, Ocean I'll beat you in the end."  (Vintage News article) (see Jan 29)
January 23 Music et al
Roots of Rock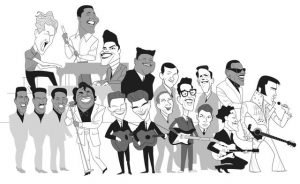 January 23, 1986: the first annual induction ceremony for the Rock and Roll Hall of Fame was held in New York City. Inductees were:
Chuck Berry

James Brown

Ray Charles

Sam Cooke

Fats Domino

The Everly Brothers

Alan Freed

John Hammond

Buddy Holly

Rober Johnson

Jerry Lee Lewis

Little Richard

Sam Phillips

Elvis Presley

Jimmie Rodgers

Jimmy Yancey
(see Rock and Roll Hall of Fame for more details)
January 23 Music et al