April 13 Music et al
Juma Sultan
April 13, 1942: Happy birthday to Woodstock alum and so much more. Follow link: Juma Sultan
April 13

Music et al
Jack Casady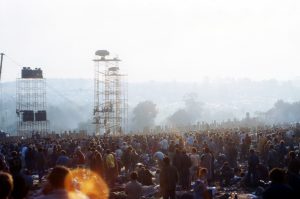 April 13,  1944: Happy birthday to Woodstock alum, Jefferson Airplane, Hot Tuna, and bassist extraordinaire.  Follow link: Jack Casady.
Hootenanny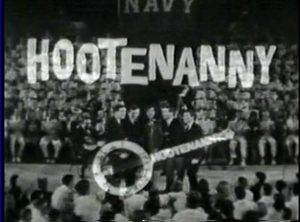 April 13, 1963– recorded on different college campuses, ABC-TV starts broadcasting Hootenanny, a show with various folk artists. The first show had been recorded at Brown University. (see September 16, 1964)
Beatles
The 625 Show
April 13, 1963, The Beatles before their US appearance: although they already made 11 appearances on regional and independent television programmes in Britain, the Beatles' debut on the BBC gave them a nationwide audience for the first time.
They appeared on the corporation's The 625 Show, which featured "up and coming young talent", and performed From Me To You, Thank You Girl, and Please Please Me. The last song closed the show, and for it the group was joined by the other guests on stage. (next Beatles, see Apr 18)
April 13

Music et al
1963 Oscars
April 13, 1964: Jack Lemmon hosted. For the second time in Academy Awards history, fifteen years after the first British film won the Best Picture award (Laurence Olivier's Hamlet (1948)), another British-made film won the top award. The honored film was Tom Jones. The film garnered ten Oscar nominations, more than any other film in the competition. (Oscars dot org article)
The Beatles Grammys
April 13, 1965: the Beatles won their first two Grammy awards. They won Best New Artist and Best Performance by a Vocal Group for "A Hard Days Night."
They did not win Record of the Year. They were beat out by Stan Getz and Joao Gilberto who won for "The Girl From Ipanema". Stan and Joao also won Album of the Year for "Getz/Gilberto". It was the first time a jazz record had won the award. It was The Beatles first nomination.  (Grammy dot com article) (next Beatles, see May 22 – 28)
Billboard #1
April 13 – May 17, 1968: "Honey" by Bobby Goldsboro #1 on the Billboard Hot 100.
April 13

Music et al
Love-in
April 14, 1968–Easter Sunday. Love-in at Malibu Canyon, CA. (2017 LA Curbed article)
The Road to Bethel
April 13, 1969: Mel Lawrence, Tom Rounds, Tom Driscoll, Bill Hanley, Stanley Goldstein, and Michael Lang visit the Wallkill site. Mel Lawrence becomes the festival's Chief-of-Operations. 
Around the same time, Woodstock Ventures signed their first act:, Creedence Clearwater Revival,  for $10,000.  (see Chronology for expanded story)
April 13

Music et al