March 31 Music et al
Question: What do  RCA, Chuck Berry, Connie Francis, Jimi Hendrix,  the Beatles, and the Beatle Fan Club have in common? 
Answer: March 31
Technological Milestone
Roots of Rock
45 RPM
March 31, 1949: RCA introduced the 7-inch diameter '45 RPM as the "New System,.  RCA designed it to be a replacement for the bulky 78-RPM record and touted it to be 1/10th the weight of its 12 inch counterpart. It had a playtime of up to 5.3 minutes per side. It also had improved fidelity in terms of noise levels and frequency response. (Roots, see Dec 10; TM, see January 12, 1950)
March 31 Music et al
Chuck Berry
March 31, 1958,: Chuck Berry released the "Johnny B. Goode". Written by Berry in 1955, the song is about a poor country boy who plays a guitar "just like ringing a bell," and who might one day have his "name in lights." Berry has acknowledged that the song is partly autobiographical, and originally had "colored boy" in the lyrics, but he changed it to "country boy" to ensure radio play. The title suggests that the guitar player is good, and hints at autobiographic elements because Berry was born at 2520 Goode Avenue in St. Louis. Chuck has said that he wrote it as a Rock and Roll version of the American dream. (see May 9) (see Johnny B Goode for more)
March 31 Music et al
Billboard #1
Connie Francis
March 31 – April 6, 1962: "Don't Break the Heart that Loves You" by Connie Francis #1 Billboard Hot 100. 
Written by Benny Davis and Murray Mencher,  Francis recorded the ballad in two-part harmony with a spoken bridge. It is a plea from a heartbroken lover who is trying to understand why her lover is going out of his way to treat her unkindly. The song ends with her begging him not to break her heart.
The song was Francis's third and final #1 song.
March 31 Music et al
Jimi Hendrix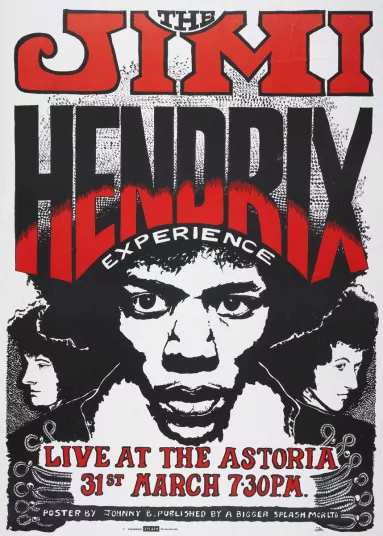 Burning guitar
March 31, 1967: The Jimi Hendrix Experience played at the London Astoria. While waiting to perform, Hendrix and his manager Chas Chandler were discussing ways in which they could increase the band's media exposure. When Chandler asked journalist Keith Altham for advice, Altham suggested that they needed to do something more dramatic than the stage show of The Who, which involved the smashing of instruments. Hendrix joked: "Maybe I can smash up an elephant", to which Altham replied: "Well, it's a pity you can't set fire to your guitar".
Chandler then asked road manager Gerry Stickells to find some lighter fluid. During the show, Hendrix gave an especially dynamic performance before setting his Fender Stratocaster on fire at the end of a 45-minute set. In the wake of the stunt, members of London's press labeled Hendrix the "Black Elvis" and the "Wild Man of Borneo"
According  Setlist dot com that night he played:
Foxy Lady
Can You See Me
Hey Joe
Purple Haze
Fire
Tony Garland, Hendrix's press agent scooped up the remains of the Strat, took them home and placed them in the garage of his parents southern U.K. home. About 30 years later, Garland's nephew found the remains of the guitar, did a little research, and the burnt guitar was auctioned off in 2007 for $575,000.(see May 12)
March 31 Music et al
Beatles
George Harrison and Patty Boyd
March 31, 1969:  a drug squad had raided George Harrison and Patty Boyd's Esher home on March 12. On this date the trial took place at Esher and Walton Magistrates' Court. They pleaded guilty to possessing the cannabis, which was likely to have been planted in the house by police officers and were each fined £250 plus 10 guineas each in court costs, and were put on probation for a year. (see Apr 14)
March 31 Music et al
Paul McCartney v Let It Be album
March 31, 1970: Apple planned to release Paul McCartney's solo album and the Beatles' Let It Be two weeks of each other. Since Let It Be was a group project, 
John and George composed a letter saying that they'd decided that it made better business sense to delay Paul's album and avoid competition.
Dear Paul, We thought a lot about yours and the Beatles LPs – and decided it's stupid for Apple to put out two big albums within 7 days of each other (also there's Ringo's and Hey Jude) – so we sent a letter to EMI telling them to hold your release date til June 4th (there's a big Apple-Capitol convention in Hawaii then). We thought you'd come round when you realized that the Beatles album was coming out on April 24th. We're sorry it turned out like this – it's nothing personal. Love John & George. Hare Krishna. A Mantra a Day Keeps MAYA! Away.
Ringo delivered the letter. Paul blew up at Ringo.
As an attempt at reconciliation, John and George allowed Apple to release the McCartney album in the UK on 17 April 1970, and Let It Be  on 8 May.
The disagreement did additional damage to the already fragmenting relationships between the four. (see Beatles Bible site for much more) (next Beatles, see Apr 1) 
March 31 Music et al
Official Beatles Fan Club
March 31, 1972: The Official Beatles Fan Club closed. The Beatles Monthly magazine had ceased three years previously. (see Apr 29)
March 31 Music et al