January Music et al
The 1960s was a great decade for January music
John Coltrane's Giant Steps
In January 1960: John Coltrane released his "Giant Steps" album, considered a classic jazz album and one that saxophonists still measure themselves by today. Linsey Planer at AllMusic.com writes: History will undoubtedly enshrine this disc as a watershed the likes of which may never truly be appreciated. Giant Steps bore the double-edged sword of furthering the cause of the music as well as delivering it to an increasingly mainstream audience."
Take a listen to this amazing music!
January Music et al
Two Steps from the Blues Bobby "Blue" Bland
In January 1961: Bobby Blue Bland released Two Steps from the Blues album. Bland was an original member of the Beale Streeters and was sometimes referred to as the "Lion of the Blues". Along with such artists as Sam Cooke, Ray Charles, and Junior Parker, Bland developed a sound that mixed gospel with the blues and R&B. An imitator of Frank Sinatra, he was also known as the "Sinatra of the blues", his music being influenced by Nat King Cole. Bland was inducted into the Blues Hall of Fame in 1981, the Rock and Roll Hall of Fame in 1992, and received the Grammy Lifetime Achievement Award in 1997.
January Music et al
John Birch Paranoid Blues
In January 1962 Bob Dylan wrote  "Talkin' John Birch Paranoid Blues"
Well, I was feelin' sad and feelin' blue
I didn't know what in the world I wus gonna do
Them Communists they wus comin' around
They wus in the air
They wus on the ground
They wouldn't gimme no peace . . . So I run down most hurriedly
And joined up with the John Birch Society
I got me a secret membership card
And started off a-walkin' down the road
Yee-hoo, I'm a real John Bircher now!
Look out you Commies! Now we all agree with Hitler's views
Although he killed six million Jews
It don't matter too much that he was a Fascist
At least you can't say he was a Communist!
That's to say like if you got a cold you take a shot of malaria Well, I wus lookin' everywhere for them gol-darned Reds
I got up in the mornin' 'n' looked under my bed
Looked in the sink, behind the door
Looked in the glove compartment of my car
Couldn't find 'em . . . I wus lookin' high an' low for them Reds everywhere
I wus lookin' in the sink an' underneath the chair
I looked way up my chimney hole
I even looked deep down inside my toilet bowl
They got away . . .
Well, I wus sittin' home alone an' started to sweat
Figured they wus in my T.V. set
Peeked behind the picture frame
Got a shock from my feet, hittin' right up in the brain
Them Reds caused it!
I know they did . . . them hard-core ones Well, I quit my job so I could work all alone
Then I changed my name to Sherlock Holmes
Followed some clues from my detective bag
And discovered they wus red stripes on the American flag!
Ol' Betsy Ross . . . Well, I investigated all the books in the library
Ninety percent of 'em gotta be throwed away
I investigated all the people that I knowed
Ninety-eight percent of them gotta go
The other two percent are fellow Birchers . . . just like me Now Eisenhower, he's a Russian spy
Lincoln, Jefferson and that Roosevelt guy
To my knowledge there's just one man
That's really a true American: George Lincoln Rockwell
I know for a fact he hates Commies cus he picketed the movie Exodus Well, I fin'ly started thinkin' straight
When I run outa things to investigate
Couldn't imagine doin' anything else
So now I'm sittin' home investigatin' myself!
Hope I don't find out nothing . . . good God!
January Music et al
Bob & Suze
In January 1963:  Bob Dylan back together with Suze Rotolo (who herself is back from Italy). The relationship is a strained one and one that Dylan is not true to. (see In February)
January Music et al
Albert Ayler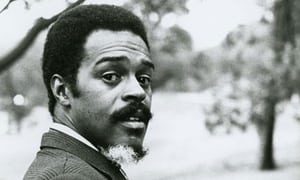 In January 1965: Albert Ayler's Spiritual Unity album released. "Ayler was among the most primal of the free jazz musicians of the 1960s; critic John Litweiler wrote that 'never before or since has there been such naked aggression in jazz.' He possessed a deep blistering tone—achieved by using the stiff plastic Fibrecane no. 4 reeds on his tenor saxophone—and used a broad, pathos-filled vibrato." (AllMusic Review by Steve Huey)
January Music et al
John Lennon/FBI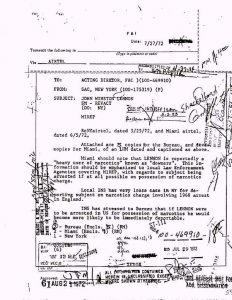 In January 1972: the Federal Bureau of Investigation opened a file on John Lennon and Yoko Ono fearing they would organize the youth vote and prevent a second term for President Richard Nixon. (see Feb 4)
January Music et al
John and Yoko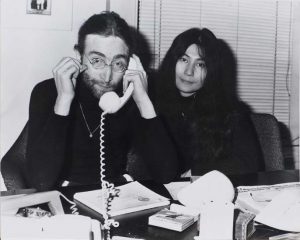 In January 1975: John and Yoko reunited after 18 month separation—the so-called "Lost Weekend." (see Jan 9)
January Music et al
New Year New Music, New Year New Music, New Year New Music,