November 1 Music et al
Technological Milestone
November 1, 1954: jointly produced by Texas Instruments and TV accessory manufacturer IDEA (Industrial Development Engineering Associates) Corp, the TR-1 was the first consumer device to employ transistors went on sale at a price of $49.95 (less battery). One year after the release of the TR-1, sales approached the 100,000 mark.
Measuring 5×3×1.25 inches and weighing 12.5 ounces, the Regency TR-1 was designed to receive AM broadcasts only. It kicked off a worldwide demand for small and portable electronic products. (see Dec 23)
November 1 Music et al
Howl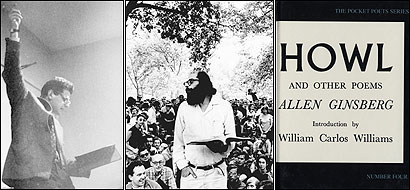 November 1, 1956, Lawrence Ferlinghetti published Howl and Other Poems by Allen Ginsberg. (see Howl judgement for more)
November 1 Music et al
Beatles in trouble
November 1, 1960: furious that The Beatles had made a verbal agreement to play at rival Peter Eckhorn's Top Ten Club, Kaiserkeller owner Bruno Koschmider terminated their contract. Despite this, they continued to perform at the club for another three weeks. An additonal reason why Koschmider wanted them out: at 17 years of age, George Harrison was too young to be working in the club. Eckhorn's statement read: I the undersigned hereby give notice to Mr George Harrison and to Beatles' Band to leave [the Club] on November 30th, 1960. The notice is given to the above by order of the Public Authorities who have discovered that Mr George Harrison is only 17 (seventeen) years of age. (see Nov 20)
November 1 Music et al
News Music/Bob Marley
November 1, 1964: Bob Marley's Wailers's first single, 'Simmer Down', reached Number 1 in Jamaica's JBC Radio Chart.
November 1 Music et al
News Music/Buffy Sainte-Marie
In 1964 Buffy Sainte-Marie's first album released. It's My Way (see Dec 22)
November 1 Music et al
"Wild Thing"
November 1, 1965, Jordan Christopher & The Wild Ones release "Wild Thing."  Written by Chip Taylor (born James Wesley Voight, brother of actor Jon Voight; uncle, therefore, of Angelina Jolie).  (see July 25, 1966)
"Wonderwall Music"
November 1, 1968: George Harrison became the first member of The Beatles to release a solo project, an LP called "Wonderwall Music."
Paul McCartney's January 1967 The Family Way soundtrack recording is sometimes considered to be the first Beatles solo album, but most critics consider Wonderwall Music to be the first, because it was released under George Harrison's name while The Family Way was credited to George Martin.
The songs, recorded in December 1967 in England, and January 1968 in Bombay, India were virtually all instrumental, except for some non-English vocals and a slowed-down spoken word track. "Wonderwall Music" is notable for being the first official LP release on Apple Records. (see Wonderwall for expanded story; next Beatles, see Nov 8)
Abbey Road
November 1 – December 26, 1969: Abbey Road  the Billboard #1 Album. The Beatles' Let It Be album will be released on May 8, 1970 and be the Billboard #1 album from June 13 – July 10, 1970. Let It Be was actually recorded in before Abbey Road in February 1968, January – February 1969. Since most of Let It Be was recorded in January 1969, before the recording and release of the  album Abbey Road, some critics argue that Abbey Road should be considered the group's final album and Let It Be the penultimate. (see November 26)
Elvis Presley
November 1 – 7, 1969: after seven years off the top of the charts, Elvis Presley's "Suspicious Minds" is #1 on the Billboard Hot 100. It will be his last #1 during his lifetime. (see December 21, 1971)
November 1 Music et al