Richie Havens Mixed Bag

In late 1966, Verve Records released Richie Haven's Mixed Bag.
Now it was the autumn of 1967. New York City's WNEW-FM was evolving.  I was discovering the difference between the little records with little holes and the big records with little holes and also discovering 'NEW.
It had become a daily part of my listening life.
Among the many new artists I heard was Richie Havens. Not rock, but a different folk, if that was it. I bought Mixed Bag on November 1, 1967. I know that because in my compulsive way of documenting things, I always put the date of purchase on my albums.
Richie Havens Mixed Bag
Voice
I suppose the first thing I noticed was his voice. Deep, sincere, and somehow personal. My stereo system was not that. It was a record player that did best with '45s despite my figuring out how to hook up a couple of external speakers (set inside purloined wooden milk crates).
I delivered the afternoon paper to a young couple and that fall they asked me if I'd like to babysit. They promised all I'd have to do was sit  since the baby would be asleep by the time I arrived.
They also offered the use of their actual and very nice stereo system.
Richie Havens Mixed Bag
Hooked
So an evening a week I'd walk down the block with a text book and Mixed Bag under my arm. Chips were on their kitchen table, sodas in the 'fridge, a dial phone on the wall, and that stereo system in the living room
I was hooked on all, but will admit that I spent more time with the soda, chips, phone, and system than the text.
Richie Havens Mixed Bag
High Flyin' Bird
In my chronic full-fevered teenage angst was the feeling that the world was against me. When I heard Richie sing that he had those sit-down-can–can't-cry-Oh-Lord-gonna-die-blues, I knew what he meant.
Of course, this white privileged suburban kid had no idea what he meant–but rectitude trumped reality.
And hearing Richie say that he couldn't make it anymore added to my sophomoric certainty.
Richie Havens Mixed Bag
Morning, Morning
My preferred musical pigeon hole was rock and roll, but I was also in love with Joyce Capone and our phone calls were filled with sincere sentimentalities.
My English teachers had taught me to look beyond the text and see meanings in structure and symbolism. Listening to "Morning, Morning"  I discovered how the song's lyrics brought me from that morning to the late night when:
Starshine, starshine 
Chills the moon upon my cheek 
Starshine, starshine 
Darling kiss me as I leave
Darling kiss me as I leave? When please!
Richie Havens Mixed Bag
Adam
Surprisingly, this lifetime Catholic school kid didn't get Adam. This kid thought it was just some guy Adam having a hard time. Progress is not continuous.
As for "Follow" I'm not sure I understood it any more than Adam, but the melody's beauty mesmerized me. The song is a great example for the album's title of Mixed Bag. 
The musicians (and my my my what great musicians they are–see below), are all there. No one is hidden, but no one stars. Richie's voice could have done the job solo–remember he did grow up doing doo-wop on Brooklyn street corners.
Such beauty throughout.
Let the river rock you like a cradle
Climb to the treetops, child, if you're able
Let your hands tie a knot across the table.
Come and touch the things you cannot feel.
Then don't mind me 'cos I ain't nothin' but a dream.
Richie Havens Mixed Bag
33s not 45s
Follow  completed Side 1. Those were the days of sides and album-listeners knew each side's progress. We knew when to sit, when to flip.
Lingering in the mood of Follow, I'd make that phone call.
Three Day Eternity opened Side 2. Richie's voice continued to caress and with that phone call just ended I listened, "As we both walk and we laugh."
Richie Havens Mixed Bag
Sandy > Handsome Johnny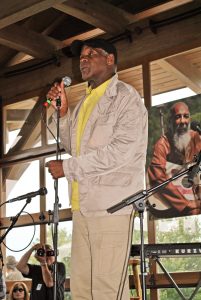 I liked singing along to Sandy.  I knew no Sandy and I had no voice, but I imagined I could harmonize with Richie.
I didn't know who Danny Glover was. I did know that I was beginning to think the Vietnam War was a mistake and using that aforementioned realization of structure, realized while listening to Richie and Danny's composition that American wars were not individual occurrences, but a pattern. A seemingly conscious pattern on the part of leaders.
And I was always embarrassed to find myself not listening at exactly the time that Richie said I wasn't.
Richie Havens Mixed Bag
San Francisco Bay Blues
I was unfamiliar with jazz. I had no idea that the Vatican of jazz–Van Gelder Studios–was only four miles away and that I'd passed the Frank Lloyd Wright-influenced building dozen of times.
San Francisco Bay Blues was one of my first jazz songs–in the sense that while I'd likely heard jazz before, those songs hadn't been part of my listening. Someone else was listening and I was a bystander.
Richie Havens Mixed Bag
Good artists copy; great artists steal
I'd have to say that Richie Havens neither copied nor stole. Of course on Mixed Bag the last two songs, Just Like a Woman and Elenor Rigby are someone else's, just as six of the previous eight songs were.
Somehow, though, Richie's Havens-ness transformed songs, metamorphosed them to something new (ironically the title of his second album).
To listen to Richie do Dylan's Just Like a Woman or McCartney's Eleanor Rigby  is to discover beauty anew.
Richie Havens Mixed Bag
Besides
Besides Dylan and McCartney, who else inspired Richie Havens?
Billy Edd Wheeler composed High Flyin' Bird.  Wikipedia says Of the many songs he wrote, perhaps songs  "Jackson"  — a Grammy award winner for Johnny Cash and June Carter — is his best know.  that more than 160 artists have covered his songs.
Gorden Lightfoot composed I Can't Make It Anymore.  If you know the music of the 60s and 70s, Lightfoot's name is well-known. His hits include: "If You Could Read My Mind" (1970), "Sundown" (1974); "Carefree Highway" (1974), "Rainy Day People" (1975), and "The Wreck of the Edmund Fitzgerald" (1976).
Tuli Kepferberg wrote "Morning, Morning." While Tuli may not be as well-known a name, his band, The Fugs, is. It is said that Tuli's jump from the Manhattan Bridge inspired Alan Ginsbert's Howl character who ""who jumped off the Brooklyn Bridge and walked away unknown and forgotten into the ghostly daze of Chinatown soup alleyways & firetrucks, not even one free beer."
Jerry Merrick wrote Follow. His name is not as well-known, because along the way Merrick decided to emphasize family over music and according to his , "sequestered in his remote Florida retreat where he and his wofe of 35 years devoted themselves to raising three daughters and as son" . Having said that, others as well known as Havens have covered his songs. Others such as Jerry Jeff Walked, Kenny Rankin, and B J Thomas.
Jean Pierre Cousineau wrote Sandy.  I cannot find much about Cousineau. He may have been Canadian only recently died on May 19, 2018.  He may also have been a cinematographer for the 1989 movie The Tell Tale Heart.
Finally, Jesse Fuller wrote San Francisco Bay Blues. It is his best-known song. He was already 70 when Haven's recorded it in 1966. He performed as a one-man band and invented the fotdella–a foot-operated string bass musical instrument–to help his street performances.
Richie Havens Mixed Bag
Session musicians
For those of us who grew up staring at both sides of an album's cardboard cover, the musicians who backed Haven's on Mixed Bag are familiar ones.
Paul Harris was a keyboardist on many 1960s, 70s, and 80s albums including some by  Stephen Stills, B. B. King, Judy Collins, Al Kooper,  Eric Andersen, Rick Derringer, Nick Drake, John Sebastian, John Mellencamp, Joe Walsh, Seals & Crofts, Bob Seger and Dan Fogelberg.
In the 1970s he was a member of Stephen Stills' band Manassas and later the Souther Hillman Furay Band. [AllMusic credit listing]
Harvey Brooks is an equally present bassist during that time.  Bruce Eder in AllMusic states: New York-born musician Harvey Brooks has played on enough seminal recordings for any three careers, and, apart from being one of the more renowned bass players in popular music and jazz over the last four decades of the 20th century, was also folk-rock's first electric bass player of any major note. 
You'll need a comfortable chair to peruse his credit list.
Born in Paterson, NJ, Bill LaVorgna on drums has an impressive credit list as well.  He became best know as the musical director for Judy Garland and Liza Minnelli.  He died on July 31, 2007.
Howard Collins was another lifetime sessions musician whose path crossed many artists and places. He died on July 10, 2015.
Joe Price only played on one song (Adamcredit list) and I cannot find very much about his life other than AllMusic's .  Thank you AGAIN All Music.
Though Paul 'Dino' Williams only played on one song (Follow), he had a long relationship playing alongside Richie for years, including on the stage at Woodstock.
Finally, I have to point out two other names. Felix Pappalardi and Bruce Langhorne.
Pappalardi is the better-known name because of his association with Cream and Mountain, but the musician Langhorne–Mr Tambourine Man–is a jewel awaiting discovery. Please do so!
And listen to Mixed Bag today!
Richie Havens Mixed Bag