Cream Mountain Felix Pappalardi
Remembering Felix on his birthday
December 30, 1939 – April 17, 1983
Pappalardi is famous in the lore of 1960s music mainly because of his association with Cream (as a producer) and as the bassist for Mountain.
Cream Mountain Felix Pappalardi
Pre-Cream
He studied classical music at the University of Michigan and returned to NYC,  but couldn't earn a living .  Like so many other musicians of his time, he gravitated to the Greenwich Village folk scene.
He became an arranger and producer of that scene working with Tim Hardin, the Youngbloods, Joan Baez, Richard & Mimi Farina, Ian & Sylvia, and Fred Neil.
Strange Brew
It was his work with Creme that brought fame to his name. He and his wife, Gail Collins, wrote "Stange Brew" with Eric Clapton.
Cream Mountain Felix Pappalardi
Leslie West
In 1968, Pappalardi began working with Leslie West and produced a solo album for him.
After Cream disbanded, Pappalardi and West formed  Mountain. A New York Times article read: A new rock group called Mountain may not entirely replace the late, honestly lamented British band Cream, but it is carrying on the tradition with power and respect. 
Woodstock
Mountain performed at the Woodstock Music and Art Fair on Saturday of that famous weekend. Here is Pappalardi singing "Theme from an Imaginary Western" at Woodstock.
After Mountain's breakup, Papparlardi returned to  production, a return reputedly forced due to hearing loss from Mountains loud performances.
Felix Pappalardi solo
In 1979, Pappalardi released his first proper solo album, Don't Worry, Ma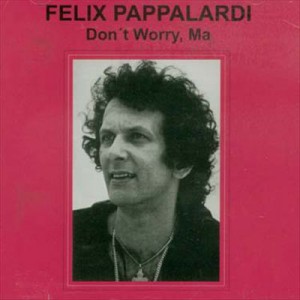 Gail Collins Pappalardi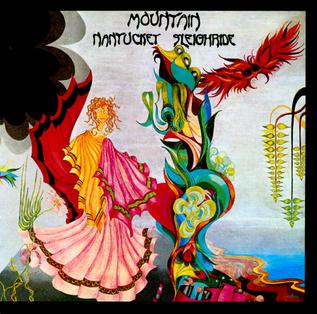 Pappalardi was married to Gail Collins. She contributed lyrics to many Mountain songs and co-wrote Cream's "World of Pain" with Pappalardi and "Strange Brew" with Pappalardi and Eric Clapton. Both songs are in Cream's Disraeli Gears.
As Gail Collins, her artwork appears on the album covers,  Climbing!, Nantucket Sleighride, Flowers of Evil, Mountain Live: The Road Goes Ever On, Twin Peaks and Avalanche.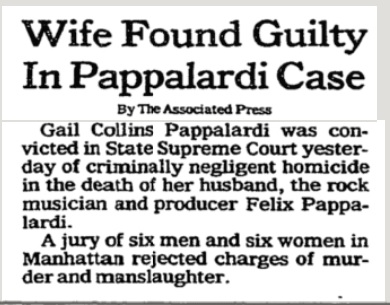 On April 17, 1983, Gail Collins shot Pappalardi once in the neck and killed him. She claimed it was an accident.
On September 21 of that year, a jury found her guilty of criminally negligent homicide. She was sentenced to four years.
Collins died on December 6, 2013 in Ajijic, Mexico. [NYDN article]
More from the Ultimate Classic Rock site about Gail Collins's death in 2013 >>> Gail Collins's death)F
Cream Mountain Felix Pappalardi