February 4 Peace Love Art Activism
BLACK HISTORY
First state-run prison
February 4, 1846: the Alabama state legislature voted to construct the first state-run prison on January 26, 1839. In 1841, Alabama built the Wetumpka State Penitentiary. The prison received its first inmate in 1842: a white man sentenced to 20 years for harboring a runaway slave. In the antebellum penitentiary, 99 percent of inmates were white, as free black people were not legally permitted to live in the state, and enslaved black people were instead subject to unregulated "plantation justice" at the hands of slave owners and overseers.
The penitentiary was supposed to be self-sufficient, but soon proved costly as the prison industries of manufacturing wagons, buggies, saddles, harnesses, shoes, and rope failed to generate enough funds to maintain the facility. On February 4, 1846, the state legislature chose to lease the penitentiary to J.G. Graham, a private businessman, for a six-year term. Graham appointed himself warden and took control of the entire prison and its inmates, claiming all profits made from inmate labor and eliminating every other employment position except physician and inspector. Alabama continued to lease the prison to private businessmen until 1862, when warden/leaser Dr. Ambrose Burrows was murdered by an inmate.
This initial leasing of the prison and its inmates marked the beginning of the convict leasing system in Alabama, and that system was soon renewed. In 1866, after the end of the Civil War, the government again authorized inmates to be leased to work outside of the prison, and 374 prisoners were leased to the firm Smith & McMillen to work rebuilding the Alabama & Chattanooga Railroad. In this post-Emancipation society, black people were no longer enslaved, and the convict population that was formerly almost all white was now 90 percent black. The system of convict leasing became one that forced primarily black prisoners – some convicted of minor or trumped up charges – to work in hard, dangerous, conditions for no pay. This practice continued until World War II. (see February)
Greensoro NC sit-in
February 4, 1960: The Greensoro NC sit in continued. On February 4, 1960 more than 300 students participated in the protests. Students from N.C. A&T, Bennett College and Dudley High School occupied every seat at the lunch counter. Three white supporters (Genie Seaman, Marilyn Lott and Ann Dearsley) from the Woman's College of the University of North Carolina (now UNCG), joined the protest. As tensions grew, police kept the crowd in check. Waiting students then marched to the basement lunch counter at S.H. Kress & Co., the second store targeted by the Student Executive Committee, and the Greensboro sit-ins spread.
That evening, student leaders, college administrators and representatives from F.W. Woolworth and Kress stores held talks. The stores refused to integrate as long as other downtown facilities remained segregated. Students insisted the F.W. Woolworth and Kress retail stores would remain targets, and the meeting ended without resolution. (see GB4 for expanded chronology)
Malcolm X
February 4, 1965: 17 days before he was assassinated, Malcolm X spoke at the Brown Chapel in Selma. King  was still in jail and the SNCC had invited Malcolm X to speak to the young civil rights activists. Malcolm compared the "house Negro" and the "field Negro" and talked about the importance of not becoming complacent in "massa's house" or comfortable with the status of being an oppressed people.
Coretta Scott King later reported that X said to her: "Mrs. King, I want you to tell your husband that I had planned to visit him in jail here in Selma, but I won't be able to do it now. I have to go back to New York because I have to attend a conference in Europe, an African student conference, and I want you to say to him that I didn't come to Selma to make his job more difficult, but I thought that if the white people understood what the alternative was that they would be more inclined to listen to your husband. And so that's why I came." (BH, see Feb 11; MLK, see Mar 9; MX, see Feb 14)
George Whitmore, Jr
February 4, 1965: NY Governor Nelson Rockefeller refused  the NAACP's demand for an investigation. The Governor stated that he had "no jurisdiction over the courts and therefore it would be inappropriate to seek to intervene in matters pending before them."
Whitmore's attorney, Stanley J Reiben, filed an affidavit opposing a blue-ribbon jury. Reiben said that such a jury would be a "lily-white all-male" jury, which would enhance "the conviction ration of the District attorney." (see Whitmore for expanded story)
Amadou Diallo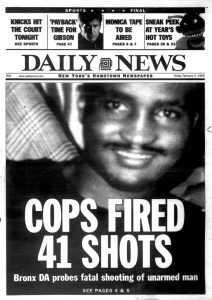 February 4, 1999: four New York City Police Department plain-clothed officers (Sean Carroll, Richard Murphy, Edward McMellon and Kenneth Boss) shoot and kill 23-year-old Guinean immigrant Amadou Diallo. The four officers fired a total of 41 shots hitting Diallo nineteen times. (see Mar 9)
Laquan McDonald
February 4, 2019: federal Judge Robert Dow Jr allowed Janet Mondragon, Daphne Sebastian and Richard Viramontes (the three Chicago police officers associated with of the 2014 killing of Laquan McDonald) as well as Fraternal Order of Police Lodge 7 to continue their lawsuit alleging a violation of due process rights. (B & S and LM, see  Feb 4)
February 4 Peace Love Art Activism
US Labor History
Interstate Commerce Act
February 4, 1887: Interstate Commerce Act created the Interstate Commerce Commission to regulate Railroads, the first industry to be subject to Federal regulation. (see Feb 7)
Ironworkers unionize
February 4, 1896: iron workers from six cities met in Pittsburgh to form the Int'l Association of Bridge and Structural Iron Workers of America. Their pay in Pittsburgh at the time: $2.75 for a 9-hour day. (see May 5)
February 4 Peace Love Art Activism
Yalta Conference
February 4, 1945: Yalta Conference. (Ukraine, SSR). Franklin Roosevelt, Winston Churchill, and Josef Stalin meet in the Soviet resort town of Yalta to make plans for the postwar era. In a problematic compromise, Roosevelt accedes to Churchill's and Stalin's plans for spheres of influence in Europe even while convincing the British and Soviet leaders to sign on to a statement affirming the principles of democracy. (see Apr 23)
February 4 Peace Love Art Activism
INDEPENDENCE DAY
February 4, 1948: Sri Lanka independent from from the United Kingdom.  (see April 15, 1948)
February 4 Peace Love Art Activism
FREE SPEECH
February 4, 1951: thirty-nine religious leaders, including Protestant ministers and Jewish Rabbis, urged the New York State Board of Regents not to revoke the license of the controversial Italian film, The Miracle . The article in The New York Times did not mention the well-known fact that leaders of the Catholic Church were leading the fight to ban the film.
The controversy eventually ended in the U.S. Supreme Court when, in the landmark decision Burstyn v. Wilson, decided on May 26, 1952  and which involved The Miracle, the Court ruled that movies were a form of expression protected by the First Amendment. (see June 4)
February 4 Peace Love Art Activism
Cultural Milestones
Drinking and driving
February 4, 1964: Robert F. Borkenstein et al. published  "The Role of the Drinking Driver in Traffic Accidents," also known as the Grand Rapids Study, for Indiana University's Department of Police Administration. It stated that the probability of accident involvement increased rapidly at alcohol levels over .08 percent and became extremely high at levels over .15 percent. … Drivers with an alcohol level of .06 percent have an estimated probability of causing an accident double that of a sober driver. Drivers with .10 percent B.A.L. are from six to seven times as likely to cause an accident as one with .00 percent alcohol level. When the .15 percent alcohol level is reached, the probability of causing an accident is estimated at more than 25 times the probability for that of a sober driver. (see Mar 30)
Mark Zuckerberg
February 4, 2004: Mark Zuckerberg launched the social networking website Facebook. (see Aug 19)
February 4 Peace Love Art Activism
February 4 Music et al
Rock Venues
February 4, 5, and 6, 1966: Chet  Helms founded Family Dog Productions to begin promoting concerts at The Fillmore Auditorium, alternating weekends with promoter, Bill Graham. (see Fillmore Auditorium for more) (see Feb 19)
Beat Generation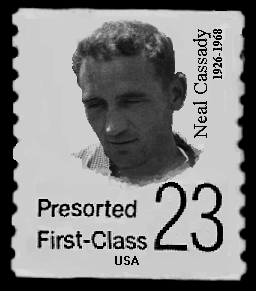 February 4, 1968: on February 3, 1968, Neal Cassady had attended a wedding party in San Miguel de Allende, Guanajuato, Mexico. After the party, he went walking along a railroad track to reach the next town, but passed out in the cold and rainy night wearing nothing but a T-shirt and jeans. In the morning, he was found in a coma by the tracks, reportedly by Anton Black, who carried Cassady over his shoulders to the local post office building.
Cassady was then transported to the closest hospital where he died a few hours later on February 4, four days short of his 42nd birthday.
Both a major figure of the Beat Generation and the psychedelic era of the 1960s. Drove Ken Kesey's famous bus, Furthur, cross-country to 1964 NY World's Fair. (2012 New Yorker article) (LSD, see Oct 24; BG, see October 21, 1969)
John Lennon
February 4, 1972: after reading FBI surveillance reports, US Senator Strom Thurmond told Attorney General John Mitchell that Lennon should be deported because he consorted with known radicals such as Jerry Rubin and Abbie Hoffman. (see Feb 9)
February 4 Peace Love Art Activism
Symbionese Liberation Army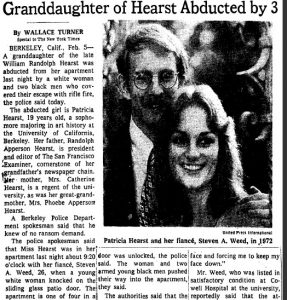 February 4, 1974: Three members of the S.L.A. forced their way into Patti Hearst's apartment, beat her fiancé Steven Weed and abducted her. Hearst was the newspaper heiress and  a 19-year-old Berkeley student. (see SLA for expanded story)
February 4 Peace Love Art Activism
LGBTQ
Oliver W. Sipple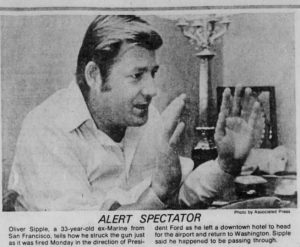 February 4, 1989: Oliver W. Sipple, the former marine who thwarted an assassination attempt on President Gerald R. Ford, died in his apartment in San Francisco.  (NYT obit)
He was 47 years old. He unsuccessfully sued the press for exposing him as a homosexual. Later,  the California Supreme Court dismissed Sipple's suit.
A spokesman for the coroner's office in San Francisco said that Mr. Sipple had been dead several days when a friend found his body. The spokesman said that an autopsy had not yet been performed but that Mr. Sipple had apparently died of "natural causes." In an account yesterday about his death, The San Francisco Examiner said he had received treatment in recent years for schizophrenia, alcoholism and several other health problems. (see OWS for expanded chronology; next LGTBQ, see Oct 1)
Massachusetts & same-sex marriage
February 4, 2004: The Massachusetts high court ruled that only full, equal marriage rights for gay couples, not civil unions, would be constitutional. "The history of our nation has demonstrated that separate is seldom, if ever, equal," an advisory opinion from the four justices who ruled in favor of gay marriage stated. A bill creating only civil unions, not full marriage rights, would be "unconstitutional, inferior, and discriminatory status for same-sex couples." (see Feb 12)
Military/Transgender
February 4, 2019:  Major General Matthew Beevers, the assistant adjutant general for the California National Guard told the California State Assembly's Veterans Affairs Committee that they will not comply with Donald Trump's transgender military ban.
"As long as you fight, we don't care what gender you identify as." (see Feb 16)
February 4 Peace Love Art Activism
CLINTON IMPEACHMENT
Ken Starr
February 4, 1998: word came that Independent Counsel Ken Starr has rejected the latest written statement by Monica Lewinsky's lawyers seeking immunity from prosecution for her. Their on-again, off-again immunity discussions are off. 
Monica Lewinsky
February 4, 1999: on a 70-30 vote, the Senate decided not to call Monica Lewinsky to testify in person at the trial, but clears the way for House prosecutors to present excerpts of videotaped depositions. (see Clinton for expanded story)
February 4 Peace Love Art Activism
STAND YOUR GROUND
On March 14, 2012 Paul Miller had shot and killed his neighbor Dana Mulhall.  
On February 4, 2013, Miller claimed a "Stand Your Ground" defense.
On May 24, 2013 a Flagler County (Florida) jury convicted Paul Miller, 66 of murder in the shooting death Mulhall (Flagler Live cot com article). The jury had been told that Miller went inside his house to retrieve his loaded hand gun off the top of a curio, concealed it by putting it in his back waistband before going outside and shooting Mulhall five times.
"Miller's actions prove he intended to kill Mr. Mulhall. He was combative in his language, gesture and actions," said Assistant State Attorney Jaquelyn Roys. "If indeed the defendant feared his neighbor, as he claimed, he had an opportunity to call the police when he went inside the house. Instead, Miller chose to confront his neighbor with gunfire."  Miller had claimed self-defense, saying he lived in fear of his neighbor. The jury deliberated 90 minutes before finding Miller guilty. (next Stand Your Ground, see Feb 5; Miller, see May 24)
February 4 Peace Love Art Activism
Foxconn
February 4, 2013: Foxconn widened the scope of union elections in China. The move followed a series of recommendations from an international panel hired by Apple to audit conditions for the 1.2 million workers in Foxconn's mainland factories. Foxconn said it will deepen employees' involvement in union elections so the unions can more effectively represent their interests. It said it hopes this will impact labor standards throughout China. Foxconn previously came under heavy scrutiny for labor policies that allegedly led a dozen workers to commit suicide. It has also faced increasing protests and strikes as Chinese workers become increasingly aware of labor rights. (see July 15, 2013)
February 4 Peace Love Art Activism
Cannabis
February 4, 2015:  U.S. Surgeon General Vivek Murthy stated that cannabis use could be beneficial for certain medical conditions and symptoms, the first time in the nation's history that a sitting Surgeon General acknowledged cannabis as a legitimate medicine.
"We have some preliminary data showing that for certain medical conditions and symptoms that marijuana can be helpful," Surgeon General Vivek Murthy told CBS News.
Murthy went on to say that he believed the data should be the driving force in lawmakers determining future policies for cannabis; "I think we have to use that data to drive policy-making, and I'm very interested to see where that data takes us," he said.  (next Cannabis, see Feb 24 or see CCC for expanded chronology)
February 4 Peace Love Art Activism
Immigration History
February 4, 2017: Justice Department appealed Judge Robart's ruling saying that the president had the constitutional authority to order the ban and that the court ruling "second-guesses the president's national security judgment."
In a Twitter post,  Trump wrote, "The opinion of this so-called judge, which essentially takes law-enforcement away from our country, is ridiculous and will be overturned!" (NYT article) (see Feb 5)
February 4 Peace Love Art Activism
Pledge of Allegiance
February 4, 2019: authorities arrested an 11-year-old boy following a confrontation at school over his refusal to stand for the Pledge of Allegiance, which he reportedly called racist against black people.
He was charged with disrupting a school function and resisting arrest after allegedly threatening his substitute teacher at Lawton Chiles Middle Academy in Lakeland following an argument,
"The student became disruptive and the teacher contacted school administrators for assistance," Kyle Kennedy, a spokesman for Polk County Public Schools, told the news outlet. "The school's resource deputy also became involved."
Kennedy added that students are not required to stand for the pledge, which he said the teacher was apparently not aware of. She will no longer be employed at any of Polk County's schools, he said.
According to local station Bay News 9, which obtained a copy of the report, the sixth-grader called the American flag racist and the national anthem offensive to black people.
The teacher asked him: "Why if it was so bad here he did not go to another place to live."
He replied: "They brought me here."
She then suggested that he "can always go back."
The boy's mother, Dhakira Talbot, spoke out against the teacher's behavior and insisted that the charges against him be dropped.
"She was wrong. She was way out of place," she told Bay News 9. "If she felt like there was an issue with my son not standing for the flag, she should've resolved that in a way different manner than she did." (see Mar 6)
February 4 Peace Love Art Activism