CSN Crosby Stills Nash
May 29, 1969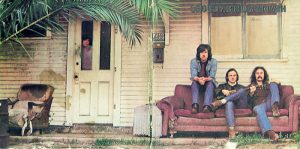 CSN Crosby Stills Nash
E Pluribus Unum
The Hollies were part of the British Invasion on the heels of America's Beatlemania and we first heard them on "Look Through Any Window" without realizing we were listening to Graham Nash.
The Byrds were part of "that" California sound that provided counterpoint to the Beatles. It was Roger McGuinn whose voice we were hearing mainly, but David Crosby's was an important part, too.
We likely thought Buffalo Springfield's "For What It's Worth" was a war-protest song, not realizing it was about teenagers being allowed to stay out late. If someone had said Stephen Stills we may or may not have recognized the name.
Then we found out that Buffalo Springfield was no more; that the Byrds kicked David Crosby out of the band.
CSN Crosby Stills Nash
April 1969
In early April 1969, the brand new Rolling Stone magazine had an article about the three finishing their album. The article gave high praise to this latest "supergroup" : "The album, as yet untitled, is arguably the most talked-about LP-in-progress in Los Angeles, one of the most talked-about in the industry."
When Atlantic did release the album on May 29, 1969 such praise gave it an automatic boost. Unlike today, the group did not tour beforehand nor did  it tour right away.  And by the time they got to Woodstock and sang in front of the half million strong it was only their second gig. And they were, quote, "scared shitless."
CSN Crosby Stills Nash
Crosby, Stills & Nash album
Though they were new, Crosby, Stills and Nash (no Oxford comma) did not need Woodstock and it's accompanying movie and triple album exposure (Warner Bros owned the rights…Atlantic by this time was under WB's umbrella…and Cotillion, the Woodstock album's label was under Atlantic's umbrella), but it helped of course.
The CS & N album went on to have two hit singles (" "Marrakesh Express" and "Suite: Judy Blue Eyes" ) and  itself peaked at #6 on the Billboard Top Pop Albums chart. It now has had sales of over 4,200,000 copies.
CSN Crosby Stills Nash
Cover trivia
Some trivia about the well-known album cover taken by the famed Henry Diltz. When Diltz took the photo, the band hadn't settled on a name yet, but did within a day or two. Realizing that the band name did not match the photo, they returned to re-shoot. Unfortunately, the building had been demolished in the interim.
When the jacket is fully opened the "whole" photo appears. At least it appears to appear with drummer Dallas Taylor Prisoner of Woodstock. That part of the photo was pasted in later with a photo of Taylor posed in Crosby's door.
CSN Crosby Stills Nash
CSN Crosby Stills NashCSN Crosby Stills NashCSN Crosby Stills Nash, CSN Crosby Stills Nash, CSN Crosby Stills Nash