Beatles Get Back
Billboard #1 single May 24, 1969
George Harrison's "Sour Milk Sea"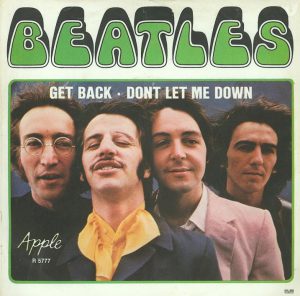 Beatles Get Back
 Beatles step back
We'd heard and feared the grumblings and the rumblings of the Beatles' internal dissent. Though we'd only known them for 5 years, it felt like we'd been together far longer. And we wanted them to stay together.
Perhaps that's what we thought when we heard the title "Get Back." They were telling us, "Don't worry. We are here for you."
Beatles Get Back
Sour Milk Sea
The melody grew out of a George Harrison tune, "Sour Milk Sea." It didn't make it onto the so-called White Album and was actually recorded by Jackie Lomax.
Beatles Get Back
Jo Jo & Loretta
With the Beatles, what we think and what was often differ. The larger story wider. And with "Get Back" it may sound like it's about Jo Jo…
Jojo was a man who thought he was a loner
But he knew it wouldn't last
Jojo left his home in Tucson, Arizona
For some California grass
  …and his desire for some grass (hee hee).
…or Loretta…
Sweet Loretta Martin thought she was a woman
But she was another man
All the girls around her say she's got it coming
But she gets it while she can
Rivers of Blood
 …but it started out, like many songs, in a completely different direction.
In 1968, Enoch Powell, a British politician, had given a speech that became known as the 'Rivers of blood' speech. In it, although the the phrase "rivers of blood" does not appear, Powell bemoaned what he saw as the dissolution of the traditional white British people by immigrants.
Thus Paul's satirical "Get Back to where you once belonged."
17th #1
Of course, the end product became something else. Something else but something successful. "Get Back" was the Beatles's 17th #1 song in the US, surpassing Elvis Presley's previous record of 16 #1s.
Alan W Pollack dissected the song (as a song) as no one else does at his site. Using the link is well worth your time.
The only other point I'll mention is that Billy Preston, the fifth Beatle if George Martin were not already that (so Preston is the sixth Beatle) plays organ on the song.
Beatles Get Back