Who Pete Townshend
Peter Dennis Blandford Townshend
Happy birthday
May 19, 1945
Happy birthday, Pete
This is, of course, the Woodstock Whisperer blog and its inspiration was that 1969 festival. Many names pulled me to Max Yasgur's field that august weekend, but The Who was a prime attraction.
Some artists became famous because of the Fair (e.g., Santana). Some artists remained unknown despite the Fair(e.g., Quill).
The Who did not need Woodstock to become famous. The Who did not need Woodstock to remain famous, but the festival is one of the many jewels in their sparkling crown's history.
And arguably, Pete Townshend is the brightest among this fab four.
Who Pete Townshend
Pete Townshend
Peter Dennis Blandford "Pete" Townshend parent's were both musicians: dad Cliff a saxophonist and mom Betty a singer. Like many relationships with a travelling partner, Cliff (often on tour) and Betty's marriage had rough stretches. At one point they separated and Pete lived with his maternal grandmother, an experience he described in unsettling terms.
Who Pete Townshend
To the Who
Pete's path to the famed Who parallels the path other artists have trod. Bullied because of his looks, a loner, a reader, he found music. He and school friend John Entwistle formed a band. And like some other upcoming groups at the time, Lonnie Donegan's skiffle style was one of their choices.
Another component that guided Pete Townshend's path was his entrance into Ealing Art College. One of the artists there was  Gustav Metzger who developed a style of art in which the piece destructed itself. It was this influence that eventually led to Townshend's destroying his guitar after a performance.
Who Pete Townshend
The four Who
Like the formation of a solar system,  Pete, John Entwistle, and Roger Daltrey found themselves in Roger's band, The Detours.  A drummer left and Keith Moon joined. The Detours began to have some success, but when they discovered that there already was a band with that name, The Who was born (though they briefly became The High Numbers before being reborn as The Who).
With the beginning of Pete writing more and more of The Who's material, the band gained more and more fame. It was their live show with Keith Moon's crazed drumming, Roger's twirling mic, Pete's signature windmills,along with Entwistle's statue-like presence that caught fans' eyes and ears.
Who Pete Townshend
Just a taste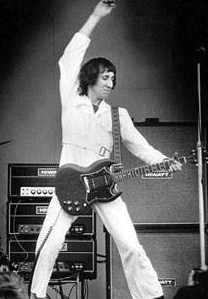 This blog entry is by no means be even close to thorough. In the mid-60s I slowly became aware of this band with the funny name. In 1969 I heard a lot about their rock opera and being a loyal Rolling Stone magazine subscriber, I re-subscribed and received a promotional copy of the album for free.
Who Pete Townshend
Ah, Tommy
At Woodstock, I had hoped they would play some of the cuts. They basically played all of the amazing album. The sun rose both figuratively and literally on the gathered that Sunday morning. I may not have been able to stick around for much of Sunday' event (I was a thoroughly conscientious white suburban college kid with rock and roll nerd tendencies), but I snapped a picture with Frank Capone's 35mm camera.
Thank you Frank and many happy returns Pete.
Who Pete Townshend