Paul Williams Crawdaddy!
Remembering and appreciating Paul
May 19, 1948 – March 27, 2013
Rock journalism's founding father

Paul Williams printed the first edition of his rock magazine Crawdaddy! in a Brooklyn basement on January 30, 1966. In it he wrote: You are looking at the first issue of a magazine of rock and roll criticism. Crawdaddy! will feature neither pin-ups nor news-briefs; the specialty of this magazine is intelligent writing about pop music….
Before Crawdaddy! if someone wanted to read a serious essay about the changing rock music scene, sources were difficult to find. Publishers catered to teens with the still-popular magazines like Seventeen.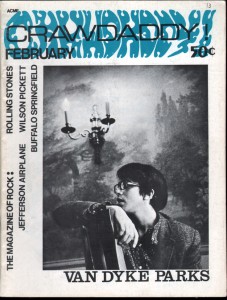 Paul Williams Crawdaddy!
Swarthmore College
Williams had begun writing rock and roll essays while a student at Swarthmore College in Pennsylvania. He wrote about Bob Dylan, Jim Morrison, David Crosby, and Brian Wilson among others.
In 1968 he served as campaign manager for Timothy Leary's run for the governorship of California. Williams , Williams and Leary joined John Lennon and Yoko Ono at their Toronto "Bed-in For Peace".  It was during that performance art piece that the song "Come Together" was written.  According to the Williams site: Paul's voice can be heard mixed into the chorus on the original recording of "Give Peace A Chance." Similarly, on The Doors "Unknown Soldier" he can be heard locking and loading a rifle." 
Also according to the same site, "…he wasn't only at Woodstock, he rode to the festival from New York City in the Grateful Dead's limousine [click for more >>> Williams site]
By 1968 two new rock magazines had appeared: Rolling Stone and CREEM.
Paul Williams Crawdaddy!
Parting ways
Williams and Crawdaddy! parted ways in 1968 and Crawdaddy! suspended publication in 1969, but returned as Crawdaddy in 1970.
In 1979 the magazine changed its title to Feature but after only three issues it ceased publication.
Paul Williams reclaimed and restored the exclamation-pointed title in 1993. In poor health after a 1995 head injury in a bike mishap, the magazine stopped publishing in 2003.
On June 28, 2009, various musicians held a benefit concert for him at the Red Devil Lounge in San Francisco.
Paul Williams Crawdaddy!
Death
Williams died on March 27, 2013, at his home in California at age 64 from complications related that accident which had lead to early onset dementia.
 NPR article on Williams's death; NYT obituary.
Paul Williams Crawdaddy!