Keyboardist Chick Churchill
Classical studies
Michael George "Chick" Churchill was born on January 2, 1946 in Ilkeston, Derbyshire.
Chick  began playing piano when he was six and was doing classical studies until he met the blues in 1961.
While part of the Sons of Adam, he met Alvin Lee whose band then was called the Jaybirds.
Churchill joined first as a road manager and then as a keyboardist.
Keyboardist

 Chick Churchill
Ten Years After
The band evolved into Ten Years After and concert promoter Bill Graham invited the band to tour America for the first time in the summer of 1968. Ten Years After would ultimately tour the USA 28 times in 7 years, more than any other U.K. band.
Keyboardist

 Chick Churchill
Summer of 1969
During the summer of 1969, they performed at  6 major festivals, including  the Woodstock Music and Art Fair. Of course their performance of "Goin' Home" at Woodstock and the song's inclusion in both the film and on the album established their fame. (I wonder how many times the band performed that song that summer?)
I recently contact Chick and he generously responded with the following:  Woodstock seems so long ago now but I remember the huge audience and the helicopter journey. I think we went on after the rain storm. Everything was wet and I don't think health and safety would allow it now but we survived. 
Keyboardist

 Chick Churchill
You and Me
In 1971, Chick released a solo album,  You and Me.
Keyboardist

 Chick Churchill
Post Ten Years After
When  Ten Years After disbanded in 1976 Chick Churchill became professional manager at Chrysalis Music.
In 1977 he began a partnership with Tim Whitsett as Whitsett Churchill Music Publishing. The company specialized in promoting American artists from southern states.
Neither Alvin Lee nor Ten Years After are in the Rock and Roll Hall of Fame.
The band has reformed and does tour. Here's what they did in 2018:
SHOWS PLAYED so far in 2018 
12.01.2018 Ger-OSNABRÜCK, Rosenhof
17.01.2018 Ger-LEVERKUSEN, Scala
18.01.2018 Ger-ASCHAFFENBURG, Colos-Saal
19.01.2018 Ger-KOBLENZ, Café Hahn
16.03.2018 F-RAMBOUILLET, L'USINE A CHAPEAUX
17.03.2018 F-COGNAC, WEST ROCK
23.03.2018 Ger-BURGLENGENFELD, VAZ
24.03.2018 Ger-ERFURT, HsD
27.04.2018 CH-GLARUS, Gleis 2
21.05.2018 NL-RAALTE, Ribs & Blues Festival
09.06.2018 CH-WOLFHALDEN, Rock The Wolves Festival
29.06.2018 A-KLAM, Burg Clam Rock
30.06.2018 A-EISENSTADT, Lovely Days Festival
01.07.2018 Hungary-BUDAPEST, A38
13.07.2018 SE-AMAL, Amal's Blues Fest
26.07.2018 KUSEL, Fritz-Wunderlich-Halle with Canned Heat
27.07.2018 B-LESSINES, Cour de l'Hôpital Notre-Dame à la Rose with Canned Heat
28.07.2018 GREIFENSTEIN, Burg Open Air with Canned Heat
05.08.2018 UK-KENT, New Day Festival
10.08.2018 A-BILDEIN, Picture ON Festival
11.08.2018 CZ-ZLJIN, Route 66 Festival
14.08.2018 PT-REGUENGOS DE MONSARAZ
17.08.2018 BE-WESPELAAR, Blues Festival
20.08.2018 IT-AGLIENTU, Aglientu Summer Festival
31.08.2018 CH-AARBURG, Riverside Open Air
16.09.2018 POLAND-KIELCE Kielce Rokuja Festival
22.09.2018 GB-EDINBURGH, Blues N Rock Festival
The band has a Facebook page.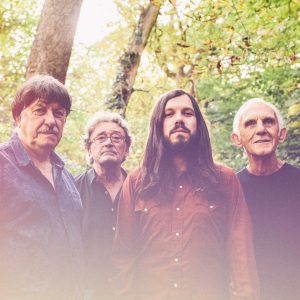 Bio from TYA site >>> Churchill bio
Keyboardist

 Chick Churchill