Ten Years After album
October 27, 1967
Happy anniversary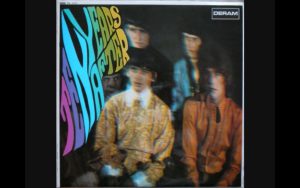 "I Wanna Know" first cut, first album
Ten Years After released its first album, Ten Years After, on October 27, 1967.  The band consisted of Alvin Lee (guitar), Chick Churchill (organ), Ric Lee (drums), and Leo Lyons (bass). Here was another example of a British band bringing American blues back to us. The band did write most of the album's material, but their sound and the song's they covered clearly showed those roots.
Ten Years After album
Side one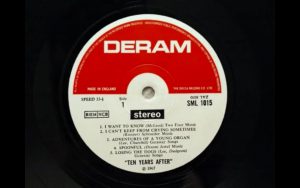 Here's side one:
Side one
"I Want to Know" (Sheila McLeod as pseudonym Paul Jones) – 2:11

"I Can't Keep from Crying Sometimes" (Al Kooper) – 5:24

"Adventures of a Young Organ" (Alvin Lee, Chick Churchill) – 2:34

"Spoonful" (Willie Dixon) – 6:05

"Losing the Dogs" (Alvin Lee, Gus Dudgeon) – 3:03
Side two
And side two:
Side two
"Feel It for Me" (Alvin Lee) – 2:40

"Love Until I Die" (Alvin Lee) – 2:06

"Don't Want You Woman" (Alvin Lee) – 2:37

"Help Me" (Ralph Bass, Willie Dixon, Sonny Boy Williamson) – 9:5

1
Note how short the majority of the songs were, the single-size under-three-minute good-for-radio-play type. Of course, there are those few where the band gets to stretch it out.
Ten Years After album
Alvin Lee
Alvin Lee was the heart of the band and for better or worse the inclusion of the band's "Goin' Home"  into the film and onto the record of Woodstock brought fame.
Fame from a single song's performance that likely sounded like dozens of others performed that summer and likely surprised Alvin Lee.  An albatross that laid a golden egg.  He was already a great guitarist when he began his trek along the summer of 1969's festivals:
June 28, 1969: Bath Festival of Blues.

July 3 – 6, Newport Jazz Festival.

July 11 – 12, Laurel Pop Festival.

July 25 – 27, Seattle Pop Festival,

Aug 15 – 18 – Woodstock Music and Art Festival.

Aug 30 – Sept 1: Texas International Pop Festival.
How many times did Alvin Lee play "I'm Going Home" that summer? It's filming in August at the Woodstock Music and Art Fair preserved it and sent it worldwide. His name was and will forever be associated with that song and that performance.
Here are some factoids about Lee:
originally influenced by his parent's collection of jazz and blues records

began playing guitar age 13

by aged 15 his Jaybirds band formed the core of Ten Years After

moved to London and changed the band's name to Ten Years After in 1966

the band's performance at the Windsor Jazz & Blues Festival in 1967 led to their first recording contract.

concert promoter Bill Graham who invited the band to tour America for the first time in the summer of 1968. Ten Years After would ultimately tour the USA 28 times in 7 years, more than any other U.K. band. 

After the breakup of Ten Years After, Lee continue to form bands and record music.

Lee's overall musical output included more than 20 albums.
Ten Years After album
Today, the band consists of Marcus Bonfanti, Colin Hodgkinson, Chick Churchill , and Ric Lee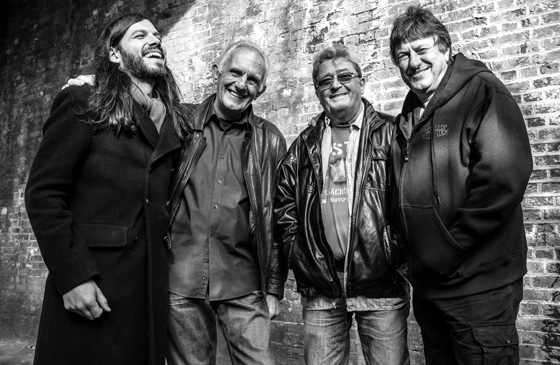 And here is a YouTube review of the group's album, "Naturally Live" and  a link to the band's site.
Ten Years After album