Cleveland Sellers Orangeburg Massacre
Say the words "Kent State" to any Boomer and they will associate those words with one thing: the 1970 National Guard killing of four students at the Ohio college.
It is a sad testament to our history that the word Orangeburg does not conjure the same.
Cleveland Sellers Orangeburg Massacre
All Star Bowling Lane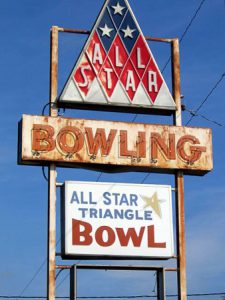 On February 6 about 200 students from the predominantly black South Carolina State College had gathered at the nearby All Star Bowling lane to protest its segregation of black patrons. There were no incidents.
On February 7 many of the students returned to resume the protest but this time police arrested fifteen of them.
Cleveland Sellers Orangeburg Massacre
February 8, 1968
A third night of protests began and because of the previous night's arrests, there was increased tension.
This night, the students gathered on the South Carolina State University campus instead of at the bowling alley . They built a bonfire which a law enforcement officer attempted to put out.  In the process he was injured by a piece of a banister thrown from the crowd. A highway patrolman then fired his gun into the air in an attempt to calm the crowd.  Upon hearing the shot, other officers, thinking they were being fired upon, opened fire into the crowd of students.  
Cleveland Sellers Orangeburg Massacre
Smith, Hammond, Middleton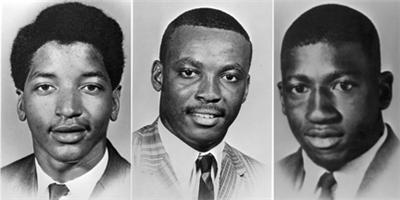 In what became known as the "Orangeburg Massacre," the troopers shot wounding twenty-eight and killing three black male students: Samuel Hammond, eighteen, a freshman from Florida; Henry Smith, eighteen, a sophomore from Marion, South Carolina; and Delano Middleton, seventeen, an Orangeburg high school student. Cleveland Sellers, the local Student Non-Violent Coordinating Committee's program director was one of those wounded. He was not a student.
Here is a piece from a documentary about the event:
Cleveland Sellers Orangeburg Massacre
Sellers blamed
South Carolina Robert Governor McNair blamed "black power advocates" such as Sellers for the violence and insisted officers had fired in self-defense while under attack from campus snipers. Witness accounts from reporters, firemen, and students contradicted this story; they reported that officers had fired on the crowd without warning. No evidence was ever presented that the protesters were armed.
Cleveland Sellers Orangeburg Massacre
Officers charged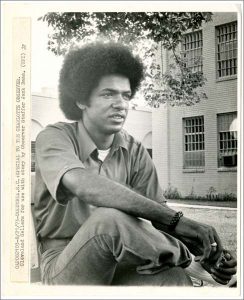 The State charged nine of the officers in the shootings. A jury found none guilty of any wrongdoing.
Cleveland Sellers Orangeburg Massacre
Cleveland Sellers
Cleveland Sellers [born November 8, 1944] in Denmark, South Carolina.  became interested in civil right with the 1955 murder of Emmett Till. In 1960 at 15, he organized his first sit-in protest at a Denmark, South Carolina lunch counter, just two weeks after the Woolworth's sit-in in Greensboro, North Carolina.
While a sophomore at Howard University he joined the Student Non-Violent Coordinating Committee. Sellers graduated from Howard in 1967 and returned to South Carolina.
Cleveland Sellers Orangeburg Massacre
Scapegoat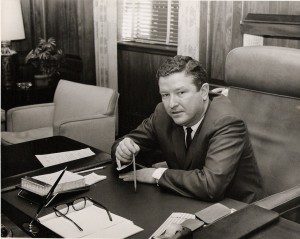 Thus it was Sellers that Governor McNair used as the example of outside agitator, an easy target because of Sellers SNCC association.
A jury found him guilty. He served seven months in prison after a conviction for inciting to riot despite no evidence.
While imprisoned, he wrote his autobiography, The River of No Return, chronicling his involvement with the civil rights movement.
Cleveland Sellers Orangeburg Massacre
Pardon
He received a full pardon 25 years after his conviction, but he chose not to have his record expunged, keeping it as a "badge of honor."
On April 22, 2008, Voorhees College named Dr. Cleveland L. Sellers Jr., as its president. Today he is its president emeritus and continues to be active in civil rights. (Vorhees College article)
Cleveland Sellers Orangeburg Massacre