John Lennon Can Stay
October 7,  1975
Ballad of John and Yoko
     John Lennon summed up Yoko and his life when he sang "Christ you know it ain't easy…" in "Ballad of John and Yoko."
Their May/June 1969 bed-in which included recording "Give Peace A Chance" again put them on the front pages and in a light that the US government, particularly President Richard Nixon hated.
The oft-asked question as to why the Beatles were not at Woodstock may even have an answer related to Nixon as Lennon and Ono might well have had a difficult time getting a visa to perform had Woodstock Ventures actually invited them–which is uncertain. [Plus the fact that the Beatles were still not performing live, hadn't been, and weren't looking to.]
John Lennon Can Stay
War Is Over!
     At the end of 1969 John and Yoko continued to demand peace by placing "The War is Over" posters in major cities.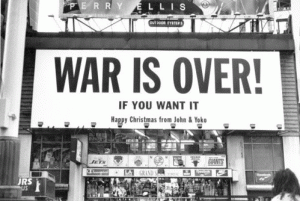 John Lennon Can Stay
FBI Takes Notes
     On June 6, 1971  John Lennon and Yoko Ono appeared on stage for the first time since 1969 [Toronto Rock and Roll Revival] when they joined Frank Zappa for a show at the Fillmore East.
By August Lennon and Ono moved into a Greenwich Village apartment.
On December 11, Lennon headlined The John Sinclair Freedom Rally, a protest and concert in response the imprisonment of John Sinclair who was given ten years in prison for the possession of two marijuana cigarettes. The concert was held in Crisler Arena at the University of Michigan in Ann Arbor, Michigan. [It was Sinclair whom Abbie Hoffman wanted to talk about when Hoffman charged the stage at Woodstock during the Who's performance.]
The FBI was taking notes at the rally when Lennon sang and in January 1972 opened a file on him. Why?
The 1972 presidential election was going to be the first time that 18-year-olds could vote in such an election and Nixon was worried that Lennon could influence that youth vote against him. [Nixon's worries, of course, extended to his authorizing the break-in at the Democratic Headquarters in Washington, DC's Watergate Hotel, but that's another story!]
John Lennon Can Stay
Nixon: "You're out!"
On February 4, 1972, after reading FBI surveillance reports, US Senator Strom Thurmond (R-SC) told Attorney General John Mitchell that Lennon should be deported because he consorted with known radicals such as Jerry Rubin and Abbie Hoffman.
On March 1, the Immigration and Naturalization Service [INS] delivered a letter to the Lennon requesting that he leave the country within two weeks or face deportation hearings. They used Lennon's 1968 conviction for marijuana possession – a misdemeanor – as the reason for the deportation.
Thus began John's four year struggle to stay in the US. They hired Leon Wildes, a Yeshiva University law professor, to appeal the order.
On May 1, 1972, Judge Bernard J. Lasker signed a temporary order in Federal Court restraining the Immigration and Naturalization Service from holding a deportation hearing. Judge Lasker ruled that the Government must first hold a hearing on a motion made by Lennon before it takes up the matter of deportation. Lennon's motion asked that he be classified as "aliens of distinguished merit and ability."
John Lennon Can Stay
Long and windy road
John had planned on participating in demonstrations outside the Republican convention August 21  – 23 in Miami, but realized such an activity would hurt his chances of winning the deportation appeal.
On August 30, 1972, a memo was sent to FBI director L. Patrick Gray that the FBI was ending its surveillance of Lennon. "All advised that during the month of July 1972, that the subject has fallen out of favor of activists Jerry Rubin, Stewart Albert and Rennie Davis, due to subject's lack of interest in committing himself to involvement in anti-war and new left activities. In view of this information, the New York division is placing this case in a pending inactive status."
Despite Nixon's landslide victory, the INS continued to send letters to Lennon that he must leave the country.
Many artists wrote letters of support for Lennon and Ono. Bob Dylan ("John and Yoko inspire and transcend and stimulate and help put an end to this mild dull taste of petty commercialism which is being passed off as artist art by the overpowering mass media. Let John and Yoko stay!"), Joan Baez, beat poet Gregory Corso, John Updike, Leonard Bernstein, and Joseph Heller. NYC Mayor John Lindsey wrote a letter of support.
In 1973 Yoko Ono, a Japanese citizen, was granted permanent‐resident status.
Despite the situation, Lennon remained Lennon. On April Fools Day 1973 he and Yoko held a press conference to announce that they had formed Nutopia, a "conceptual country" with "no land, no boundaries, no passports, only people." Citizenship was granted by "declaration of your awareness to Nutopia," and all citizens were granted ambassadorship. Therefore, they were entitled to diplomatic immunity.
John Lennon Can Stay
Leon Wildes
Leon Wildes was more pragmatic. He counter-sued and his investigation revealed Nixon's political motives were the actual motives behind the deportation.
By 1974, Nixon was in the middle of his own possible impeachment and his administration's energies lay there.
On October 7, 1975, in a 2 – 1 decision, a three-judge federal panel ruled in Lennon's favor. Judge Irving R Kaufman wrote in part, "The courts will not condone selective deportation based upon secret political grounds. We have always found a place for those committed to the spirit of liberty and willing to help implement it. He added "Lennon's four-year battle to remain in our country is testimony to his faith in the American dream."
John Lennon Can Stay
Official
Although the Appeals court had ruled in his favor, it was not until July 27, 1976 that immigration judge Ira Fieldsteel formally approved John Lennon's application.
The Immigration Service lawyer said the Government no longer objected to Lennon's presence. Judge Fieldsteel approved application for permanent residency number A17‐597‐321.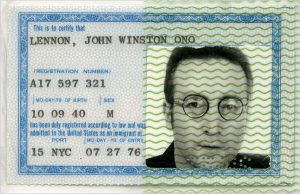 John Lennon Can Stay