1969 Gold Rush Festival
Country Weather – "Over and Over"
October 4, 1969
Amador, CA
1969 festival #44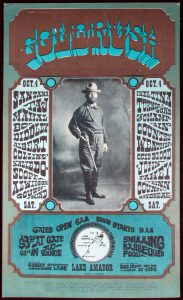 1969 Gold Rush Festival
Nice line-up
It's October 1969 and you've heard all about that Woodstock Music and Art Fair back east, but you were on the west coast. You still are. You hear about a one-day festival coming up in Lake Amador, which is about 50 miles southeast of Sacramento. The price is $3 for the day. Very reasonable. You look at the line-up. Not bad. Not bad at all:
Santana

Taj Mahal

Bo Diddley

Albert Collins

Kaleidoscope

Al Wilson

Southwind

Ike and Tina Turner

Sons of Champlin

Country Weather

Linn

Cold Weather

County Daybreak
1969 Gold Rush Festival
Day in the Country
You knew about Santana before Woodstock and knew they were pretty good. There wasn't anything like Ike and Tina Turner at Woodstock. Nor a Taj Mahal. Nor an Albert Collins.
This could be a very nice day in the country. It was.
If there is a criticism of Woodstock's three-day lineup, it is that given the year and perspective, there were no black bands as such. There  certainly were black performers and there were bands playing blues and blues/rock, but there was no Taj Mahal. No Albert Collins. No Al Wilson. And certainly no Ike and Tina Turner. One must imagine the impact Tina would have had on 400,000 people that day, on the album that she surely would have been on, and the movie she absolutely appeared in.
1969 Gold Rush Festival
Robert Strand
Robert Strand promoted the event and 40,000 people showed up. He and his family were the financial backers.  Strand was the manager of Country Weather, one of the bands that appeared. He describes the event as a perfect combination of location, music, stage, PA, and weather. He recently assisted in a video report of the event. That video can be found on YouTube in four parts. Here is a link to Part 1. It is a wonderful story by someone who humbly tells the story with lots of detail. Lots of specific information.
Unfortunately, there is no video or recording of the event.
1969 Gold Rush Festival
Remembrances…
James Hackworth was 22 years old when he and his wife and two kids attended the Gold Rush Festival. His memories include, "…people jammed the banks of Lake Amador to sunbathe, drink wine, smoke marijuana and listen to an all-star roster of musicians at the Gold Rush Rock Music Festival. Since the crowd was peaceful, Amador County sheriff's deputies chose to ignore the drug use and skinny-dipping. …I remember looking over a sea of people and everyone was really happy and full of enthusiasm.  The music was the catalyst that drew us together. It really was a time of believing in love and peace for humanity." [Messynesschic dot com site]
1969 Gold Rush Festival
Next 1969 festival: Internationales Essener Festival