June 6 Peace Love Art Activism
Cultural Milestone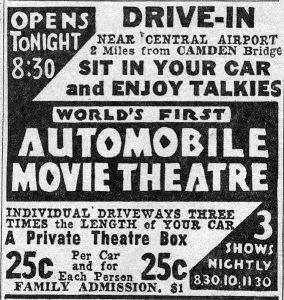 June 6, 1933: motorists parked their automobiles on the grounds of Park-In Theaters, the first-ever drive-in movie theater, located on Crescent Boulevard in Camden, New Jersey.
Park-In Theaters–the term "drive-in" came to be widely used only later–was the brainchild of Richard Hollingshead, a movie fan and a sales manager at his father's company, Whiz Auto Products, in Camden. Reportedly inspired by his mother's struggle to sit comfortably in traditional movie theater seats, Hollingshead came up with the idea of an open-air theater where patrons watched movies in the comfort of their own automobiles. [Smithsonian article] (see Dec 5)
June 6 Peace Love Art Activism
Beatles
June 6, 1962: two days after signing with EMI, the Beatles (with Pete Best on drums) recorded their first demos for EMI at Abbey Road Studios under the direction of George Martin and his assistant, Ron Richards. (see June 11)
Chapel of Love
June 6 – 26, 1964, "Chapel of Love" by The Dixie Cups #1 on the Billboard Hot 100.
Hello Dolly!
June 6 – June 12, 1964, the original cast album of Hello Dolly! the Billboard #1 album.
Beatles on Sullivan
June 6, 1966: appeared taped on the Ed Sullivan Show. (see June 20)
Work begins for Woodstock
June 6, 1969:a twenty-one person crew arrived in Wallkill to begin work. They would live at Rosenburg's family retreat in nearby Bullville.  Among them: Mel Lawrence, Michael Lang, Penny Stall ings, Lee Mackler (friend of John Morris), Bill & Jean Ward and five University of Miami artists
Bands signed
Around June 6, 7, or 8, Woodstock Ventures signed Sweetwater and Blood, Sweat and Tears ($15,000)for the festival. (see Chronology for expanded story)
1969 festival #8
The Fourth Annual Memphis Country Blues Festival
and the
First Annual W.C. Handy Memorial Concert
June 6 – 8, 1969: its poster read:  The Memphis Sesquicentennial Inc. in conjunction with The Memphis Country Blues Society proudly presents The Fourth Annual Memphis Country Blues Festival and First Annual W.C. Handy Memorial Concert. (see WC for expanded story)
John Lennon and Yoko Ono
June 6, 1971: John and Yoko appeared on stage for the first time since 1969 when they join Frank Zappa for a show at the Fillmore East. (see July 1)
June 6 Peace Love Art Activism
BLACK HISTORY
James H Meredith
June 6, 1966: Aubry Norvell, a 40-year-old unemployed former hardware contractor from Memphis, ambushed and shot James Meredith in the back . Norvell pleaded guilty before the case went to trial. He served 18 months of a five-year prison sentence. [Clarion Ledger article with photos of shooting] (see June 7, 1966)
Michael Donald
June 6, 1997: Henry Hays, one of the two murderers of Michael Donald in 1981, executed in the electric chair. Hays was the only Ku Klux Klan member to be executed for the murder of a black man in the 20th century. Hay's accomplice, Llewellyn Knowles had been sentenced to life in prison after testifying against Hays. [NYT article]  (see Dec  22)
Johnnie Mae Chappell
June 6, 2003: Gray Thomas, the Chappell family lawyer, said that a conspiracy of secrecy by Jacksonville police denied justice to the Chappell children.
Scott Makar, an attorney for the city of Jacksonville, told the 11th U.S. Court of Appeals in Atlanta that, despite a racist police cover-up in 1964, there was no evidence the cover-up blocked Johnnie Mae Chappell's family from the courts.
"What was the barrier that was imposed to prevent … a suit?" Makar said.
Chappell's children learned of the cover-up in 1996 when one of the detectives, C. Lee Cody, approached her youngest son, Shelton, at a memorial service.
Shelton, 4 months old when his mother died, had sued the four men and Jacksonville police, but a federal court judge dismissed the case in 2001, saying the statute of limitations for filing a suit had long past, prompting an appeal. [Ferris State U article] (BH, see, Oct 10; Chappell, see September 8, 2005)
Phylicia Rashad
June 6, 2004: Phylicia Rashad became the first African-American actress to win a Tony for a leading dramatic role for her work in a revival of "A Raisin in the Sun." (see Nov 2)
June 6 Peace Love Art Activism
Robert F Kennedy
June 6, 1968, Robert F Kennedy died at Good Samaritan Hospital in Los Angeles.
CBS News correspondent Michelle Miller's father was a doctor who tried to save Kennedy. She shares his story.
June 6 Peace Love Art Activism
Calvin Graham
June 6, 1992: Graham died at age 62. (see CG for expanded story)
June 6 Peace Love Art Activism
LGBTQ
June 6, 2012: in New York, U.S. District Court Judge Barbara Jones found  the Defense of Marriage Act unconstitutional in Windsor v. United States. Judge Jones was the fifth federal judge to rule that DOMA's Section 3 violates the U.S. Constitution. The case has since been submitted for consideration by the U.S. Supreme Court. [Oyez article]  (see June 18)
June 6 Peace Love Art Activism
vism,  June 6 Peace Love Activism,  
Please follow and like us: