June 6 Music et al 
Beatles
June 6, 1962: [source: Beatles Bible] two days after signing with EMI, the Beatles (with Pete Best on drums) recorded their first demos for EMI at Abbey Road Studios under the direction of George Martin and his assistant, Ron Richards.
George Martin let Ron Richards handle the session which saw the band record 'Besame Mucho,' 'Love Me Do,' 'PS I Love You' and 'Ask Me Why'. Richards didn't like what he heard or saw. Norman Smith, who was the engineer for the session liked "Love Me Do" and decided he should get George Martin to hear it. Martin didn't share Ron Richards opinion of the band or the music.
Norman Smith has said, "We gave them a long lecture about their equipment and what would have to be done about it if they were to become recording artists. They didn't say a word, not a word, they didn't even nod their heads in agreement. When he finished, George said 'Look, I've laid into you for quite a time, you haven't responded. Is there anything you don't like?' I remember they all looked at each other for a long while, shuffling their feet, then George Harrison took a long look at George and said 'Yeah, I don't like your tie!' That cracked the ice for us and for the next 15-20 minutes they were pure entertainment." (see June 11)
June 6 Music et al 
Chapel of Love
June 6 – 26, 1964, "Chapel of Love" by The Dixie Cups #1 on the Billboard Hot 100.
June 6 Music et al 
Hello Dolly!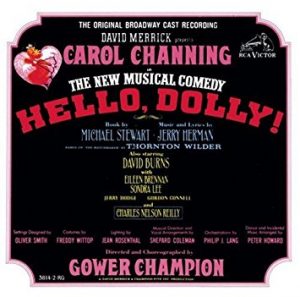 June 6 – June 12, 1964, the original cast album of Hello Dolly! the Billboard #1 album.
June 6 Music et al 
Beatles on Sullivan
June 6, 1966: appeared taped on the Ed Sullivan Show. (see June 20)
June 6 Music et al 
The Road to Bethel/Work begins
June 6, 1969:a twenty-one person crew arrived in Wallkill to begin work. They will live at Rosenburg's family retreat in nearby Bullville. Among them: Mel Lawrence, Michael Lang, Penny Stallings, Lee Mackler (friend of John Morris), Bill & Jean Ward and five University of Miami artists.
Bands signed
June 6/7/8?, 1969: Sweetwater and Blood, Sweat and Tears ($15,000) signed for festival. (see Woodstock Chronology for expanded story)
The Fourth Annual Memphis Country Blues Festival
and the
First Annual W.C. Handy Memorial Concert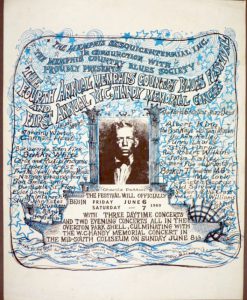 June 6 – 8, 1969: its poster read:  The Memphis Sesquicentennial Inc. in conjunction with The Memphis Country Blues Society proudly presents The Fourth Annual Memphis Country Blues Festival and First Annual W.C. Handy Memorial Concert (see WC for expanded story)
John Lennon and Yoko Ono
June 6, 1971: John and Yoko appeared on stage for the first time since 1969 when they join Frank Zappa for a show at the Fillmore East. [Ultimate Classic Rock article] (see July 1)
June 6 Music et al