July 3 Music et al
Muddy Waters
July 3, 1960: Muddy Waters records "At Newport 1960" album at Newport Jazz Festival. The album itself is released in November 1960.
July 3 Music et al
Beatles
July 3, 1961: the Beatles return to England from Hamburg. (see August)
July 3 Music et al
Four Tops
July 3 – 9, 1965: "I Can't Help Myself (Sugar Pie, Honey Bunch)" by the Four Tops #1 on the Billboard Hot 100.
July 3 Music et al
Brian Jones
July 3, 1969: Brian Jones found dead in the swimming pool at his home in Sussex, England (see July 5) (NYT article)
July 3 – 6, 1969: the festival's 1969 program was an experiment in fusing jazz, soul and rock music and audiences. Its lineup included, besides jazz, Friday evening appearances by rock groups Jeff Beck, Blood, Sweat & Tears, Ten Years After, and Jethro Tull. Saturday's schedule mixed jazz acts such as Miles Davis and Dave Brubeck with others including John Mayall and Sly & the Family Stone. James Brown was among those who appeared Sunday afternoon, followed in the evening by Johnny Winter, Herbie Hancock, B. B. King, and Led Zeppelin.
July 3 Music et al
Jim Morrison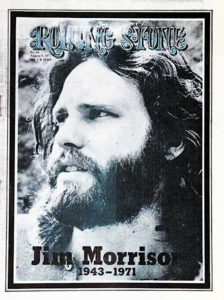 July 3, 1971: Jim Morrison died. Another member of the 27 Club.
From the Rolling Stone: magazine obituary
"Jim Morrison, a man who sang, wrote and drank hard as lead singer of the Doors, has died – peacefully – at the age of 27. Morrison's death, despite (and because of) strategic efforts on the part of his wife Pamela and friends, was shrouded in mystery.
He died in the early morning of Saturday, July 3rd, but it was July 9th, two days after he had been buried in a Paris cemetery, before his manager let word out to the American press."
fJuly 3 Music et al