November 27 Music et al
LSD/Grateful Dead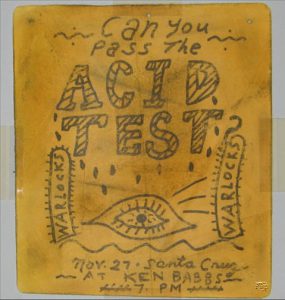 November 27, 1965:  Ken Kesey began his Acid Tests, a series of parties held in the San Francisco Bay Area centered entirely around the use of, experimentation with, and advocacy of LSD. It may have included the first performance by The Grateful Dead, still known as The Warlocks. This one was held in the small neighborhood of Soquel. It was a small semi-public event advertised only at the local Hip Pocket underground bookstore, (LSD & Dead, see Dec 4)
November 27 Music et al
Whipped Cream and Other Delights
November 27, 1965  – January 7, 1966 – Herb Albert's Whipped Cream and Other Delights the Billboard #1 album. The album cover is considered a classic pop culture icon. It featured model Dolores Erickson wearing chiffon and shaving cream. The picture was taken at a time when Erickson was three months pregnant. (see Whipped Cream for expanded story)
November 27 Music et al
Magical Mystery Tour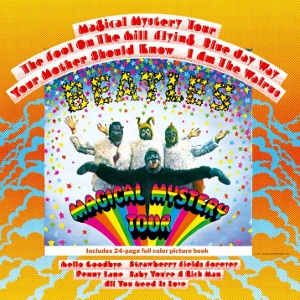 November 27, 1967: Beatles released the album Magical Mystery Tour in the USA.
Douglas Wolk wrote in Rolling Stone, "If Sgt. Pepper was a blueprint for the Beatles' new utopianism – a culture of vivid sensory experience, for which they could be the entertainers and court jesters – the Magical Mystery Tour project was an attempt to literally take that idea into the world. Paul McCartney's concept was that the Beatles would drive around the British countryside with their friends, film the result and shape that into a movie over which they would have total creative control. But like a lot of Sixties attempts to turn utopian theory into practice, the movie fell on its nose: The Beatles simply weren't filmmakers  (AllMusic review) (see Dec 17)
November 27 Music et al
All Things Must Pass
November 27, 1970: George Harrison's "All Things Must Pass" released. It was his first solo work since the Beatle break-up in April. The original vinyl release featured two LPs of rock songs as well as Apple Jam, a third disc of informal jams. Often credited as rock's first triple album, it was in fact the first by a solo artist with the multi-artist Woodstock live set having preceded it by six months.
In regards to the album's size, Harrison stated: "I didn't have many tunes on Beatles records, so doing an album like All Things Must Pass was like going to the bathroom and letting it out."
The album was critically acclaimed (Rolling Stone magazine review) and, with long stays at number 1 in both the US and the UK, commercially successful. It was certified 6x platinum by the Recording Industry Association of America in 2001. (see Dec 11)
November 27 Music et al