November 11 Music et al
Lonnie Donegan
Donegan's 1957 hit, Gamblin' Man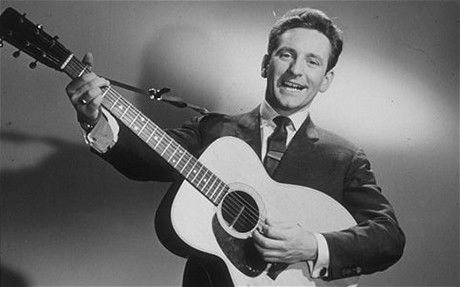 November 11, 1956: Paul McCartney saw skiffle king Lonnie Donegan perform at Liverpool's Empire Theatre. The concert inspired McCartney to start playing the guitar. Shortly afterwards he traded the trumpet he had received four months previously on his 14th birthday for a guitar.
In 2002, Robin Denselow wrote about Donegan in the Guardian after his death. Denselow wrote in part, that Donegan "was the first British pop superstar, and the founding father of British pop music…(see July 6, 1957)
November 11 Music et al
…seven years later…
Brian Epstein & Ed Sullivan
November 11 – 12, 1963: Beatles manager Brian Epstein traveled to New York and persuaded Ed Sullivan to book the Beatles for an unprecedented three consecutive appearances on Sullivan's much-watched Sunday evening variety show – February 9th, 16th and 23rd, 1964. In exchange, CBS-TV got one year's exclusive rights to the Beatles' U.S. television appearances. [Beatles dot net article] (see Nov 15)
Sam Cooke
November 11, 1964, Sam Cooke recorded A Change Is Gonna Come.
In 2015, David Cantwell wrote a piece in The New Yorker about "The Unlikely Story of 'A Change is Gonna Come." In it he wrote that "Cooke's recording remains as beloved and as timely as ever." (see December 11, 1964)
---
November 11 Music et al
November 11, 1968: Two Virgins album released. It was composed of the experimental tapes of various sound effects made in May of 1968. The cover showed John and Yoko posing nude. The album released in a brown paper.
In 2016, Christopher Weingarten reevaluated Ono's solo and Lennon music. He began by saying, "Yoko Ono's five unapologetically noisy, quietly influential albums released between 1968 and 1971 (two solo, three with John Lennon) are some of the most misunderstood and maligned in rock history." (see Nov 13)
November 11 Music et al