Richard Bock Woodstock Cellist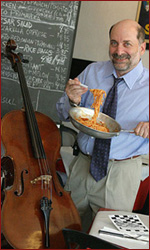 A 2016 Phoenix New Times article about Richard Bock began this way: Not every neighborhood Italian restaurant can claim a world-class musician as its owner — but Giuseppe's on 28th in Central Phoenix can. For nine years, owner Richard Bock was the principal cellist for the Maggio Musicale Fiorentino Orchestra in Italy. And if that's not impressive enough, he played with the Phoenix Symphony for 24 seasons, toured throughout the United States and South Africa as a part of Frank Sinatra's orchestra, and played in both Carnegie Hall and The Forum in Los Angeles.
And????
For those of us who are Woodstock Music and Art Fair alum or those who are not alum but big fans nonetheless, the omission of Bock's participation with Tim Hardin at that famed event is glaring. I suppose we must step back for a moment and accept the reality that that festival was not and is not the be all end all of everyone who performed there.
And looking at that "partial" list above from the New Times, one can understand why. 30 minutes with Tim Hardin doesn't quite measure up to 24 seasons with the Phoenix Symphony.
Richard Bock Woodstock Cellist
Path to Woodstock
Bock's path to the festival was, as with many things in life, a matter of circumstance. In 1969, Bock was in the  Paul Winter Consort. So was Steve Booker.
One night Steve had been to the Cafe Au Go Go in NYC's Village. Tim Hardin had been part of  a jam there. Tim told Steve if he ever needed a gig to let him know.  Tim was living in Woodstock.
Steve and Richard had coincidentally just decided to leave the Paul Winter Concert and so decided to visit Woodstock and Tim.  Tim Hardin was putting together a band for the upcoming festival and asked Steve to join. Steve recommended Richard. Tim said sure. Thus…
Richard Bock Woodstock Cellist
Italy
According to Richard Bock's restaurant's site,  Bock "grew up in New York.  …[and while] playing in a club on East 84th St in the city with Dave Brubeck's son, Darius…a customer in the club, who lived in Florence, filled Richard's thoughts with images of Italy, the culture, the music, the people and the food. He extended Richard an invitation to come to Italy, and 2 weeks later, Richard was on his way!
Soon after his arrival, he was walking the streets of Florence when he bumped into an old college friend, a pianist, who was involved in the Maggio Musicale Fiorentino Orchestra, the most famous theater in Italy. Soon after this chance meeting, this friend got Richard an audition for conductor, Riccardo Muti. Muti happened to be looking for a Principal Cellist for the orchestra, so Richard decided to perform and was offered the position. He thought he would stay a year, but stayed almost 9! It is here where his love for the culture blossomed.
Richard Bock Woodstock Cellist
Restaurateur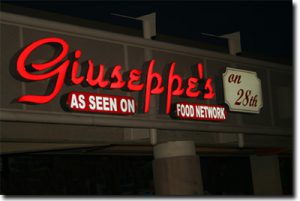 In 2002 became the owner and operator of Giuseppe's on 28th in Phoenix, AZ.  He is both the restaurant's chef and cellist. I will assume that there are few restaurants anywhere that can make that claim.
Nor can any claim that their musician chef was, "a part of Frank Sinatra's orchestra for 5 years, touring throughout the United States and South America. [And that] He performed in concerts with Tony Bennett in Boston and also performed in Carnegie Hall and the LA Forum.
Nicely done Richard Bock Woodstock cellist!
Richard Bock Woodstock Cellist