January 16 Peace Love Art Activism
Native Americans
Alabama disenfranchises Creek & Cherokee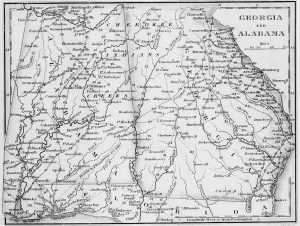 January 16, 1832: the General Assembly of Alabama enacted provisions prohibiting the Creek and Cherokee from practicing customs or making laws that conflicted with Alabama law. The provision stated, "All laws, usages and customs now used, enjoyed, or practiced, by the Creek and Cherokee nations of Indians, within the limits of this State, contrary to the constitution and laws of this State, be, and the same are hereby abolished."
This statute was created just three years after another that effectively extended the jurisdiction of Alabama into Creek territory. In response to that first law, and white settlers' increasing unlawful encroachment into the Creek Nation, the Creek Council repeatedly – yet unsuccessfully – petitioned the federal government for assistance and protection.
Even without federal support, many Creeks refused to succumb to mounting pressure to emigrate west of the Mississippi River, and their leaders continued organizing efforts to secure their tribal lands. These efforts were frustrated by this 1832 law, which also declared it illegal for tribal leaders to "meet in any counsel, assembly, or convention" and create "any law for said tribe, contrary to the laws and constitution of this State." Punishment for violating this law was imprisonment "in the common jail of the proper county, for not less than two, nor more than four, months."
The 1832 law also provided that the Cherokee and Creek could only testify in court in suits involving other Cherokee and Creek, effectively ensuring that Creeks defrauded and illegally deprived of their land by white intruders would have no recourse in the Alabama courts. White settlers, speculators, and those intending to illegally occupy tribal lands were enticed by the law preventing any suit for trespass and traveled to Creek territory in Alabama to take advantage of the law. Both the Alabama and federal government's singular goal was removal of Indians from Alabama to the Western Territory and this law furthered those aims. By 1837, 23,000 Creeks had emigrated out of the Southeast. (see Mar 24)
Grass Roots Oyate
January 16, 2000: the activist group Grass Roots Oyate began its occupation of the Red Cloud Building at the Oglala Sioux Tribal Headquarters, Pine Ridge Reservation, in protest of what they deemed the corrupt, oppressive and ineffective politics of tribal leadership. Federal officials removed financial records the following day, and the elected tribal president was suspended. The activists vowed to continue the occupation until their demands were met. (see August 2002)
January 16 Peace Love Art Activism
US Labor History
United Packinghouse Workers
January 16, 1946: the meatpacking industry in the U.S. effectively shuts down when both the United Packinghouse Workers of America and the Amalgamated Meat Cutters and Butcher Workmen of North America go on strike over wages. Just ten days into the strike, using the War Labor Disputes Act, President Harry Truman seized control of the plants and ordered the workers back to work with the greatest single wage increase ever in the industry. (see May 17)
Curt Flood
January 16, 1970: seven-time Golden Glove-winning center fielder Curt Flood of the St. Louis Cardinals filed suit in federal court against Commissioner Bowie Kuhn, the presidents of the American and National Leagues and all 24 teams in the Major League Baseball (MLB) organization.
After the Cardinals traded Flood to the Philadelphia Phillies in October 1969, Flood wrote a letter to Kuhn in late December, protesting the league's player reserve clause, which prevented players from moving to another team unless they were traded. Kuhn denied Flood's request to be made a free agent, and Flood decided to sue. (LH, see Jan 22; Flood, see June 19, 1972)
January 16 Peace Love Art Activism
January 16 Music et al
Bob Nehart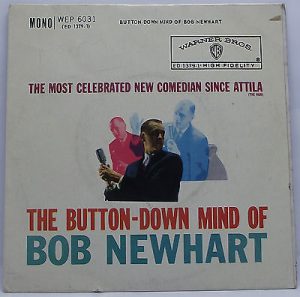 January 16 – 22, 1961: Bob Newhart's comedy album returns to #1 for a fourth time. It had first reached Billboard's #1 position on August 1, 1960 and remained there for  eight weeks.  This last time it will remain on top for a week.
Supremes
January 16 – 22, 1965: "Come See About Me" by the Supremes #1 on the Billboard Hot 100. It had already been #1 on  December 19 for a week.
January 16 Peace Love Art Activism
Vietnam
Oplan 34A
January 16, 1964: President Johnson approved Oplan 34A, operations to be conducted by South Vietnamese forces supported by the United States to gather intelligence and conduct sabotage to destabilize the North Vietnamese regime.
Actual operations began in February and involved raids by South Vietnamese commandos operating under U.S. orders against North Vietnamese coastal and island installations. Although American forces were not directly involved in the actual raids, U.S. Navy ships were on station to conduct electronic surveillance and monitor North Vietnamese defense responses under another program called Operation De Soto.
Oplan 34A attacks  would play a major role in what became known as the Gulf of Tonkin Incident (Aug 2). (next Vietnam, see Jan 22)
Youth International Party
January 16, 1968: Youth International Party (YIPPIES!) founded. (see Jan 21)
Expanded peace talks
January 16, 1969: an agreement is reached in Paris for the opening of expanded peace talks. It was agreed that representatives of the United States, South Vietnam, North Vietnam, and the National Liberation Front would sit at a circular table without nameplates, flags or markings. (see Jan 25)
January 16 Peace Love Art Activism
Space Race
January 16, 1969: two manned Soviet Soyuz spaceships became the first vehicles to dock in space and transfer personnel. (see March 3 – 13)
January 16 Peace Love Art Activism
IRAN
January 16, 1979:  Shah Mohammad Reza Pahlavi of Iran flees Iran with his family, relocating to Egypt. (History dot com article) (see Iran hostage for more)
January 16 Peace Love Art Activism
BLACK HISTORY
Miami revolt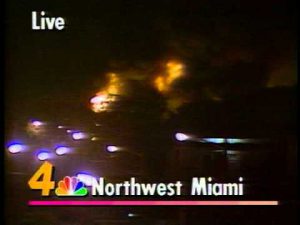 January 16, 1989: three days of violent protests began in Miami after police officer William Lozano shot Clement Lloyd, 23, while on his motorcycle with passenger Allan Blanchard, 24.
Lloyd was killed instantly by a bullet to the head; Blanchard died of injuries the next day. (LA Times article) (BH, see Feb 10; RR, see Dec 7)
Muhammad Ali
January 16, 2019:  Ali's hometown of Louisville, Ky. renamed its airport in honor of him.
The Louisville Regional Airport Authority board announced its decision to call the airport the Louisville Muhammad Ali International Airport.
"Muhammad became one of the most well-known people to ever walk the Earth and has left a legacy of humanitarianism and athleticism that has inspired billions of people," said Mayor Greg Fischer in a press release from the board. "It important that we, as a city, further champion The Champ's legacy, and the airport renaming is a wonderful next step."  (see Jan 19)
Black & Shot/Laquan McDonald
January 16, 2019 : Associate Judge Domenica Stephenson  acquitted Chicago police officers David March, Joseph Walsh, and Thomas Gaffney of charges that they covered up for fellow police officer Jason Van Dyke after he shot and killed Laquan McDonald, a black teenager. The verdict came as a blow to those who saw the case as a rare moment when officers might be held accountable for a longstanding pattern of defending one another.
Stephenson dismissed prosecutors' assertions that the officers had conspired and obstructed justice.
"This court finds that the state has failed to meet its burden on all charges," Judge Stephenson said.
Along with the three officers, the broad concept of a police "code of silence" was on trial in Chicago, a city where police have been accused for decades of covering up fellow officers' misconduct. [NYT article] (B & S, see Jan 28; LM, see Feb 4)
January 16 Peace Love Art Activism
Dissolution of the USSR
January 16, 1990:  in the wake of vicious fighting between Armenian and Azerbaijani forces in Azerbaijan, the Soviet government sent in 11,000 troops to quell the conflict.  The fighting–and the official Soviet reaction to it–was an indication of the increasing ineffectiveness of the central Soviet government in maintaining control in the Soviet republics, and of Soviet leader Mikhail Gorbachev's weakening political power. (see USSR for expanded chronology)
January 16 Peace Love Art Activism
IRAQ War I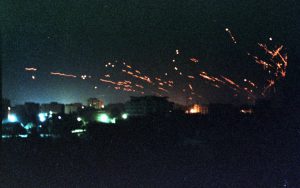 January 16, 1991: Operation Desert Storm began with air strikes against Iraq. (2016 Vice News article) (see Jan 17)
January 16 Peace Love Art Activism
Women's Health
January 16, 1997: Eric Rudolph bombed an abortion clinic in the Atlanta suburb of Sandy Springs. (see January 29, 1998)
January 16 Peace Love Art Activism
CLINTON IMPEACHMENT
January 16, 1998: Whitewater Independent Counsel Ken Starr contacted Attorney General Janet Reno to get permission to expand his probe. Reno agreed and submitted the request to a panel of three federal judges. The judges agreed to allow Starr to formally investigate the possibility of subornation of perjury and obstruction of justice in the Jones case. Tripp and Lewinsky met again at the Ritz-Carlton. FBI agents and U.S. attorneys interceded and take Lewinsky to a hotel room, where they questioned her and offer her immunity. Lewinsky contacted her mother, Marcia Lewis, who traveled down from New York City by train. Marcia Lewis contacted her ex-husband, who called attorney William Ginsburg, a family friend. Ginsburg advises Monica Lewinsky not to accept the immunity deal until he learns more. (see CI for expanded chronology)
January 16 Peace Love Art Activism
TERRORISM
January 16, 2002: Richard Reid charged with eight criminal counts.  (Wall St Journal article) (see Jan 23)
January 16 Peace Love Art Activism
LGBTQ
January 16, 2015: the Supreme Court agreed to decide whether all 50 states must allow gay and lesbian couples to marry. The court's announcement made it likely that it would resolve one of the great civil rights questions of the age before its current term ends in June.
The justices ducked the issue October, refusing to hear appeals from rulings allowing same-sex marriage in five states. That surprise action delivered a tacit victory for gay rights, immediately expanding the number of states with same-sex marriage to 24 from 19, along with the District of Columbia.
Largely as a consequence of the Supreme Court's failure to act in October, the number of states allowing same-sex marriage had grown to 36, and more than 70 percent of Americans lived in places where gay couples could marry. [NYT report] (see Jan 21)
January 16 Peace Love Art Activism
Nuclear/Chemical News
January 16, 2018: on this date, the Centers for Disease Control and Prevention had scheduled a workshop titled "Public Health Response to a Nuclear Detonation," for doctors, government officials, emergency responders and others whom, if they survived, would be responsible for overseeing the emergency response to a nuclear attack.
"While a nuclear detonation is unlikely," the C.D.C. stated on its website, "it would have devastating results and there would be limited time to take critical protection steps. Despite the fear surrounding such an event, planning and preparation can lessen deaths and illness."
The announcement of the workshop had generated much media attention given President Trump's recent comments regarding North Korea's nuclear capability, although the CDS said that those comments were not related to the cancellation. . The CDC said the Nuclear workshop would be rescheduled.
A workshop regarding public health and the flu became the topic (see Jan 22)
January 16 Peace Love Art Activism
Cannabis
January 16, 2018:  although veterans groups were pushing for the use of the drug as an alternative to opioids and anti-depressants, the Department of Veterans Affairs said it would not conduct research into whether medical marijuana could help veterans suffering from post-traumatic stress disorder and chronic pain.  [WP report] (next Cannabis, see Jan 22 or see CCC for expanded post)
January 16 Peace Love Art Activism
Immigration History
January 16, 2019: according to a report by government inspectors , the Trump administration likely separated thousands more children from their parents at the Southern border than was previously believed.
The federal government had reported that nearly 3,000 children were forcibly separated from their parents under last year's "zero-tolerance" immigration policy, under which nearly all adults entering the country illegally were prosecuted, and any children accompanying them were put into shelters or foster care.
But even before the administration officially unveiled the zero-tolerance policy in the spring of 2018, staff of the US Dept of Health and Human Services, the agency that oversees the care of children in federal custody, had noted a "sharp increase" in the number of children separated from a parent or guardian, according to the report from the agency's Office of Inspector General.
As of December 2018, the department had identified 2,737 children who were separated from their parents under the policy and required to be reunified by a federal court order issued in June 2018.
But that number did not represent the full scope of family separations. Thousands of children might have been separated during an influx that began in 2017, before the accounting required by the court, the report said. [NYT article] (next IH, see Jan 19)
January 16 Peace Love Art Activism