June 21 Music et al
Beatles & Bruce Channel
June 21, 1962: as part of manager Brian Epstein's plan to get The Beatles wider exposure by having them open for established acts, they opened for Bruce Channel of "Hey! Baby!" fame at the Tower Ballroom, in New Brighton, England, Backstage, Delbert McClinton, Channel's harmonica player, offered John Lennon some tips on playing harmonica, which Lennon later put to use on the band's first single, "Love Me Do." [Beatles Bible story] (see Aug 14)
June 21

Music et al
The First Big Sur Folk Festival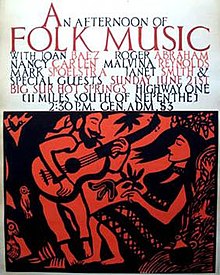 June 21, 1964: The First Big Sur Folk Festival (held on the grounds of the Esalen Institute. From the Richard and Mimi Farina site: The festivals were founded by Nancy Carlen, a friend of Richard, Mimi and Joan [Baez], …. The annual event started as folk music seminars, and as they evolved into concerts, they became known as well-managed, small affairs that emphasized quality and atmosphere over publicity and commercial success. Even when big names like CSN&Y or the Beach Boys appeared, the audiences were limited to a few thousand to preserve an intimate atmosphere and human scale. Although Big Sur is now sometimes remembered as the anti-Woodstock, it was originally the anti-Newport.
Featuring:

Joan Baez
Roger Abraham
Nancy Carlen

Malvina Reynolds
Mark Spoelstra
Janet Smith
Mimi & Richard Fariña
[Richard and Mimi site article on festivals] (see September 13 – 14, 1965)
June 21

Music et al
Byrds Mr Tambourine Man album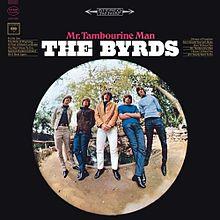 June 21, 1965: the Byrds' debut album, Mr. Tambourine Man, marked the beginning of the folk-rock revolution. In just a few months, the Byrds had become a household name, with a #1 single and a smash-hit album that married the ringing guitars and backbeat of the British Invasion with the harmonies and lyrical depth of folk to create an entirely new sound.
Richie Unterberger of All Music said, "One of the greatest debuts in the history of rock, Mr. Tambourine Man was nothing less than a significant step in the evolution of rock & roll itself, demonstrating that intelligent lyrical content could be wedded to compelling electric guitar riffs and a solid backbeat.   (see June 26 – July 2)
June 21

Music et al
Summer of Love
June 21, 1967, to kick off the "Summer of Love" in San Francisco this poster for the Summer Solstice Celebration was circulated calling for a "Love In" in Golden Gate Park. There were several concerts in Golden Gate Park during that summer that are documented as who played, but that was later on during the Summer of that same year. [2012 Vanity Fair article]
June 21

Music et al
The [bumpy] Road to Bethel
June 21, 1969: Stanley Goldstein met with Hugh Romney and the Hog Farm in New Mexico to discuss the Hog Farm's role in the festival. Jim Grant, a friend and fellow law enforcement official of Wes Pomeroy, accompanied Goldstein. (see Chronology for expanded story)
June 21

Music et al
Toronto Pop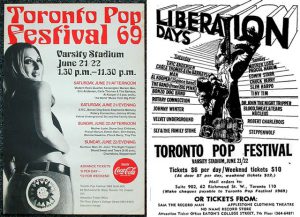 June 21 – 22, 1969 – see Toronto Pop Festival (Varsity Stadium).