1969 Mississippi River Festival
June – July 1969
Southern Illinois University
Edwardsville, IL
1969 festival #11
Nearly all the 1969 festivals I've written about were two- or three-day events with several performers each day. I do have a piece on the 1969 Forest Hills Music Festival in Queens, NYC, even though it was a summer-long event because so many festival-type rock groups were part of it.
1969 Mississippi River Festival
Southern Illinois University
In 1969, Southern Illinois University initiated the Mississippi River Festival. Though primarily designed as a summer residence for the St Louis Symphony Orchestra (with Walter Susskind the conductor), [a la Tanglewood in Massachusetts featuring the Boston Pop Orchestra] the Mississippi River Festival regularly featured other types of music over its typical two-month (30 dates) run. Not quite the kind of weekend festival featuring several performers each day that typified the most other 1969 festivals, the MRF nonetheless featured many of the same performers who were at those festivals.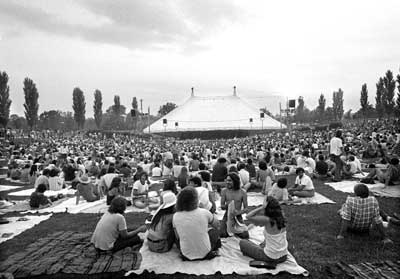 1969 Mississippi River Festival
Circus tent
Organizers located the venue inside a custom-made circus tent with seating for approximately 1,900 guests.  The tent had one open wall to allow for lawn spectators.
Here is a 14-minute video which mostly covers the early organization of the inaugural season. It features mainly the orchestra.
A Carmina Burana soundtrack backs the video!
1969 Mississippi River Festival
Not Woodstock Ventures
Viewers might find it interesting and amusing to watch how formalized the MRF organizers were compared to those of Woodstock Ventures.  These organizers sit a table, coffee cups in front of them, men in jackets and ties, women dressed for "church.
Because it was a two-month season, attendees could purchase a season pass for every show available.
The St Louis Dispatch has a slide show entitled, "Glory Days of the Mississippi River Festival."

1969 Mississippi River Festival
Grateful Dead

1969 Mississippi River Festival
Great guests
Over the 11-year run of its existence, many other great bands played the Mississippi River Festival, such as, Grateful Dead, the Who, Jimmy Buffett, Yes, Janis Joplin, the Flying Burrito Brothers (in 1970 with Gram Parsons), Joni Mitchell.
Below is a chart with the various rock- or folk-related groups that played in 1969. It is a great selection.
1969 Mississippi River Festival
Dylan out of circulation?
Of special note is July 14. The Band played.  It is "common knowledge" that Bob Dylan did not perform at the Woodstock Music and Art Fair. And that is true. It is also common knowledge that Bob Dylan's first public performance following his July 29, 1966 motorcycle accident was at the Isle of Wright event the end of August 1969. Common knowledge? Yes. Accurate? No.
Who came out to play with The Band on their 4-song encore? You guessed it: Bob Dylan. I think that qualifies as a public appearance, don't you?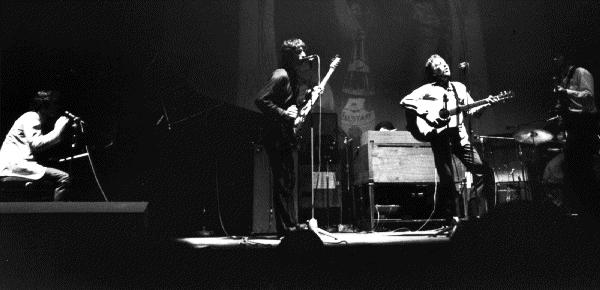 1969 Mississippi River Festival
June 23 – July 27, 1969
Date
Performer
Notes
Paid attendance
6/23
Buffy Sainte-Marie
2268
6/24
Modern Jazz Quartet
The Galactic Vision projected a light show on a screen behind MJQ
1542
6/26
Paul Butterfield Blues Band
High winds forced lawn guests to seek shelter
3449
7/1
Janis Joplin
na
Aorta
7/7
Arlo Guthrie

The National Educational Television Network recorded the concert.

3753
Joni Mitchell
7/10
Iron Butterfly
12,735
Blues Image
7/14
The Band
Bob Dylan came out for the Band's encore and played four songs with them. This was his first public performance since his July 29,1966 motorcycle accident
4082
7/17
Ian and Sylvia
They called their band the Great Speckled Bird
2487
7/21
New Christy Minstrels
5711
7/22
Richie Havens
2753
Eddie Fisher Trio
The EFT was an East St Louis jazz band
7/23
Joan Baez
11,052
In their 2006 book , The Mississippi River Festival, Amanda Bahr-Evola and Stephen Kerber wrote: To host the symphony, the university created an outdoor concert venue within a natural amphitheater by installing a large circus tent, a stage and acoustic shell, and a sophisticated sound system. To appeal to the widest possible audience, the university included contemporary popular musicians in the series. The audacity of the undertaking, the charm of the venue, the popularity of the artists, the excellence of the performances, and the nostalgic memory of warm summer evenings have combined to endow the festival with legendary status among those who attended. [Edwardsville Intelligencer article about book]
1969 Mississippi River Festival
Next 1969 festival: The Fourth Annual Memphis Country Blues Festival/The First Annual WC Handy Memorial Concert.