Toronto Pop Festival 69
June 21 & 22, 1969
Varsity Stadium
 1969 Festival #15
Velvet Underground "Heroin"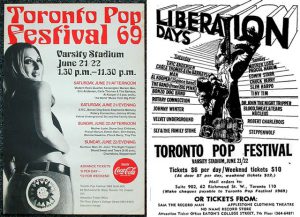 To say "here's another 'lost' festival of the summer of 1969" gets old, but, yes, the Toronto Pop Festival (as opposed to the Toronto Rock and Roll Festival later the same year) is another of the 1969 festivals few have heard of.
The line-up was a good one. How Johnny Winter had the energy to play in Toronto on Friday and then in California on Sunday, I don't know. I have underlined those who would appear at Woodstock:
Saturday 21 June

Carla Thomas & the Bar-Kays

Man

Al Kooper

The Band

Bonzo Dog Band

Rotary Connection

Johnny Winter

Velvet Underground

Sunday 22 June

Mother Lode

Procol Harum

Edwin Starr

Chuck Berry

Slim Harpo

Tiny Tim

Dr John the Night Tripper

Blood, Sweat, & Tears

Nucleus

Robert Charlebois

Steppenwolf
(See Roland Stone comment below for a more accurate listing as not all bands on the promo played and others not on the promo did)
Toronto Pop Festival 69
Diverse line-up
A legitimate criticism of Woodstock's lineup was a lack of black performers. Yes, there was Richie Havens, Sly and the Family Stone, and Jimi Hendrix, but those three were already an accepted part of many white listeners' collection. For Toronto, Carla Thomas, Edwin Starr, Slim Harpo, and Chuck Berry added styles that Woodstock lacked.
Tickets were $6 a day or $10 for both days.
Toronto Pop Festival 69
Jeanne Beker
Woodstock had Abbie Hoffman infamously inserting himself in the middle of The Who's performance. In Toronto a young girl joined Ronnie Hawkins during his performance of "Bo Diddly."
While Pete Townshend threatened Hoffman, the more genial Hawkins welcomed the yellow-bikinied Jeanne Beker. Her presence was caught on camera by a photographer for The Telegram. Hawkins is in the purple suit.
Jeanne Beker is now a well-known Canadian television personality, fashion designer, author and newspaper columnist.
The audience recording of the Velvet Underground is the only recording of the festival I could find.
Here is a link to images from Norm Horner taken on Saturday afternoon. And another link to images from http://theband.hiof.no/
Toronto Pop Festival 69
Next 1969 festival: Denver Pop Festival