December 19 Music et al
Bob Newhart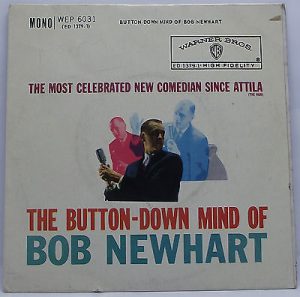 December 19 – 25, 1960: Button-Down Mind of Bob Newhart comedy album returned for a third time to Billboard #1. It was his debut album.
Newhart recorded it at the Tidelands Club in Houston, Texas. The album won Album of the Year and  Newhart was named Best New Artist. It was the first comedy album to win Album of the Year and the only time a comedian had won Best New Artist.
Newhart wanted the title to be The Most Celebrated New Comedian Since Attila the Hun, but Warner Bros. executives created the album's title and Newhart had to settle for his idea as a subtitle. (musicavclub review of album as a subversive landmark)
December 19 Music et al
Come See About Me
December 19 – 25, 1964: "Come See About Me" by the Supremes #1 on the Billboard Hot 100, their third consecutive release that went to #1.
Motown's famous team of Holland–Dozier–Holland wrote and produced the song. The Supremes performed the song on the Ed Sullivan show on December 27, 1964.
The group also recorded a German version of the song, entitled "Johnny und Joe."
December 19 Music et al
Beatles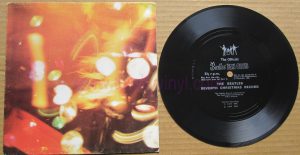 December 19, 1969: The Beatles released their 7th and last Christmas  fan club recording. The Beatles had recorded it separately since they had effectively split by this point. It features an extensive visit with John and Yoko at their Tittenhurst Park estate, where they play "what will Santa bring me?" games.  George Harrison appears only briefly, and Ringo only shows up to plug his recent film, The Magic Christian. Paul sings his original ad-lib, "This is to Wish You a Merry, Merry Christmas." Starting at 1:30, at the tail-end of Ringo's song, the guitar solos from "The End" are heard, followed by Yoko interviewing John.
December 19 Music et al
The End
December 19, 1974: after four years' negotiation, the Beatles had agreed — or appeared to have — on the terms governing their formal split, and a meeting had been arranged at the Plaza Hotel in Manhattan. George Harrison was performing at Madison Square Garden that night; McCartney had flown in from London; and Starr, having signed the document earlier, was on the telephone.
At the last minute, John Lennon objected to a clause that he felt would create tax problems for him (as the only Beatle living in the United States), and decided not to attend. Harrison, furious, canceled plans for Lennon to join him onstage at Madison Square Garden, but McCartney turned up at the East 52nd Street apartment that Lennon and Pang shared to discuss the sticking point. Things remained unresolved.
December 19 Music et al