Dylan Visits Woody Guthrie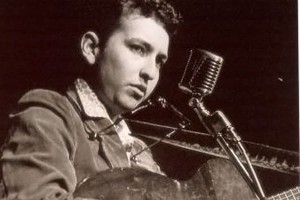 In the land of opportunity, young Americans look for a model. A parent, a sibling, a cousin, or a best friend may serve, but one's world often pivots on an unanticipated choice.
Bob Dylan borrowed a friend's copy of Woody Guthrie's autobiographical Bound for Glory.  In it Dylan found inspiration in the portrait Guthrie painted of himself in the book. Guthrie and folk music became a star to follow.
Later, Dylan would say, "The thing about rock'n'roll is that for me anyway it wasn't enough… There were great catch-phrases and driving pulse rhythms… but the songs weren't serious or didn't reflect life in a realistic way. I knew that when I got into folk music, it was more of a serious type of thing. The songs are filled with more despair, more sadness, more triumph, more faith in the supernatural, much deeper feelings."  (from liner notes by Cameron Crowe to Dylan's Biograph 5-record set)
Dylan Visits Woody Guthrie
29 January 1961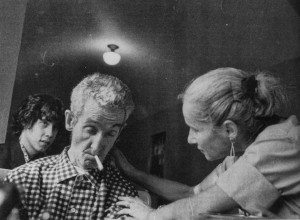 Dylan had arrived in New York City on January 24, 1961 (see Talkin' New York) and on January 29 met Guthrie. Guthrie was in his fourth year at the Greystone Park Psychiatric hospital in New Jersey, suffering from Huntington's disease, which finally led to his death in 1967. Guthrie apparently gave Dylan a card after their first meeting saying: "I ain't dead yet."
Dylan had written a song simply called "Song to Woody."
Dylan Visits Woody Guthrie
Song to Woody
I'm out here a thousand miles from my home


  

 Walkin' a road other men have gone down


  

 I'm seein' your world of people and things


  

 Your paupers and peasants and princes and kings
Hey, hey, Woody Guthrie, I wrote you a song


 

 'Bout a funny ol' world that's a-comin' along


 

 Seems sick an' it's hungry, it's tired an' it's torn


 

 It looks like it's a-dyin' an' it's hardly been born
Hey, Woody Guthrie, but I know that you know


 

 All the things that I'm a-sayin' an' a-many times more


 

 I'm a-singin' you the song, but I can't sing enough


 

 'Cause there's not many men that done the things that you've done
Here's to Cisco an' Sonny an' Leadbelly too


 

 An' to all the good people that traveled with you


 

 Here's to the hearts and the hands of the men


 

 That come with the dust and are gone with the wind
I'm a-leavin' tomorrow, but I could leave today


  

 Somewhere down the road someday


  

 The very last thing that I'd want to do


  

 Is to say I've been hittin' some hard travelin' too
(Complete lyrics Song to Woody)
Dylan Visits Woody Guthrie
Town Hall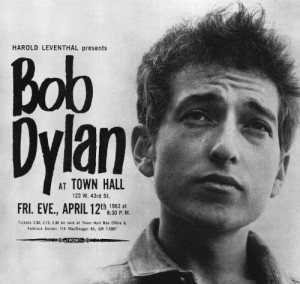 On  April 12 1963, Bob Dylan played the Town Hall in New York City. To close the performance, he recited  another Guthrie-related piece he'd written called "Last Thoughts on Woody Guthrie."  It's a long poem so I won't put the lyrics right here, but will provide the link below the video if you would like to listen and follow along. Listening to Dylan recite reminds me of the Beat style of poetry, but that's another blog for another day.
"If you can roll along with this here…"
Last Thoughts on Woody Guthrie lyrics
Dylan Visits Woody Guthrie
Guthrie dies
Woody Guthrie died on October 3, 1967 while at Creedmoor State Hospital in Queens, New York. His ashes were sprinkled into the waters off of Coney Island's shore.
A month later, on Thanksgiving 1967, Woody's son Arlo Guthrie released his first commercial recording of "Alice's Restaurant."
Dylan Visits Woody Guthrie