1969 Sky River Rock Festival
Rainier Hereford Ranch, Tenino, Washington
August 30, 31, and September 1, 1969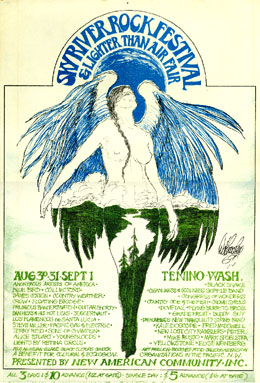 1969 festival # 38
When I began blogging about 1969's first rock festival (Aquarian Family Festival) I thought I had a complete list for the rest of 1969. Not true and the Sky River Rock Festival is among those I've added.
1969 Sky River Rock Festival
Tenino, Washington
I found much of the information about the Sky River Rock Festival from the HistoryLink.org site.
1969 Sky River Rock Festival
Northern Exposure Piano Fling
If you are a Northern Exposure fan, a piano drop will sound familiar as in the February 3,  1992 episode Burning Down the House,  Chris initially decided to fling a cow, but did a piano instead.
And (of course) that plot was likely inspired by Monty Python who occasionally used the idea in episodes. A video game also uses the concept:
1969 Sky River Rock Festival
Great Piano Drop
The idea for the first Sky River festival (1968)  emanated from the Great Piano Drop of April 28, 1968, on musician Larry Van Over's farm in Duvall. A helicopter dropped an upright piano into a field just so everyone could hear what it would sound like. Organizers thought if they could get people out to a rural spot to watch a piano drop, then they'd come out to a festival, too.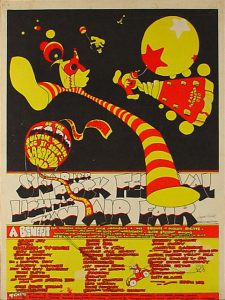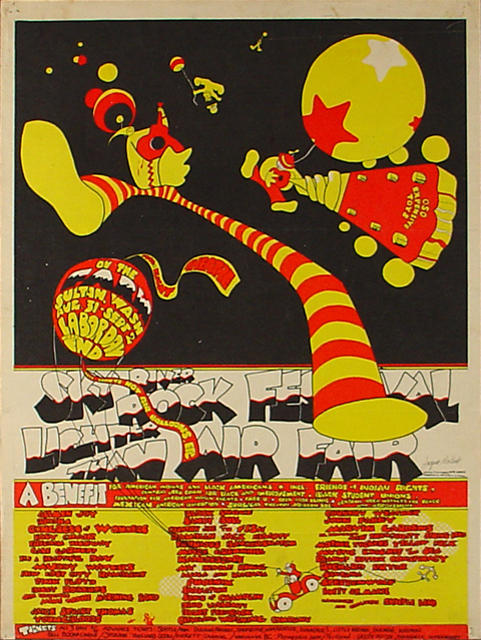 1969 Sky River Rock Festival
1968
That first festival was in 1968 with two more each of the following years. In an important way, Sky River 1968 preceded the much more famous Woodstock Music and Art Fair. One of the things that made Woodstock unique was that it was in an undeveloped open rural area that people camped in and around. Such was the 1968 Sky River.
The first site was Betty Nelson's 40-acre organic raspberry farm on the banks of the Skykomish River, just outside Sultan, Washington.
John Chambless,  philosophy professor at the University of Washington, and  one of organizers later said, "I don't think at the time anybody dreamed it would become a three-day festival over the Labor Day weekend."
The Dead played at the '68 festival and, not surprisingly, recorded their performance.
1969 Sky River Rock Festival
Push back
Organizers decided to do another. This time in Tenino which is south of Olympia. Tenino was a small town of 950 people (the 2013 population was just over 1,700).
Like the "relationship" between Wallkill, NY and Woodstock Ventures, local pressure from police, the Catholic Archdiocese, and others against the event grew.
The Tenino Chamber of Commerce and several adjacent property owners obtained an injunction blocking a Thurston County permit, but the judge required them to post a $25,000 bond against the festival's anticipated losses. The plaintiffs couldn't, and at the last possible second the festival was cleared for takeoff.
1969 Sky River Rock Festival
Performers
Anonymous Artists of America

Black Snake

Blue Bird

Cleanliness & Godliness Skiffle Band

Collectors

Congress of Wonders

James Cotton

Country Weather

Country Joe and the Fish

Crome Syrcus

Crow

Dovetail

Floating Bridge

Flying Burrito Brothers

Frumious Bandersnatch

Grapefruit

Guitar Shorty

Buddy Guy

Dan Hicks and His Hot Licks

Dr. Humbead's New Tranquility String Band

Juggernaut

Kaleidoscope

Los Flamencos de Santa Lucia

Fred McDowell

Steve Miller

New Lost City Ramblers

Pacific Gas & Electric

Peter

Terry Reid

Mike Russo

Sons of Champlin

Mark Spoelstra

Alice Stuart

Yellowstone

Elyse Weinberg
1969 Sky River Rock Festival
Money loss
An estimated 25,000 people attended over three days, but the festival still lost money.
1969 Sky River Rock Festival
Bumbershoot
There were many complaints and letters written to Washington State Governor Dan Evans to express their displeasure: [metaslider id=15577] Although organizers held another Sky River in 1970, it was the last. Having said that, in 1971 Bumbershoot started and continues to the present.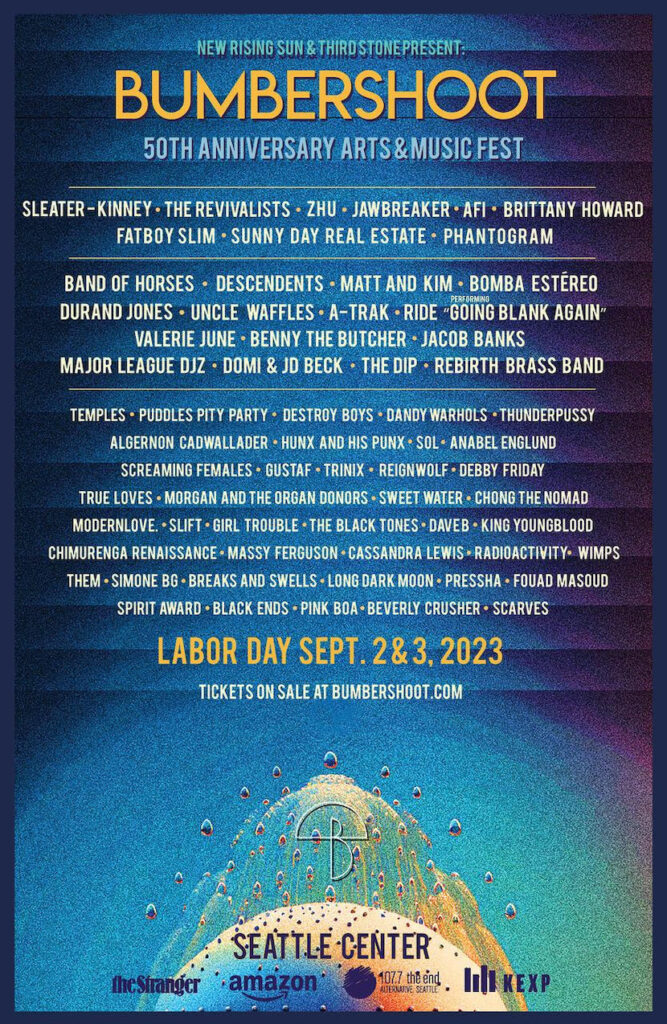 Addendum from Cliff Merganz who posted on Facebook: I remember reading about the 1968 Festival in one of the first issues of Rolling Stone coming back from a visit to Manny's and Terminal Music on 48th Street in "the City". A good story and a few pictures and the first time I read Rolling Stone. I believe John Lennon was on the cover in his "How I Won the War" uniform. There is a CD floating around of the Flying Burrito Brothers playing at the 68′ Festival. My ex-wife's family had property in the area and said it was almost impossible to get there due to all the "Hippies" but also added there was no trouble and they were all nice and polite.
1969 Sky River Rock Festival
Anniversary Perspective
In 2019,  the Thurston Talk site published an article that gave some additional background to Sky River. Among that info was:
according to the promoters, Sky River II was meant to "combat racism, hatred, violence, and poverty."

The Stop the Rock Festival Committee met on August 21 and was led by a local leader of the John Birch Society.

Landowners and the Tenino Chamber of Commerce filed suit claiming that there was no way the festival could be peaceful or not violate county rules. Specifically, the suit called out the impact of noise on cows ("…it would cause them to lose flesh. They won't be grazing.")
According to a 2019 Chronicle article, "The festival was held a few more times, including the 10-day Sky River III held near Washougal in 1970. The final Sky River was held in 1971 in Grays Harbor."
And
"One attendee, Pamela Davis, remembers going back to the ranch after the festival with a few friends to help clean up. They built picnic tables and a fire pit, then invited the local law enforcement and their families out for a barbecue to thank them for handling the crowd so well."
1969 Sky River Rock Festival
Next 1969 festival: New Orleans Pop Festival