Saxophonist Fred Lipsius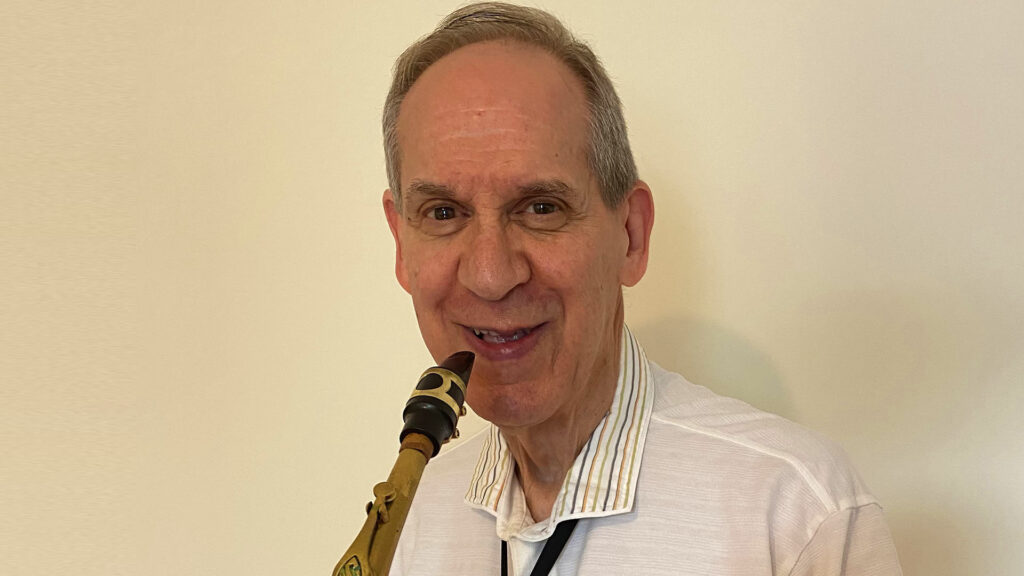 Born November 19, 1943
Woodstock alum with Blood, Sweat and Tears
Many happy returns
Fred Lipsius
Fred was born in the Bronx, NYC and began playing the clarinet when he was 9.
From a 2014 staxshed.com interview:
I'm the only musician in my family. I'm the middle child of three kids. One of my mother's brothers played piano, but not professionally, and one of my Dad's brothers played too, but he just read piano sheet music. So I sort of felt like the 'ugly duckling' (the 'different' one, who chose to be a 'musician') out of everyone in my family. I was always deeply moved by music as far as I can remember. It's always been a very pure thing for me. When I was about seven I saw Louis Armstrong and his band on TV. I didn't really know what jazz was at that time but I told my mom that I want to do that.
In public school, all of the 4th graders took a music test to see which of us had talent in that area. I passed the test and was put into a special music class in my 5th and 6th grades. I played clarinet and was basically the worst clarinetist of about 20 kids. I only practiced 20 minutes a day (this included putting the clarinet together with cork grease and taking it apart and swabbing it)! Back then, I was more interested in playing basketball. But in the 6th grade, for some reason, I improved and became first or second in my class. I bought a few Benny Goodman records and was able to copy just a few of his licks by ear, although I really didn't have much of an ear back then. My ear did develop into my teens, from listening to and transcribing solos of my favorite jazz players (mostly saxophone and piano). My favorite alto players were Bird, Sonny Stitt and CannonbalI. I also listened to Rollins and Coltrane on tenor. I still have a copy of all the solos and licks I transcribed. They're now in a big loose leaf book, neatly re-copied. I show this book to my private students at Berklee to encourage them to do some work like I did.
Saxophonist Fred Lipsius
More
From his site and his label's sites:
[He began to play] "…alto and tenor saxophones in Junior High School, and piano at Music and Art High School in Manhattan. He continued his studies at Berklee School of Music (1961-62), and then went on the road. Fred Lipsius was the original saxophonist, arranger and conductor with Blood, Sweat & Tears (1967-71). He also doubled on keyboards. While with the band, he won nine Gold Records plus a Grammy Award for his arrangement of "Spinning Wheel" and a Grammy for 'Album of the Year' as a BS&T band member. Fred also arranged and co-arranged, respectively, the hit singles "Hi-De-Ho" and "You've Made Me So Very Happy." He brought the "jazz" element to the band and the public with his arrangements and solos on sax and piano. In both the Downbeat and Playboy jazz polls he placed in the top ten of the alto sax category. Rock and Roll history books credit him as the first saxophonist to mix jazz and rock styles in his solos.
Fred has composed, arranged and produced radio and TV commercials, including 2 CBS TV logos & themes introducing the season's upcoming shows. In the spring of 1982, he toured with Simon and Garfunkel in Japan and Europe, and was a featured soloist. Fred has authored seven books/CDs on jazz improvisation and jazz reading, published throughout the world. Other published works of his include small combo and big band jazz/fusion arrangements.
He has performed with jazz greats Cannonball Adderley, Thelonious Monk, Zoot Sims, Eddie Gomez, Al Foster, George Mraz, Larry Willis, Randy Brecker, Rodney Jones, plus a number of prominent Berklee College of Music faculty such as Herb Pomeroy, Alan Dawson, Ray Santisi, and Donald Brown. He has written music for and performed on over 30 CDs as both a leader and sideman.
In 2020, Fred retired from Berklee College of Music in Boston after teaching full-time for 35 years.
Saxophonist Fred Lipsius
Spinning Wheel
If you've ever visited the Museum at the Bethel Woods Center for the Arts, then "Spinning Wheel"  will sound familiar. Here is an 2004 interview with him.
Fred's recent projects include new music, original computer art, and his book, "The Tree With Many Colors", which contains insights about the giving and receiving of love… the purpose of life.
In 2020, Fred retired from Berklee College of Music in Boston after teaching full-time for 35 years.
Click for more including about his digital art >>> his site
Saxophonist Fred Lipsius