Busy Beatles December 17
Professional Pictures
On December 17, 1961 Brian Epstein contacted a local wedding photographer, Albert Marrion, to have him take professional pictures of the group for the first time.
DJ Carroll James
On December 17, 1963 radio DJ Carroll James at Washington. D.C. station WWDC, a U.K. played copy of  "I Want to Hold Your Hand" after a 15-year-old girl from Silver Spring, MD wrote to him requesting Beatles music after she saw the CBS-news segment on December 10.
James Carroll became the first disc jockey to broadcast a Beatles record on American radio. He had obtained the record from his stewardess girlfriend, who brought the single back from the UK. Due to listener demand, the song was played daily, every hour.
Capital Records had planned on releasing "I Want to Hold Your Hand" on January 13, 1964 and the next day (Dec 18), the company threatened to sue WWDC to stop playing song. Capital then reversed itself and decided to rush-release "I Want To Hold Your Hand." Capital cancelled Christmas leaves and pressing plants and staff geared up for rush release.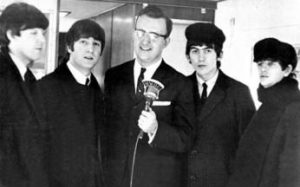 Busy Beatles December 17
Third Christmas Record
December 17, 1965: "The Beatles Third Christmas Record" released. Several off-key, a cappella versions of "Yesterday" were dispersed throughout the record, alongside Lennon's "Happy Christmas to Ya List'nas", "Auld Lang Syne", a one-and-a-half-line version of the Four Tops' "It's the Same Old Song" (which they quickly stop before they violate the copyright) and an original poem titled "Christmas Comes But Once a Year".
Members of the Beatles' US fan-club did not receive this (or any) Christmas flexi-disc in 1965. Rather, they received a black and white postcard, with a photo of the Fab Four and the message "Season's Greetings – Paul, Ringo, George, John." The Beatle Bulletin, the publication of the US fan-club, explained in its April 1966 edition that the tape arrived too late to prepare the record in time for Christmas.
Busy Beatles December 17
Christmas Time Is Here Again
December 17, 1967:  mailing of the 1967 Christmas disc, Christmas Time Is Here Again to fan club members. Their fifth.
The Beatles created an elaborate production around the concept of several groups auditioning for a BBC radio show. The title song serves as a refrain throughout the record. The Beatles portray a multitude of characters, including game show contestants, aspiring musicians ("Plenty of Jam Jars", by the Ravellers), and actors in a radio drama ("Theatre Hour"). At the end John reads a poem, "When Christmas Time Is Over." This offering was likely a deliberate homage to/continuation of the broadly similar "Craig Torso" specials produced for BBC Radio 1 that same year by the Beatles' friends and collaborators the Bonzo Dog Doo Dah Band, and also shares much in common with their then-unreleased track "You Know My Name (Look Up the Number)", recorded six months previously.
For those of you with the interest, the money,  and the space, you can order a newly released box set from Apple Corps that includes  each Beatles Christmas disc.
Busy Beatles December 17