Stones Come On Chuck Berry
Chuck Berry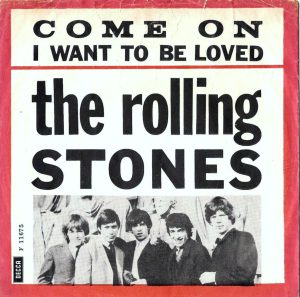 "Come On" is a straight-forward tune written by the straightforward rock n' roll icon Chuck Berry. The Rolling Stones were searching for the "right" first song to release as a single and "Come On" met the criteria.
Chuck Berry, one of their favorite composers and one of British youths favorites as well. It's about frustrated love, broken cars, and wrong numbers. A fine recipe.              
Stones Come On Chuck Berry
June 7, 1963
The Stones released their inaugural song on June 7, 1963, nine months after their friends, The Beatles, had released their inaugural single, "Love Me Do," on October 5 , 1962 [a song without cars, phone calls, or by Chuck Berry, but it did have frustrated love].
Stones Come On Chuck Berry
Not quite Chuck
According to an All Music review, the  Stones's song differs from Berry original in several ways:
the Rolling Stones quickened the tempo
they put more emphasis on off-beat guitar chording and wailing harmonica
 the rhythm came close to reggae
on the chorus, Mick Jagger was backed up by high harmonies
they changed one of the lyrics substituting "some stupid guy" for the "some stupid jerk"
an upward key change was thrown in for the last verse.
I would have never noticed, but some do and find the differences important. You can listen and decide for yourself.
Stones Come On Chuck Berry
Can you tell the difference?
Willie Dixon
The Stones' B-side of "Come On" was "I Want to Be Loved" by Willie Dixon.  It was written in 1955 and reflects the Rolling Stones's love of American blues roots.
Here's their version:
This song's theme has frustrated love, frustrated dancing, and frustrated attention.
The single did well, but did not catapult them into stardom.
1963 touring

In July, they played their first gig away from London in Middlesbrough, England. They shared the bill with The Hollies.

In the autumn of 1963, they toured the United Kingdom and opened for Little Richard, Bo Diddley and The Everly Brothers.

Second single

They also released their second single, "I Wanna Be Your Man." The title may sound familiar and it should. The song was written by those upcoming Beatles, John Lennon and Paul McCartney. The single reached #12 on the UK singles chart.

Stones Come On Chuck Berry