Visible Invisible Audrey Marie Munson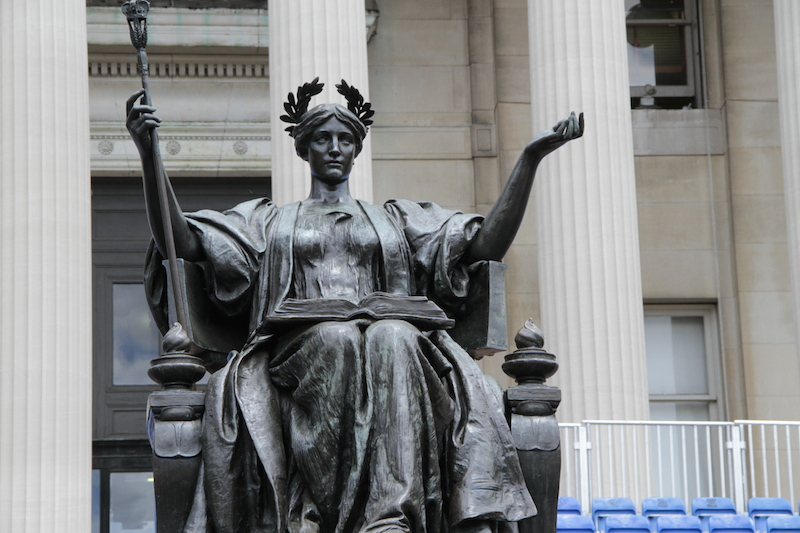 June 8, 1891 — February 20, 1996
The podcast 99% Invisible inspired this blog entry. I strongly suggest you listen to the well-told story as well as read my brief bio about this person who many have seen but few know.  [99% Invisible…producer Avery Trufelman]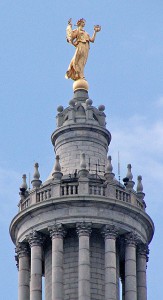 Visible Invisible Audrey Marie Munson
Rochester, NY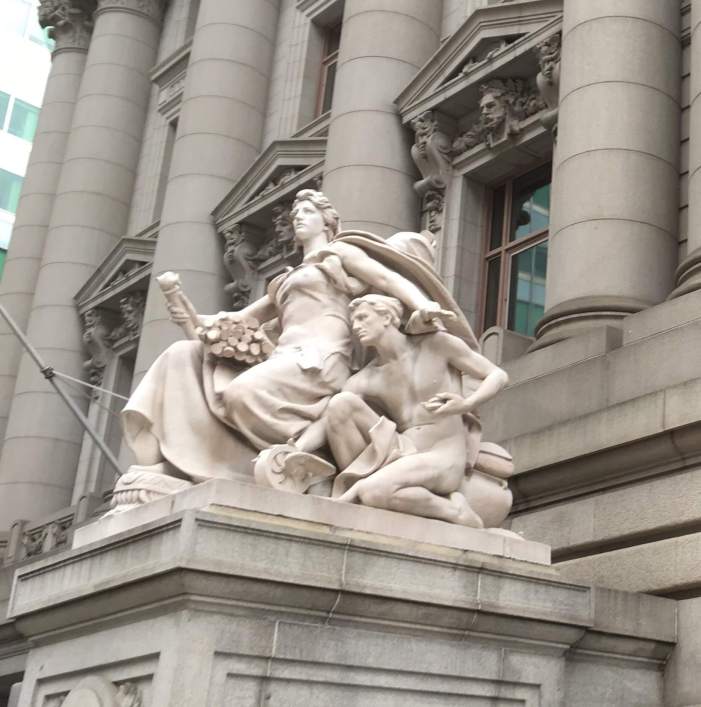 Audrey Marie Munson was born in Rochester, NY in 1891, but moved with her mother to New York City after her parents divorced. It was there that photographer Ralph Draper saw 15-year-old Audrey. Her beauty inspired him to ask Audrey's mother, Katherine, if he could introduce Audrey to sculptor Isidore Konti. Konti was equally enchanted.
Visible Invisible Audrey Marie Munson
Audrey's visage blooms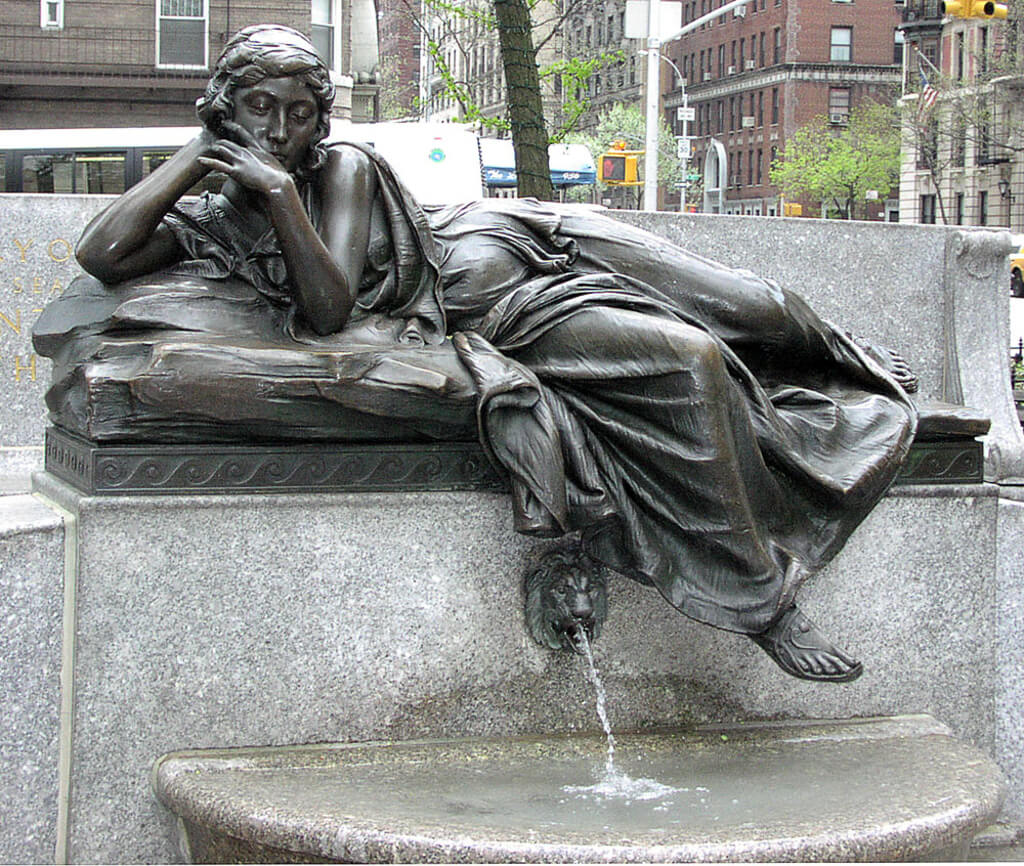 In short order, Audrey's visage blossomed in scores of New York City locations. From the Keith New York City blog: When wealthy patrons needed an angel for their mausoleum, Audrey sprouted wings. When the Hotel Astor on Times Square wanted a statue of The Three Graces for their lobby, Audrey danced as a trio. When Wisconsin built a new capitol building, Audrey stood atop its dome. When a monument to the USS Maine was commissioned, Audrey graced its base in stone and its top in gold. And when the Municipal Building was constructed in 1913 to house Greater New York's city government, a 25-foot-tall Audrey was perched 580 feet above the city streets."
Visible Invisible Audrey Marie Munson
San Francisco
She was also the Muse for the sculptures of the Panama Pacific International Exhibition in San Francisco. It invited her to pose and soon Audrey was everywhere.
While in California, she became part of the nascent film industry. Munson's relaxed attitude toward nudity, though contrary to norms of the day, allowed her to became the first woman to appear fully nude in a non-pornographic moving picture, Inspiration. Her limited acting ability (sometime they used a stunt actress for non-nude scenes) ended her movie career and she and her mother moved back to NYC.
Dr Walter Wilkins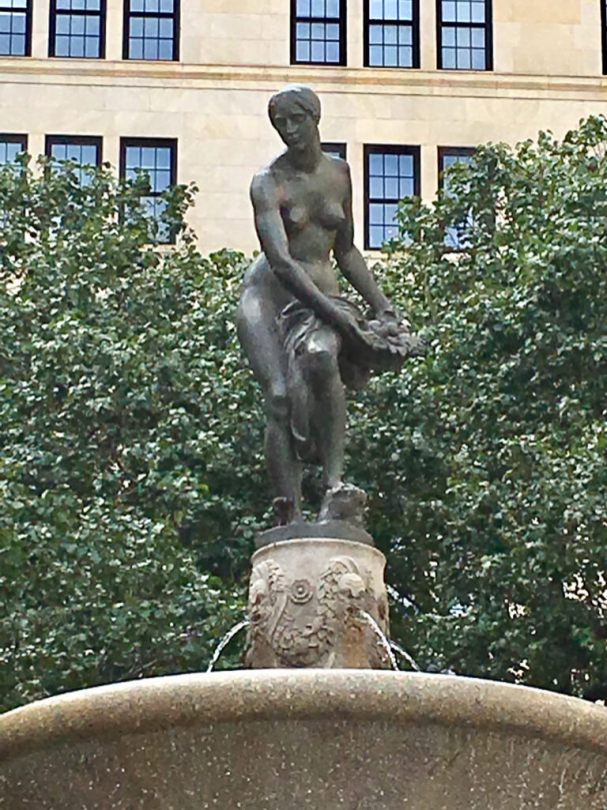 In 1919 Katherine and Audrey Munson rented a room in the home of a Dr. Walter Wilkins. Wilkins became infatuated with the model, but Audrey did not reciprocate and before the doctor could act on his infatuation, Audrey and Katherine moved.
Shortly afterwards, Wilkins killed his wife. Though he initially claimed that burglars had killed her, investigations, included speaking with Munson and her mother, revealed his guilt.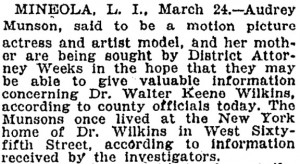 Wilkins was sentenced to death, but hung himself in jail.
Victims of scandal 
The scandal destroyed Audrey Munson's career and she and her mother moved back to upstate New York. They barely could earn livings and life in the small town for the nationally famous model was difficult. It didn't have the city life that Audrey had become accustomed, nor did its rural citizens have the relaxed attitude toward such modeling the Munsons had.
On May 27, 1922, depressed, Audrey tried to kill herself by ingesting mercury bichloride. Emergency medical treatment saved her, but soon after her mother committed her to Saint Lawrence Psychiatric Center in Ogdensburg, New York.
Committed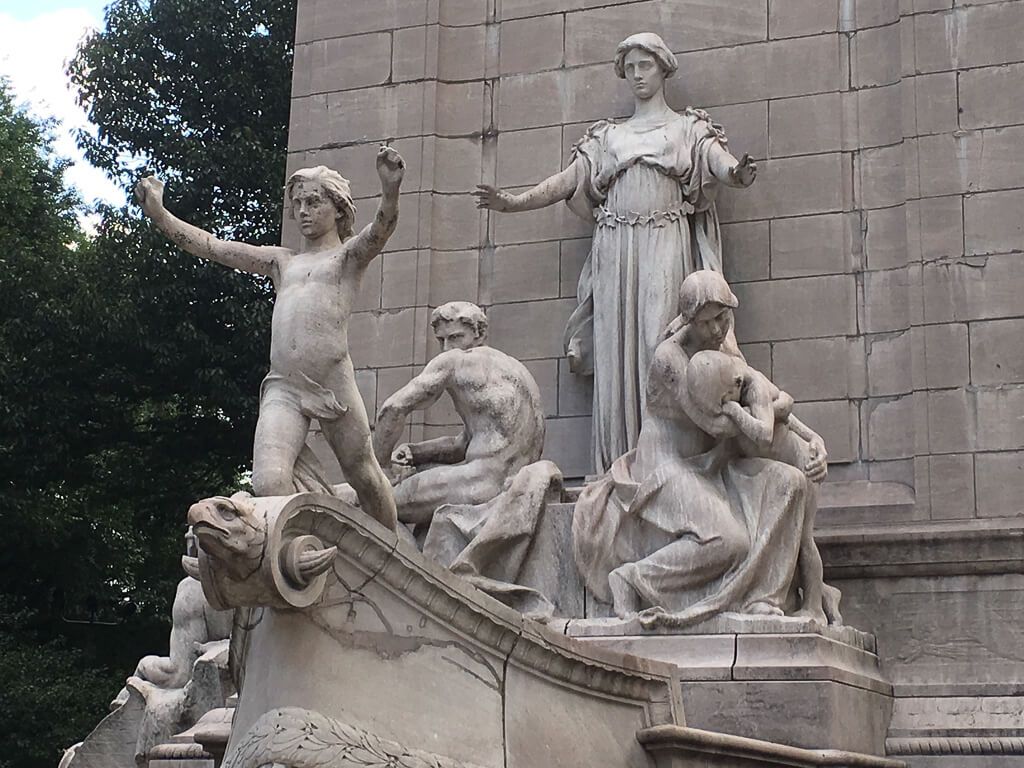 Though briefly released many years later to live in an old folks home, her continued contrary behavior forced authorities to send her back to Saint Lawrence.
She died there on February 20, 1996. 105 years old.
The Most Visible Person You Have Never Seen. Short film on Munson. Directed by Leslie Napoles.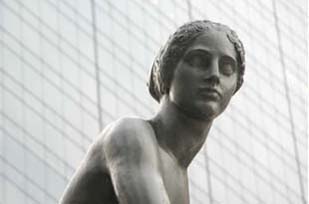 Visible Invisible Audrey Marie Munson