David Miller Draft Card Burner
David Miller was not the first person to burn his draft card in protest of US involvement in the Vietnam War, but his case became the most publicized.
As more and more people protested the war, various ways of demonstrating that protest began. When burning a draft card was first being done, it was not illegal to do so.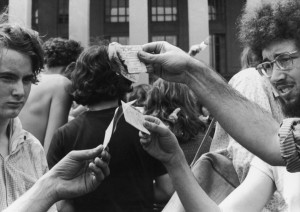 David Miller Draft Card Burner
Eugene Keyes Draft Card Burner
For example, Eugene Keyes burned his draft card on Christmas Eve 1963. He used to flame to light a peace candle.  The same day, Selective Service mailed Keyes a notice to report for his physical examination. ( NYT article)
On May 12, 1964 twelve student publicly burned their draft cards in New York City.
On May 5, 1965, forty men burned their draft cards at the University of California, Berkeley and a coffin was marched to the Berkeley Draft Board.
On August 31, 1965, President Johnson signed a law making the burning of draft cards a federal offense subject to a five-year prison sentence and $1000 fine. [The constitutionality of the federal law was upheld by the US Supreme Court in US v. O'Brien (May 27, 1968)]
On October 15, 1965, David Miller, a Catholic pacifist,  publicly burned his draft card. Three days later, the FBI arrested him. In its November 5 issue, Time magazine described the action of Miller and other draft card burners as "a post-adolescent craze."
Miller responded to that description from the Onondaga County Penitentiary. [note the term Vietniks]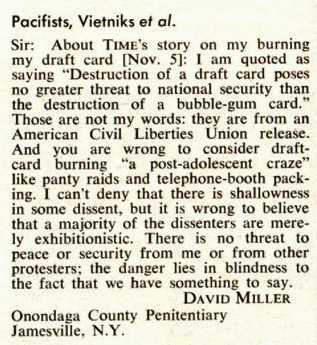 David Miller Draft Card Burner
Union Square burnings
Miller's arrest did not stop the draft card burning. For example, on November 6, 1965 in Union Square, NYC, Thomas Cornell (teacher) Marc Edelman (cabinetmaker), Roy Lisker (novelist and teacher), and James Watson (on staff of Catholic Worker Pacifist Movement) burned their draft cards. (2015 Villager article)
On December 21, the four were indicted.
David Miller Draft Card Burner
David Miller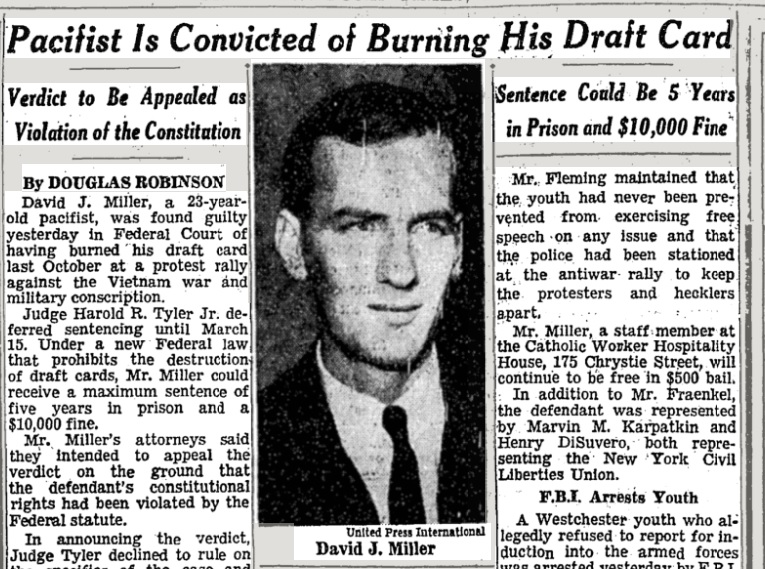 On February 10, 1966 a jury convicted David Miller of burning his draft card.
On March 15, Federal District Judge Harold R Tyler, Jr gave Miller a three-year suspended sentence and placed him on probation for two years.
Miller obtain a new draft card within two weeks
carry that draft card
obey all lawful orders of his Selective Service board
if called to serve, to submit to induction into the armed services
Miller said after, "I have no intention of obeying any of the judge's directives even if I have to go to jail."
Anti anti-Vietnam violence
As an example of how divisive the war in general and draft card burning became, on March 31, 1966, high school boys punched and kicked seven anti-Vietnam demonstrators on the steps of the South Boston District Court House after four of the protesters had burned their Selective Service cards. With shouts of "Kill them, shoot them," about 50 to75 high school boys charged the steps and knocked the demonstrators to the ground as a crowd of 200 watched. David O'Brien, 19, was one of the card burners. On July 1, O'Brien was sentenced to a Federal Youth Correctional Center for an indefinite term.
David Miller Draft Card Burner
Judicial process
On October 13, 1966, the US Court of Appeals for the Second Circuit upheld Miller's conviction. It held that Congress had the right to enact a law against destroying a draft card so long as it did not infringe on a constitutional right.
The NY Civil Liberties Union challenged the constitutionality of law prohibiting draft card burning on December 12, 1966. The appeal charged that the law was an unconstitutional abridgment of the freedom of expression guaranteed by the First Amendment and its purpose is to suppress dissent.
The US Court of Appeals for the First Circuit held unconstitutional the amendment to the Selective Service Act that forbade the burning of draft cards on April 10, 1967.
On May 27, 1968, in United States v. O'Brien in a 7 – 1 opinion, the Supreme Court upheld the 1965 law that made it a crime to burn or otherwise destroy or mutilate a draft card. Chief Justice Warren, writing the majority opinion, rejected the lower court's contention that draft card burning was "symbolic speech" and that Congress was forbidden by the First Amendment's free-speech guarantees to outlaw it. (Oyez article)
After Miller lost in the U.S. Supreme Court, he served 22 months in federal prison in Pennsylvania from 1968 to 1970.
David Miller Draft Card Burner
Honky Tonk Communists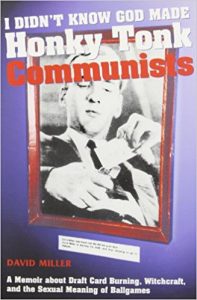 Miller later wrote I Didn't Know God Made Honky-Tonk Communists.  Here is a link to an excerpt from the Reclaiming Quarterly site. 
David Miller Draft Card Burner