Animal Eric Burdon
The music I love was created by the sons and daughters of slaves. My life's work has always been about honoring those people who suffered and thus, created a language of peace and salvation through music. 
Everything we believed in during the '60s, everything people fought and died for, is being jeopardized today. [Eric Burdon]
May 11…Happy birthday and many more!
In 1966, friend Rob who attended Fordham Prep in the Bronx, NY asked me if I'd like to go to a concert there. The Animals were playing.
1964's British Invasion did far more than introduce the Beatles to the Boomers.  On September 5, 1964 The Animals' "House of the Rising Sun" became Billboard's #1 single. It was likely the first time we'd heard of these Animals (what a great name!).
Sadly, most of us young Americans thought it was the Animals' song.
We didn't realize it may have had roots centuries deep–or at least decades deep in our own American history. And as few of us realized (as I assume few radio stations realized) that the song was about a whore house.
Animal

Eric Burdon
Eric Burdon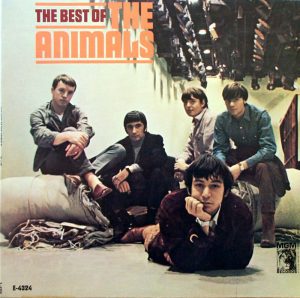 In any case, the voice of Eric Burdon became part of the 1960s soundtrack. For me, their Best of the Animals album was my introduction. I didn't realize that they had produced the album because of personnel changes. I did notice that it seemed every time I bought a new Animal album, there seemed to be a replacement. Eric was there though. That was the main thing.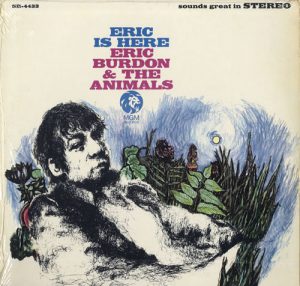 Even the 1967 Eric is Here album with its departure from rock and blues was OK. New way to hear stuff.
Burdon, like any rock musician, could read the Beatle writings on the wall, and when they went psychedelic, he did, too. He made politically-influenced music, well, that was OK, too. And there was that "New York 1963 — America 1968," an 18-minute l track featuring vocals not by a group member, but a black engineer named Cliff, who recalls his experience as a fighter pilot during World War II.
Patience James. Patience.
Animal

Eric Burdon
Drifted apart
Eric and I slowly drifted apart. More because of new responsibilities on my part than any disenchantment.
Eric forged ahead and continues to perform. To list the dozens of albums and songs and groups he's been with for 50+ years is for Wikipedia or AllMusic.
He and the other original Animals (Chas Chandler, Alan Price , John Steel, and Hilton Valentine) were inducted into the Rock and Roll Hall of Fame in 1994. Eric had a gig in Dusseldorf, Germany. Jancee Dunn in Rolling Stone asked "Artist of principle or crazy man?"
Suffice to say that Eric Burdon is still going, still singing, and we can still enjoy his presence.
Oh, yea. That concert at Fordham. It was pretty good. I think I remember that the Lovin' Spoonful opened for them.
Animal

Eric Burdon