Bruce Langhorne Tambourine Man
Remembering Bruce with great fondness and appreciation
11 May 1938 – 14 April 2017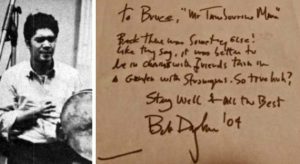 Bruce Langhorne Tambourine Man
Mr Tambourine Man
I first became familiar with Bob Dylan's "Mr Tambourine Man" when the Byrds sang it in 1965. Nothing wrong with that or their classic recording of it.
Dylan wrote the song early in 1964. Like most of life, even for the famous, there were no amanuensis following Dylan's every move and recording for posterity what happened, why, and when. Some say he finished writing "Mr Tambourine Man" at their house; others say "No, it was mine."
Bruce Langhorne Tambourine Man
Horseshoes and hand grenades
And who was this Mr Tambourine Man? However trivial, it is of interest because Bruce Langhorne was much more than a tambourine player. His All music credit list reads like a Who's Who of Greenwich Village's Golden Age of Music: The Clancy Brothers, Dylan, Richard and Mimi Farina, Odetta, Joan Baez, Buffy St Marie, Richie Havens, Ramblin' Jack Elliot, Hugh Masekela, Tom Rush, Tommy Flanders, Eric Andersen, John Sebastian, David Ackles, Mike Bloomfield, Gordon Lightfoot, and a "few" others!
I first heard the name Bruce Langhorne in 1969 while listening to my college radio station. The song was Tom Rush's "Urge for Going" and the DJ pointed out the rapid triplets of notes heard throughout the song. He said the guy who did that was Bruce Langhorne. Click the link below to hear those distinctive triplets.
Bruce Langhorne Tambourine Man
Mr Tambourine Man
Despite Bruce Langhorne's prodigious talent and lengthy credentials, he never became a household name. Perhaps with the recent revelations regarding the Wrecking Crew and Muscle Shoals' Swampers, someone will highlight those players, who like Langhorne provided so much of the music we love.
His website reveals three recommendations that any CV would die to have:
 "If you had Bruce playing with you, that's all you would need to do just about anything." Bob Dylan ["Chronicles"]
"If he were to walk in right now and you didn't see Bruce, you would feel his presence. He just emanates love and kindness, in addition to being a virtuoso on like 50 string instruments." Peter Fonda
"Just occasionally you come across these geniuses. Bruce Langhorne was one; he responds instinctually to the visual image. Bruce has done some of the most beautiful scoring I have ever been involved with, or ever known." Jonathan Demme.
And the Far Out magazine site quotes Jerry Garcia about the Bringing It All Back Home album's influence: "I never used to like Bob Dylan until he came out with electric music," he once explained when noting a selection of his favourite albums of all time. "And I'm not sure why I like that more. I sure liked it a lot more. Boy, when Bringing It All Back Home came out. Yeah, lovely. Very fine guitar player. [Bruce Langhorne] It just all of a sudden had something going for it." The guitarist continued, "Beautiful, mad stuff. And that turned us all on; we couldn't believe it."
Bruce Langhorne Tambourine Man
Brother Bru-Bru Hot sauce
And all this string virtuosity for someone who, "When Bruce Langhorne was a 12-year old violin prodigy living in Harlem in the fifties, he accidentally blew several of his fingers off with a cherry bomb that he held onto for too long. In the ambulance on the way to the hospital, Bruce looked up at his distraught mom and said, 'At least I don't have to play violin anymore.' "
For health reasons, Bruce had to figure out a way to curtail his love for hot sauce or figure out a way of finding a low-sodium hot sauce. He did the latter by creating Brother Bru-Bru Hot Sauce. 
I've tried it. It's pretty good! This is a "dot-info" site and I don't sell anything nor do I receive anything to support it, so my mentioning Bruce's product is simply that. I've tried it. I like it.  [Bru Bru site]
Having said that, I like Bruce's triplets even more!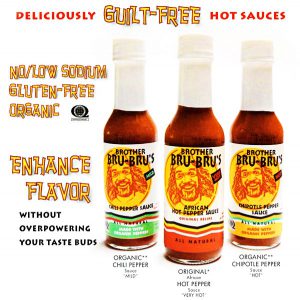 Bruce Langhorne Tambourine Man
Soundtracks
One of Langhorne's most important projects was doing the soundtrack for Peter Fonda's movie, The Hired Hand in 1971.Though The Brooklyn Rail  described the movie as "…an often frustratingly abstract film," it also said that Langhorne's soundtrack was a masterpiece and "a moment of clarity."
In 2012, Dylan Golden Aycock's Scissor Tail Records re-issued the soundtrack and now has gathered several musicians to interpret the soundtrack's songs. 
In addition to The Hired Hand, Langhorne also did soundtracks for Idaho Transfer (1973), and Outlaw Blues (1977); Bob Rafelson's Stay Hungry (1976); and Jonathan Demme's Fighting Mad (1976), Melvin and Howard (1980), and Swing Shift (1984).
Bruce Langhorne Tambourine Man
Bruce's death
The reason for the Aycock tribute was not just to raise Langhorne's name onto the plinth it belongs on, but to raise money to assist Langhorne with medical bills related to his failing health.
Unfortunately, Langhorne died on April 14, 2017 at his home in Venice, Calif. He was 78. The New York Times noted his death in a well-deserved article.
With the continued loss of those musicians who were the foundation of Boomer "underground" music, it is a sad reality that we lost a hero. Fortunately, their music remains.
Bruce Langhorne Tambourine Man