Bob Dylan Bob Dylan album
Happy Anniversary
Released on March 19, 1962
"You're No Good" (Jesse Fuller) 
Bob Dylan Bob Dylan album
Dylan arrives
Bob Dylan had arrived in New York City on January 24, 1961 and visited his hero Woody Guthrie on the 29th.
John Hammond's liner notes on the back of Dylan's first album state:  "The young man from the provinces began to make friends very quickly in New York, all the while continuing, as he has since he was ten, to assimilate musical ideas from everyone he met, every record he heard."
Dylan plays
On April 11 Dylan played his first major gig in New York City, opening for bluesman John Lee Hooker at Gerde's Folk City.
He played harmonica on a Harry Belafonte's "Midnight Special" thus receiving his first money for as a recorded musician.
Bob Dylan Bob Dylan album
More Friends, More Shows
He met Suze Rotolos. Albert Grossman became his manager.
On September 29, 1961, Robert Shelton of the New York Times wrote of Dylan that he was, "A bright new face in folk music… Although only 20 years old, Bob Dylan is one of the most distinctive stylists to play in a Manhattan cabaret in months." 
He'd played Carnegie Chapter Hall.
Bob Dylan
And then he recorded his first album: Bob Dylan.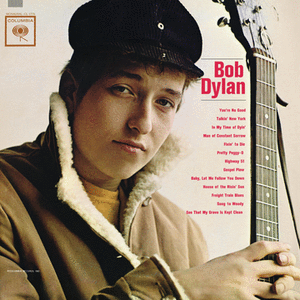 It sold 5,000 copies in the first year.
Here is it's tracklist and notice how few songs this supreme songwriter and future Nobel Prize winner wrote for this album:
Side one               

"You're No Good"  (Jesse Fuller)
"Talkin' New York"
"In My Time of Dyin'"  arr. Dylan
"Man of Constant Sorrow"  arr. Dylan
"Fixin' to Die"  (Bukka White)
"Pretty Peggy-O" arr. Dylan
"Highway 51" (Curtis Jones)

Side two               

"Gospel Plow"  arr. Dylan
"Baby, Let Me Follow You Down"  arr. Eric von Schmidt
"House of the Risin' Sun"  arr. Dave Van Ronk
"Freight Train Blues"  (Roy Acuff)
"Song to Woody"
 "See That My Grave Is Kept Clean"  (Blind Lemon Jefferson)
That number would be two: Talkin' New York and Song to Woody.
The All Music site sums it up well: Bob Dylan's first album is a lot like the debut albums by the Beatles and the Rolling Stones — a sterling effort, outclassing most, if not all, of what came before it in the genre, but similarly eclipsed by the artist's own subsequent efforts.
Bob Dylan Bob Dylan album