Lonesome Tonight
Elvis's far from first
Roy Turk and Lou Handmant
Roy Turk and Lou Handman wrote "Are You Lonesome Tonight?" in 1926. It had three verses, followed by a spoken bridge. They based the bridge on a line in Ruggero Leoncavallo's Pagliacci. "You know someone said that the world's a stage. And each must play a part" refers to "All the world's a stage" from William Shakespeare's As You Like It.
It was recorded several times in 1927—first by Charles Hart on 9 May 1927.
Lonesome Tonight
Blue Barron
In 1950 the Blue Barron Orchestra version reached the Billboard's top twenty single chart. This version is much closer to the style that Elvis used.
Lonesome Tonight
Al Jolson
Al Jolson also had a hit with it in 1950 and used the spoken bridge. Jolson died the same year.
Lonesome Tonight
Elvis Presley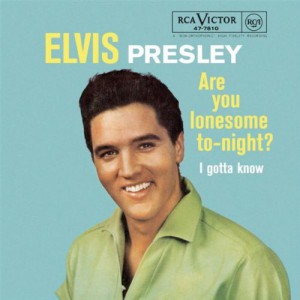 Others continued to record it. The song was the favorite of Marie Mott, the wife of Colonel Tom Parker, Presley's manager. Elvis recorded it in April 1960 shortly after his stint in the Army ended. RCA released the song in November 1960 and it was an immediate success in the U.S., topping Billboard's Pop Singles chart and reaching number three on the R & B chart.  A month after the song's release, it topped the UK singles chart.
From Wikipedia: The success of "Are You Lonesome Tonight?" made the song one of Presley's live staples. He performed it live for the first time on March 25, 1961, at a Bloch Arena benefit in Honolulu for the USS Arizona Memorial, one of his four live performances between his return from the Army and his shift in career focus to acting.
Returning to music in 1968, Presley included the song on his playlist for the  NBC special Elvis and performed it live the following year during his first Las Vegas engagement. A version of the song, recorded on August 26 and documenting Presley altering the words of the narration and laughing through the rest of the bridge, was released in 1980 as part of the Elvis Aaron Presley box set. In 1982, "Are You Lonesome Tonight?" was a radio hit in the United Kingdom and reached number 25 on the British Singles Chart.Presley included the song in his 1972 documentary, Elvis on Tour,  and the 1977 CBS special, Elvis in Concert. 
Lonesome Tonight
Double Platinum
On March 27, 1992, the RIAA certified "Are You Lonesome Tonight?" double platinum.In 2008 (the 50th anniversary of Billboard's Hot 100), the song was number 81 on the magazine's "Hot 100 All-Time Top Songs" list.
For more on the song, see thIe NYT article from January 21, 2014 It has links to several other versions both before and after Elvis's.
Lonesome Tonight