December 7 Peace Love Art Activism
 BLACK HISTORY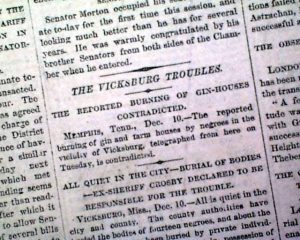 December 7, 1874: during the Reconstruction era that followed Emancipation and the Civil War, African American Mississippians made significant strides toward political equality. Despite the passage of black codes designed to oppress and disenfranchise black people in the South, many African American men voted and served in political office on federal, state, and local levels.
Peter Crosby, a former slave, was elected to Sheriff in Vicksburg, Mississippi – but shortly after taking office, Crosby was indicted on false criminal charges and removed from his position by a violent white mob.
On December 7, 1874, the "Vicksburg Massacre" occurred, in which whites attack and killed many black citizens who had organized to try to help Crosby regain his office. The violence prompted President Ulysses S. Grant to finally send troops to mediate the conflict. Crosby regained his position as Sheriff soon after, through the use of force and the courts.
In early 1875, J.P. Gilmer, a white man, was hired to serve as Crosby's deputy. After a disagreement, Crosby tried to have Gilmer removed from office. Gilmer responded by shooting Crosby in the head on June 7, 1875. Gilmer was arrested for the attempted assassination, but never brought to trial. Crosby survived the wound but never made a full recovery, and had to serve the remainder of his term through a representative white citizen.
The violence and intimidation tactics utilized by white Mississippians intent on restoring white supremacy soon enabled forces antagonistic to the aims of Reconstruction and racial equality to regain power in Mississippi. (see March 1, 1875)
William Wardley Lynched
December 7, 1896: William Wardley, a Black man, was lynched by an armed mob of white Irondale residents. That day, Mr. Wardley, along with two companions, attempted to purchase apples from a local grocery store. The merchant refused to accept Mr. Wardley's money because he assumed it was counterfeit..
Based on this accusation, a mob that included a local minister and a police constable pursued Mr. Wardley and his companions before fatally shooting Mr. Wardley. His body was later found along a railroad track a little over a mile outside of town. His two companions survived.
After the lynching of Mr. Wardley, the U.S. Treasury Department investigated the counterfeit claim and proved the money was real. However, the Treasury Department's report did not mention Mr. Wardley's death, and white residents continued to maintain the false counterfeit claim to justify the mob's violent actions. The local press, sympathetic to the mob, reported that Mr. Wardley caused his own death to avoid capture by the authorities. No one was ever held accountable for William Wardley's lynching. (next BH & next Lynching, see December 10, 1897 or see Never Forget for expanded article)
McLaughlin v. Florida
December 7, 1964: on January 29, 1883 in Pace v. Alabama the U.S. Supreme Court had unanimously ruled that state-level bans on interracial marriage did not violate the Fourteenth Amendment of the U.S. Constitution.
On this date in 1964, the Supreme Court unanimously ruled in McLaughlin v. Florida that laws banning interracial sex violate the Fourteenth Amendment to the U.S. Constitution. McLaughlin v. Florida struck down Florida Statute 798.05, which read: "Any negro man and white woman, or any white man and negro woman, who are not married to each other, who shall habitually live in and occupy in the nighttime the same room shall each be punished by imprisonment not exceeding twelve months, or by fine not exceeding five hundred dollars." While the ruling did not directly address laws banning interracial marriage, it laid down the groundwork for a ruling that definitively did. [EJI article] (see Dec 10)
December 7 Peace Love Art Activism
SOUTH AFRICA/APARTHEID & Nelson Mandela
December 7, 1988: Mandela transferred to the Victor Verster Prison Farm, about 50 miles from Cape Town. The South African government said he will not have to return to Pollsmoor Prison. (see July 5, 1989)
Overtown, Miami
December 7, 1989: a jury found William Lozano guilty of manslaughter in the killings of two unarmed black men that set off rioting in the mostly black Overtown section of Miami. The killings, which occurred in January, had  come to symbolize Miami's ethnic tensions.
The six-member jury returned its verdict at the beginning of the second day of deliberations, rejecting the defendant's contention that he had fired at the men because their motorcycle, which was being pursued by a patrol car for traffic violations, was about to run him down. (BH, see  January 14, 1990; RR, see June 25, 1991)
BLACK & SHOT
December 7, 2017:  federal Judge David C Norton sentenced Michael T Slager to 20 years in prison and two years of supervised release for fatally shooting Walter Scott, an unarmed black man, during a traffic stop in on April 4, 2015. [NYT article] (see Dec 11)
December 7 Peace Love Art Activism
Feminism
Women's Health
Margaret Sanger had ordered a new type of diaphragm (referred to as a pessary) that had been developed in Japan. Custom officials, acting under the 1930 Tariff Act, which included the provisions of the 1873 Comstock Act (March 3, 1873) which outlawed the distribution of birth control information and devices, seized them.
On December 7, 1936, in U.S. v. One Package of Japanese Pessaries, the U.S. Court of Appeals held that the ban on birth control devices was "unreasonable" and overturned the ban. Sanger said that the decision "firmly establishes the precedent that contraceptive material may be lawfully admitted into this country and by implication disseminated through the mails in this country if intended for legitimate use. (NYU article) (BC, see January 18, 1939; F, see July 26, 1937)
December 7 Peace Love Art Activism
World War II
December 7, 1941:Japan attacked the American naval base at Pearl Harbor in Hawaii. Canada responded later that day by declaring war on Japan. On December 8, the United States and United Kingdom also declared war on Japan. In response on December 11, Japan's ally, Germany, declared war on the United States.
December 7 Peace Love Art Activism
SEPARATION OF CHURCH AND STATE
December 7, 1960: Madalyn Murray (later O'Hair) filed suit in the Superior Court of Baltimore, Maryland, asking the Court to rule that required Bible reading and recitation of the Lord's Prayer in the city's public schools were unconstitutional. (next Separation, see June 19, 1961; Religion, see June 25, 1962; O'Hair, see February 27 – 28, 1963)
December 7 Peace Love Art Activism
Environmental Issues
On December 7, 1962 workers at the Richards Oil Plant in Savage Minnesota forgot to open steam lines that heated oil pipes at the plant. On December 8, these pipes burst in low temperatures and spilled one million gallons of petroleum into the Minnesota River. By January 24, 1963, the Department of Health traced downstream oil back to Richards Oil. Employees claimed only a small leak had occurred.
The Department of Health requested that Richards Oil clean up the oil but could only take action if there was a public health emergency. Richards continued to drain oil until March. (see January 23, 1963)
December 7 Peace Love Art Activism
Technological Milestone
Instant replay
December 7, 1963: CBS Sports Director Tony Verna used a system he'd invented to enable a standard videotape machine to instantly replay during the Army-Navy game. It was used only once for a touchdown withTV commentator Lindsey Nelson advising viewers "Ladies and gentle men, Army did not score again!"  (more >>> NPR story)
TTY communication
In 1964: in California, deaf orthodontist Dr. James C. Marsters of Pasadena sent a teletype machine to deaf scientist Robert Weitbrecht, asking him to find a way to attach the TTY to the telephone system. Weitbrecht modified an acoustic coupler and birth to "Baudot," a code that is still used in TTY communication. (ADA, see July 2, 1964; TM, see April 30)
December 7 Peace Love Art Activism
December 7 Music et al
Beatles/Empire Theatre
December 7, 1963: perform in their hometown at Liverpool's Empire Theatre. [I Want to Hold Your Hand > Money > Twist and Shout > With Love From Me to You (instrumental)] (see Dec 10)
"Dominque" the single
December 7, 1963 – January 3, 1964: "Dominque"  by the Singing Nun #1 on the Billboard Hot 100. The singing nun was Jeanine Deckers (17 October 1933 – 29 March 1985) a Belgian nun, and a member (as Sister Luc Gabriel) of the Dominican Fichermont Convent in Belgium.
"Dominque" the album
December 7, 1963 – February 14, 1964 –  the Singing Nun's The Singing Nun is the Billboard #1 album. (see Jeanine Deckers for expanded story)
Bob Dylan
December 7, 2020: NPR reported that Bob Dylan had sold his entire songwriting catalog — more than 600 songs written over nearly 60 years — to Universal Music Publishing Group, in a deal announced by Universal.
The agreement was first reported by The New York Times, which said that it was worth over $300 million. The deal with Dylan might have been the highest price ever paid for a musician or group's songwriting rights. (Universal had not disclosed the purchase price.)
For Universal Music Publishing Group, which was owned by the French media giant Vivendi, there was a lot of appeal in owning Dylan's songwriting rights. The company would collect money any time another musician covers any of those songs and it would earn revenue for allowing the songs to be used in commercials and movies as well as when the songs were streamed, sold commercially on such formats as CDs, or broadcast.
Songwriting rights — that is, ownership of a song's melody and lyrics — are figured and paid out separately from recording rights. According to Universal, other artists  had recorded Dylan's songs more than 6,000 times, including such famous versions as Jimi Hendrix' cover of Dylan's "All Along The Watchtower" and Guns N' Roses' version of "Knockin' On Heaven's Door."  (next Dylan, see )
December 7 Peace Love Art Activism
Space Race
On December 7,  1972  Apollo 17 blasted off.
On December 11, Gene Cernan and Harrison Schmitt became the last people to walk on the moon. They remained on the moon for three days (75 hours). Schmitt was the first scientist-astronaut to land on the moon. (see July 15 – 24, 1975)
December 7 Peace Love Art Activism
Watergate Scandal
December 7, 1973: the White House can't explain an 18 1/2 -minute gap in one ohf the subpoenaed tapes. Chief of staff Alexander Haig said one theory was that "some sinister force" erased the segment. (see Watergate Scandal for expanded chronology)
December 7 Peace Love Art Activism
LGBTQ
December 7, 1978: the US Court of Appeals for the District of Columbia ruled that Leonard  Matlovich was unfairly discharged from the military.(LGBTQ, see May 21; Matlovich, see September 9, 1980)
December 7 Peace Love Art Activism
DEATH PENALTY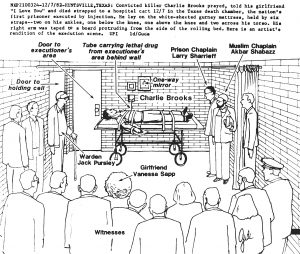 December 7, 1982: the first execution by lethal injection took place at the state penitentiary in Huntsville, Texas. Charles Brooks, Jr., convicted of murdering an auto mechanic, received an intravenous injection of sodium pentathol, the barbiturate that is known as a "truth serum" when administered in lesser doses. [NYT article] (see July 26, 1983)
December 7 Peace Love Art Activism
Iran–Contra Affair
December 7, 1985: President Ronald Reagan met with his national security advisers and approved the major parts of the Iran-Contra affair. CIA Director William Casey also approved the plan, but Secretary of State George Shultz and Secretary of Defense Caspar Weinberger objected, arguing that it was illegal. They even joked with Reagan that, if anyone went to jail, "visiting hours are on Thursday." (The Iran-Contra affair involved a complex set of international deals in which President Ronald Reagan and members of his administration violated the law and civil liberties principles.) (see November 3, 1986)
December 7 Peace Love Art Activism
The Cold War
December 7, 1987: Soviet leader Mikhail Gorbachev arrived for his summit with President Ronald Reagan. Gorbachev and his wife, Raisa, charmed the American public and media by praising the United States and calling for closer relations between the Soviet Union and America. [Politico article] (see Dec 8)
December 7 Peace Love Art Activism
IRAQ
December 7, 2002: in a declaration to the United Nations Iraq denied it had weapons of mass destruction. (NYT article) (see January 28, 2003)
December 7 Peace Love Art Activism
US Labor History
Feminism
December 7, 2009: delegates to the founding convention of the National Nurses United (NNU) in Phoenix, Ariz., unanimously endorsed  the creation of the largest union and professional organization of registered nurses in U.S. history.  (Labor, see January 22, 2010; Feminism, see February 23, 2010)
December 7 Peace Love Art Activism
TERRORISM
December 7, 2018: James Alex Fields Jr. was found guilty of killing Heather Heyer when he plowed his car into a group of counterprotesters last year at a "Unite the Right" rally that quickly turned violent in Charlottesville, Virginia.
Fields, 21, was convicted on all counts, including first-degree murder in connection to Heyer's death and five counts of aggravated malicious wounding, three counts of malicious wounding and one hit and run count for injuring dozens of others with his vehicle.
In addition, Fields — who a former teacher said was fascinated by Nazism and Hitler — was charged with 30 federal hate crimes. He's been on trial since November for the murder charge and still faces trial on the additional charges. (next T, see Dec 11); Fields, see March 27, 2019)
December 7 Peace Love Art Activism