December 6 Music et al
Brian Epstein
December 6, 1961: The Beatles (John Lennon, Paul McCartney, George Harrison, and Pete Best) meet with Brian Epstein for further discussions about his proposal to manage them. He wants 25 percent of their gross fees each week, in return for which he will be responsible for arranging their bookings. He promises that their bookings will be better organized, more prestigious, and will expand beyond the Liverpool area. He also promises that they will never again play for less than 15 pounds, except for Cavern lunchtime sessions, for which he will get their fee doubled to ten pounds. Most important of all, he promises to get them out of their recording contract with Bert Kaempfert in Germany, then use his influence to garner them a contract with a major British label. John Lennon, as leader of The Beatles, accepts on their behalf. There is no contract signing at this point, because the standard contracts are so exploitive that Epstein is disgusted by them; he promises The Beatles that he will prepare a fairer document. (see Dec 9)
December 6 Music et al
1st Beatles Christmas record
December 6, 1963, The Beatles released their first Christmas recording: The Beatles Christmas Record. (see Dec 7)
December 6 Music et al
Rubber Soul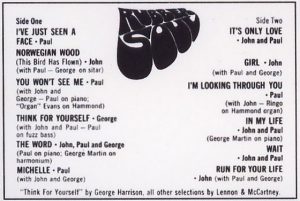 December 6, 1965, US release of Rubber Soul.  The American version differed markedly from the UK release. Capitol removed the tracks "Drive My Car," "Nowhere Man," "What Goes On," and "If I Needed Someone," and replaced them with two from the UK Help! album, "I've Just Seen a Face" and "It's Only Love." The song sequence,  placing the Help! tracks at the beginning of each side, Rubber Soul appeared as a "folk rock" album to angle The Beatles into that emergent American genre during 1965. The changes angered the Beatles. (next Beatles, see Dec 17; see Rubber Soul for more)
December 6 Music et al
Beggars Banquet
December 6, 1968: The Rolling Stones released Beggars Banquet album.
December 6 Music et al
Altamont Free Concert
December 6, 1969: (at the Altamont Speedway in northern California, between Tracy and Livermore) headlined and organized by The Rolling Stones, it also featured, in order of appearance: Santana, The Flying Burrito Brothers, The Jefferson Airplane, and Crosby, Stills, Nash & Young, with the Rolling Stones taking the stage as the final act. The Grateful Dead were also scheduled to perform, but declined to play shortly before their scheduled appearance due to the increasing violence at the venue (see Rolling Stones Altamont Banquet and NYT article)
December 6 Music et al
Steam
December 6 – 19, 1969:  "Na Na Hey Hey (Kiss Him Goodbye)" by Steam #1 on the Billboard Hot 1.
December 6 Music et al